How to convert FAT partition to NTFS?
Why we need to convert FAT to NTFS?
NTFS is an advanced file system that provides advanced features in performance, security, reliability and all these cannot be found in any version of FAT.
Following are the advantages of NTFS compared with FAT:
NTFS supports file compression. FAT does not.
Improved recoverability.
Improved file and folder security.
Improved performance on large volumes.
Improved efficiency in disk space utilization.
Improved fault tolerance.
support large file sizes.
NTFS supports disk quotas, allowing you to control the amount of disk usage on a per user basis.
The boot sector is backed up to a sector at the end of the volume.
Fragmentation does not influence the system performance.
Faster access speed. NTFS minimizes the number of disk accesses required to find a file.
NTFS supports a native encryption system called Encrypting File System (EFS), using public-key security to prevent unauthorized access to file contents.
NTFS is much more flexible than FAT. Its system areas are almost all files instead of the fixed structures used in FAT.
The built-in Disk Management in Windows Vista/2008 can extend/shrink NTFS partition only.
Windows Vista, Windows 2008 can only be installed in NTFS partition.
How to convert FAT partition to NTFS?
The following is using partition manager software - EaseUS Partition Master to convert FAT partition to NTFS.
1. Download EaseUS Partition Master and install it. After that, launch EaseUS Partition Master and then select a FAT12/16/32 partition.

2.Right click the partition and then select Convert to NTFS.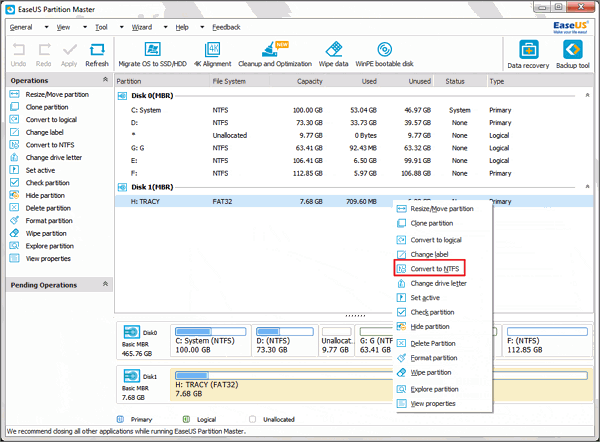 3. The pop-up dialog box will show the source and destination file system, click "OK" to continue.
Related Articles: