Free Windows partition manager software to resize, extend, copy, create Windows 7 partition.
Windows 7 operating system
Windows 7 is the latest operating system released by Microsoft® for use on PCs, including home and business desktops, laptops, notebooks, tablet PCs and media center PCs. This operating system has six different editions. They are Windows 7 Starter, Windows 7 Home Basic, Windows 7 Home Premium, Windows 7 Professional, Windows 7 Enterprise, and Windows 7 Ultimate.
Windows 7 is intended to be an incremental upgrade for Vista, with the goal of being fully compatible with device drivers, applications, and hardware which Windows Vista is already compatible with.
Have you got one free partition manager in your toolkit for better Windows 7 administration as for Windows 7 is so popular today? Maybe you want to create a new partition to install Windows 7, extend the full system partition or just want to shrink system partition for a large room for data storage.
Partition manager in Windows 7
Similar to Windows Vista, Windows 7 also has the built-in disk partition manager to resize partitions, this means you can shrink or extend Windows 7 partitions. The built-in Disk Management utility is able to do the job of shrinking and expanding partitions in Windows 7 without any 3rd party partitioning software. To manage your partitions, open Control Panel and type "partitions" or "hard disk" in the search bar on the right corner and you can see the link "Create and Format Hard Disk Partitions" under administrative tools.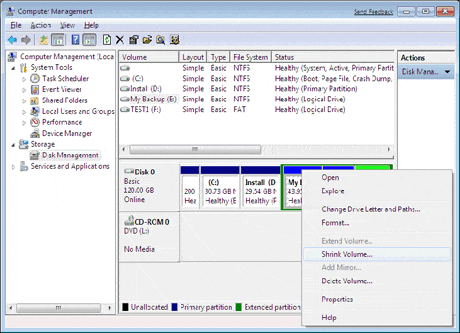 Third party partition manager software for Windows 7
Some advanced partition management in Windows 7 is still unavailable like Windows Vista and Windows Server 2008. People have to seek some partition manager software for Windows 7. Just take a look at the following comparison between Windows 7 built-in partition manager and free third-party partition manager software.
EaseUS Partition Master VS Windows 7 Disk Management Tool
So that's the main differences between EaseUS Partition Master and Disk Management Tool. You may check more detailed features of EaseUS Partition Master. What's more, as we know that Windows 7 can support .VHD files as used by Virtual PC which will be recognized as a hard disk partition in the Disk Management tool if it is attached. (Please refer to the Disk 4 in the picture below.)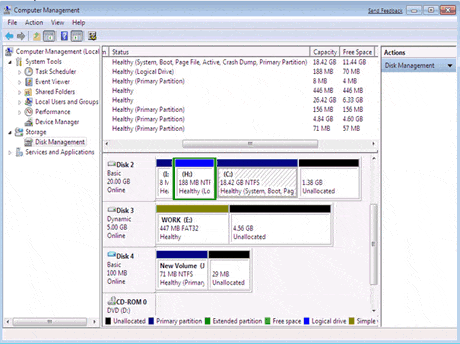 With EaseUS Partition Master, you can also resize/extend attached VHD disk to manage its capacity freely.
Except for Virtual Hard Disk compatible, this free disk management software can also recognize and allows you to copy, delete the encrypted disk with Bitlocker (See How to enable Bitlocker and manage Bitlocker drive).
More features of EaseUS partition software
EaseUS provides different types of editions to meet each computer users, you may get a detailed edition comparison.
How to resize Windows 7 partition?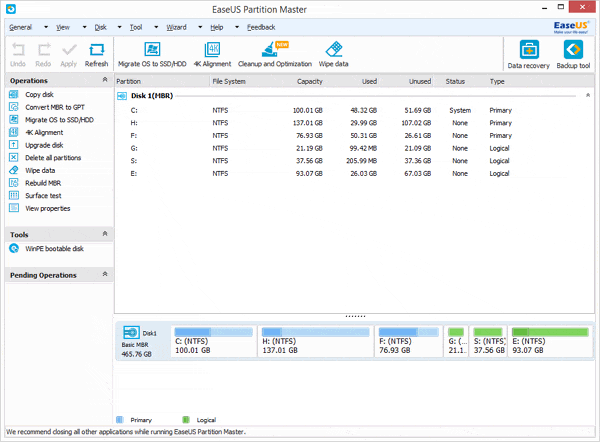 Before going to resize Windows 7 partition, we do suggest you backup your important data firstly with our free backup software in case of any accidents, and then resize a Windows 7 partition with free Windows 7 partition manager, please follow the operations below:
1. Launch EaseUS Partition Master and you will see a main board.
2. Right click the partition and select Resize/Move partition.
3. A popped-up dialog box indicates the current size of the selected partition.
4. Position the mouse pointer on the right partition handle. Drag the handle to the partition size you want when the mouse pointer changes to a double-headed arrow and click OK.
5. Click Apply.
By the way, there is a more detailed step instruction of resizing and moving partitions.
Related Articles: