Format Partitions
Advantage:
Formatting partitions will help you install the Windows Operating System, or re-arrange the hard disk partition as well as deleting all the data on the hard drive or partition.
Attention: Partition formatting operation destroys all the data on the partition, including files and folders! Take special care when performing this operation. Make sure you have back up for your data, if not, we suggest download our free backup software to backup firstly.
To format partition, please follow the steps as below:
1. Launch EaseUS Partition Master.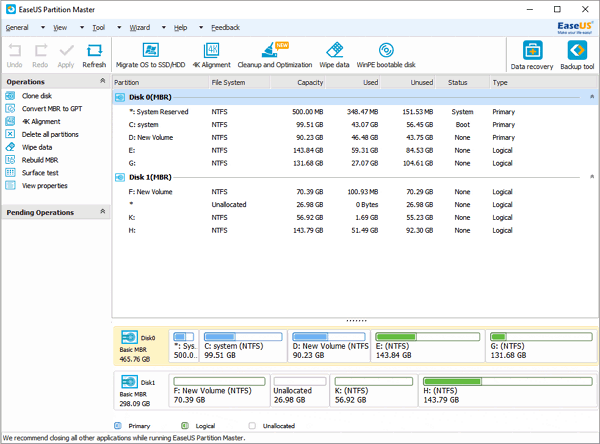 2. Select the partition you want to format.
3. Click "Partitions" > "Format partition", you can also choose "Format partition" by right clicking the mouse.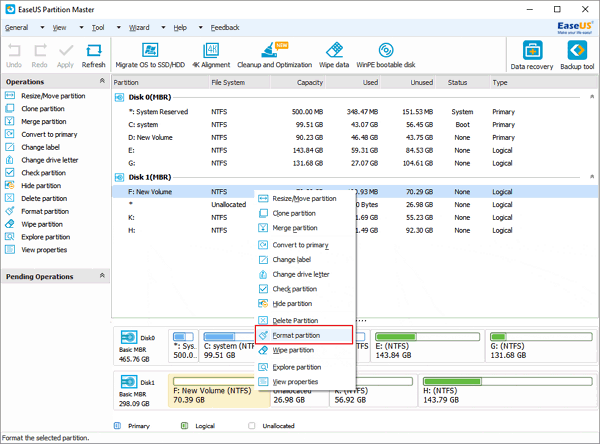 4. Type the label you want in the Partition Label box.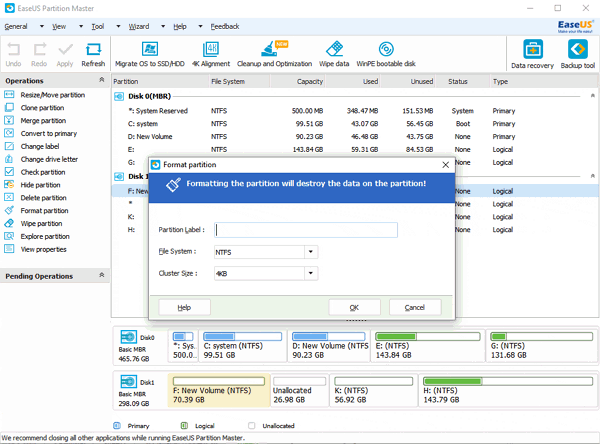 5. Select the file system type to be created from the "File System" drop-down list. (FAT/FAT32, NTFS, EXT2/EXT3). If the partition is larger than 4GB, you can only choose FAT32, NTFS or EXT2/EXT3; if the partition is smaller than 4GB, we can choose FAT, FAT32, NTFS or EXT2/EXT3.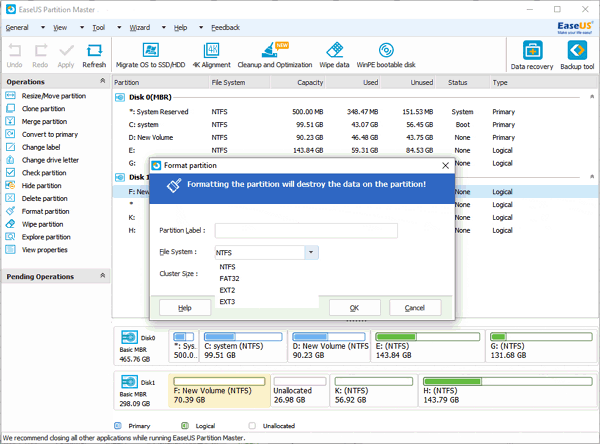 6. Choose the Cluster Size (512 bytes, 1, 2, 4...64KB) from drop-down list.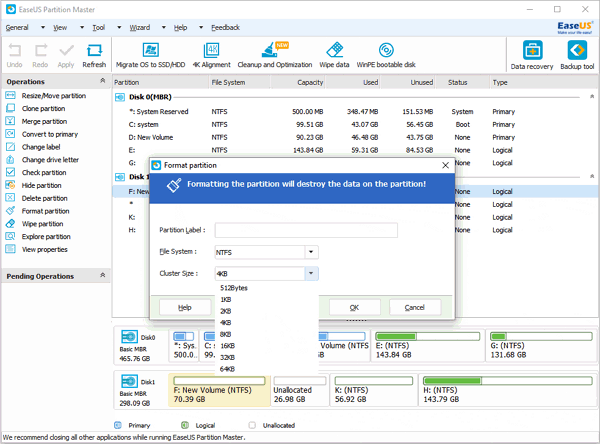 Note:
Smaller cluster size makes less wasting of disk space.
The smaller cluster size is, the bigger file allocation table (FAT) will be. The bigger the FAT is, the slower the operation system works with the disk.
7. Click "OK" to apply the format operation.
8. Click "Apply" to apply all pending operations.
How to recover files from formatted drive or partition by mistake?
If you want to recover files from formatted, corrupted and RAW partitions, please use the free data recovery software - EaseUS Data Recovery Wizard Free Edition. Please read this instruction: How to recover files from formatted hard drives?