How to move a partition?
Why need to move a partition?
"My hard disk has three partitions (system partition, data partition 1, unallocated space, data partition 2), I want to add unallocated space to the system partition, how to solve it?"
This is common problem when resizing partition. In fact, it is so easy to merge unallocated space beside other partitions to the partition which you want to extend by moving partition.
How to move a partition with partition manager software?
Partition manager software - EaseUS Partition Master provides "Move partition". The following is step-by-step to move a partition.
1. Download EaseUS Partition Master and install it. After that, launch EaseUS Partition Master.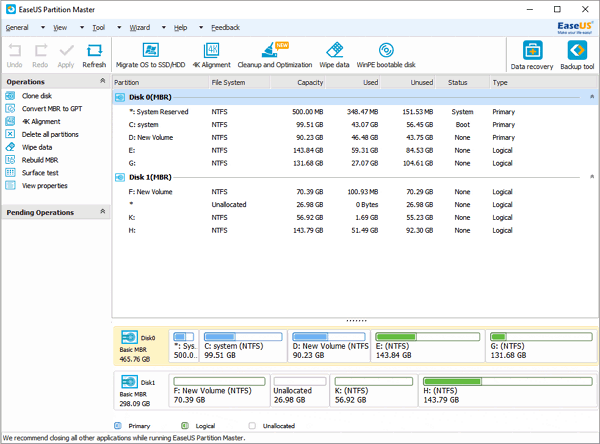 2. Choose the partition you want to move, right click it and then choose "Resize/Move partition".
3. Move the mouse to the pane that symbolizes the partition you have selected, when the cursor become a cross crux, drag it forwards, the unallocated space will be before this partition.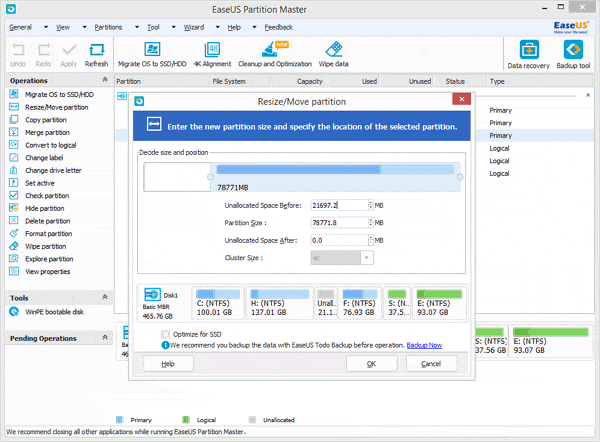 Also, inputting the number in the two fields directly can change the position of the partition, and using the corresponding up-down button of the two can make a jiggle.
4. After click "OK", you are able to see a preview of this operation.
5. After you click "Apply", the partition will be moved successfully.