How to resize dynamic volume?
For Windows operating system, you can freely choose the disk as either basic disk or dynamic disk, so what's dynamic disk? and what's the difference between dynamic disk and basic disk? After you convert your basic disk to dynamic disk, you may have the demand for dynamic disk management.
In general, you need to resize dynamic volume with this disk manager software when:
You find your data volume is running low disk space, you want to increase more free space for it.
You want to stripe a volume to help the volume spans multiple hard drives because striping volume can improve the read/write speed of data for all files and data are read from and written to simultaneously multiple hard disks.
You want to resize a striped volume, mirrored volume or RAID-5 volume on your dynamic disk while Windows disk manager can only resize simple volume and spanned volume.
Partition manager software - EaseUS Partition Master can help you resize (shrink and extend) 5 type dynamic volumes: simple volume, mirrored volume, striped volume, spanned volume and RAID-5 volume.
How to resize dynamic volume with EaseUS Partition Master?
1. Download EaseUS Partition Master and install it on your computer.

2. Launch EaseUS Partition Master and go to main screen.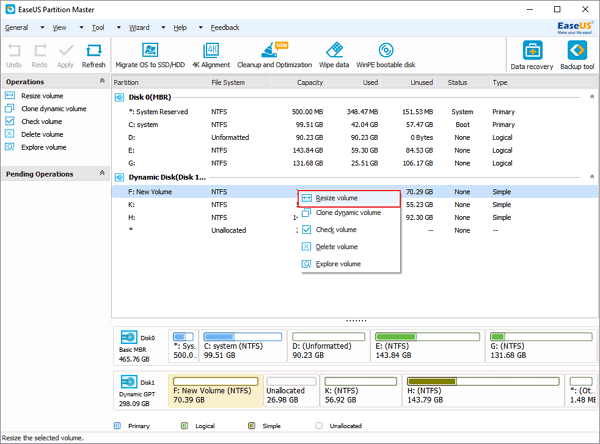 3. Right click the volume you want to resize, select Resize volume.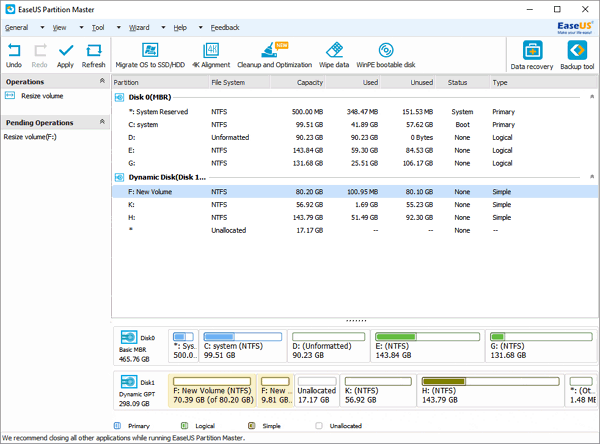 4. Position the mouse pointer on the right partition handle to extend or shrink volume E, or you can directly put in a size number.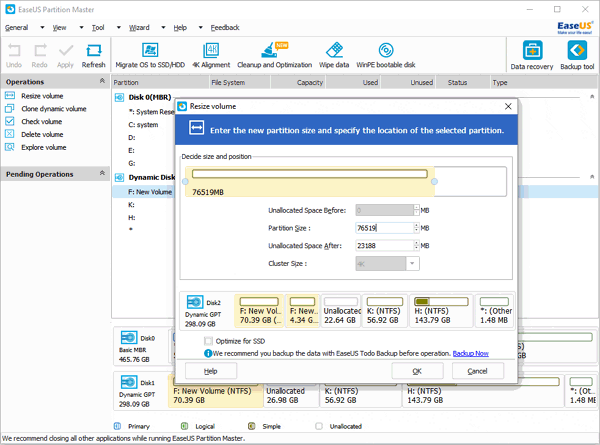 5. Click OK, and you will see the size change of volume E in the disk layout.
6. Click Apply to execute the operation. Now, you have successfully resized dynamic disk.
Tips: Resize dynamic volume feature is not available in EaseUS Partition Master Free Edition, but for simple volume and mirrored volume on dynamic disk, you can convert dynamic disk to basic and then resize partition by EaseUS Partition Master Free Edition.
Related Articles: