"Mounting volume failed"
Symptoms:
When trying to assign a drive letter to a partition, you get this error: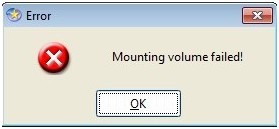 Solution:
Generally, the partition which cannot be assigned drive letter has occupied a little space on its adjacent partition C. We call it interlaced partition, to resolve this, we suggest you shrink your C partition from its tail for about 10MB space.
For data safe consideration, we suggest you use the copy function in our product to make a replica of the fault drive. In case of there is some unexpected problem occurred in the process above, and then you can handle it with the replica. Learn more about how to copy a partition with our product.
If it cannot solve your problem, for further analysis, please send us EPMlog.log as attachment through this email: support@partition-tool.com (only paid customers can access this service).You can locate the EPMlog.log file in the "bin" folder under the installation directory.
Feedback on this article:
Thanks for visiting EaseUS, please let us know how we can improve this article or make it more useful to you. Should you need technical support please feel free to contact support@partition-tool.com.