Partition Magic Freeware for Windows 2000/XP/Vista/Windows 7/8 Partition Management
Need partition software for partition management? What do you want it to be? Based upon most users' opinions, the partition software should be easy and safe to use like a magic. And it would be more appreciated if it is free to use. Then, we guess you need partition magic freeware which has friendly interface and can help manage partition without destroying any data.
From many users' true experiences, you can find that EaseUS Partition Master Free Edition works like partition magic freeware as we mentioned above.
EaseUS Partition Master Free Edition is a free disk partitioning utility that offers a range of powerful functions such as resizing partitions, copying partitions, creating new partitions, deleting partitions, formatting partitions, converting partitions, exploring partitions, hiding partitions, changing drive letters, setting active partitions, merge partitions and a handful of other functions. These functions can perfectly assist you to optimize the usage of your partitions.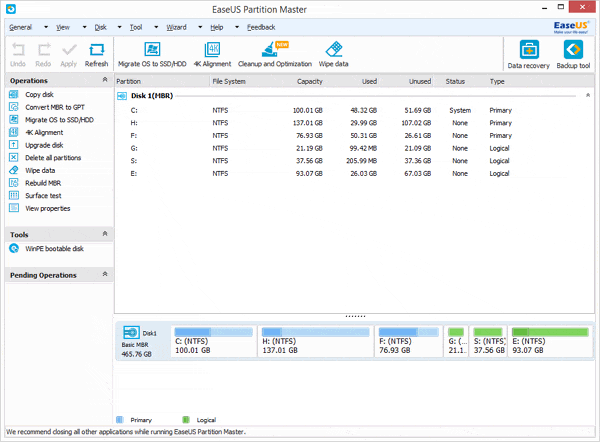 This partition freeware is designed to be easy to use. You can handle it without having to be very good at computers. And your data is completely protected during all operations. That's why we say this partition freeware works like partition magic freeware.
What's more, this partition magic freeware works perfectly with hardware RAID and Windows 2000/XP/Vista/Windows 7/8 (32/64 bit) Operating Systems. It is the best choice for home users to manage partition.

Do not forget to back up your data in Case of Data Loss! Back up with the most advanced backup software - EaseUS Todo Backup Workstation.
System, file backup and disaster recovery.
Back up system state or save important data.
Automatic backup and much more.
Related Articles
Feedback on this article:
Thanks for visiting EaseUS, please let us know how we can improve this article or make it more useful to you. Should you need technical support please feel free to contact support@partition-tool.com.