Windows 2003 Server partition manager software
EaseUS Partition Master Server Edition
ALL-IN-ONE Windows Server disk management toolkit
$127.20 $159.00
Partition Windows 2003 Server with professional server partition manager software
In different situations, people need to partition Windows 2003 Server. For example, if you want to extend your server system partition to maximize it. People need to resize dynamic disk (shrink and extend) 5 type dynamic volumes: simple volume, mirrored volume, striped volume, spanned volume and RAID-5 volume.
Unfortunately, no resizing or moving partition function is built in Windows 2003 Server Disk Management to change partition size on Server 2003. Most of the users are pained with how to resize Windows 2003 server partitions, because it is too much difficult for the people who are not specialized in computer.
Someone may say that there is so much partition management software for Windows XP, Vista...but if you need a partition software for 2003 Server, what will you do? Is there any Windows 2003 Server partition manager software? Of course, there is. At the meantime, How to repartition on Windows Small Business Server 2003 without data loss is the most important thing for all the server users.
Magic Server partition manager software - EaseUS Partition Master Server Edition
EaseUS Partition Master Server Edition is a good choice for you to disk partition Windows Server 2003 if you want to partition Windows 2003 Server with server partition manager software. It manages Windows Server 2003/2008/2012/2000 partition fast and stably and can perform all required server partition operations with all data being protected.
Its functions include: resize and move partitions; create and delete partitions; merge partitions; repair raid 5 volume; resize dynamic volume; copy partition & disk, hide and unhide partitions, and so on. If the partition in your server has accidentally been lost, it can also help you to recover it. Most importantly, changes of server partition can be previewed before applying and all data is completely protected during all operations.
As a magic server partition manager software, it is able to partition Windows Server 2000/2003/2008/2012 and non-server 2000/XP/Vista/Windows 7/8 (32 and 64) bit systems on one machine - single licensed, which provides more comprehensive partition management. The picture below is the main interface of this server partition manager software - doing Resize/Move partition: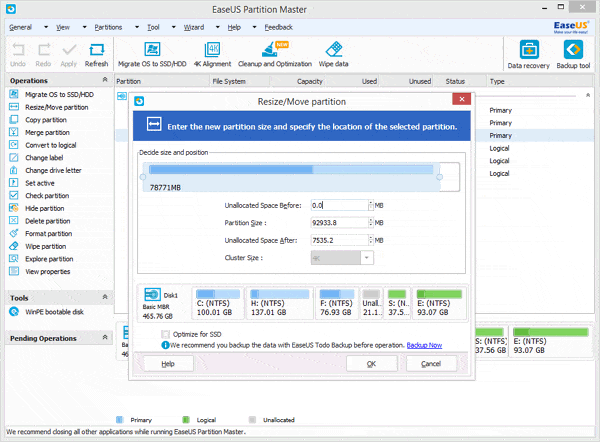 Different functions solve different problems
Resize/Move system partition: After using Windows 2003 Server a period of time, the system partition may became out of disk space and the Server computer will run slowly for lacking enough space. At this time, it becomes urgent to find a suitable way so solve this problem. After a time of consideration you may find the best way is to enlarge the small system partition with reliable Windows 2003 server partition manager software. Using EaseUS Partition Master to do this is by simply clicking the system partition and sliding it through the unallocated space. The data on the system partition is completely untouched.
Merge partitions: Safely merge adjacent partitions into a bigger one when one of them runs out of space.
Resize dynamic volume: To adjust your dynamic volumes to make the most use of dynamic disk.
Repair raid 5 volume: To reconstruct the data of the failed member on another disk.
Hard Disk Copy or Partition Copy Wizards: In case of any unpredictable disaster happening, you need to back up everything before resizing or create a partition on Windows 2003 Server; otherwise you will meet lose your data due to unexpected shutdown or other unknown reasons. In this situation you can use the "copy disk or partition" function in EaseUS Partition Master Server Edition to protect data before partitioning Windows Server 2003. Easily upgrade/migrate hard drive or copy partition to protect data.
Copy with resize: When you don't satisfied with the partition size during the copy process, you can resize (shrink or enlarge) partitions and disks in order to fit target space.
Hide Partitions: If you have private information on some partitions, and you don't want anybody to find it. You can also use the software to hide drives from view. Hidden drives will not be visible (or accessible) from Windows even if you boot in Safe Mode.
Hardware RAID supported: It works perfectly with hardware RAID.
Up to 32 hard disks: It can handle up to 32 hard disks, which makes it a good choice for server systems.
Bootable CD/DVD: Creates a bootable CD/DVD to manage partitions easier and faster.
Download EaseUS Partition Master to manage your both basic and dynamic disks.
Partition Windows Server 2003 using Windows built-in Disk Management
Applies To: Windows Server 2003, Windows Server 2003 R2, Windows Server 2003 with SP1, Windows Server 2003 with SP2.
Disk Management in Windows Server 2003 can perform disk-related tasks, such as creating and formatting partitions and volumes, and assigning drive letters. You can also use Disk Management to perform more advanced tasks like creating and repairing fault-tolerant volumes. Besides, you can also use DiskPart command and other command-line utilities to manage disks and volumes.
You can use DiskPart to extend basic or dynamic volumes in Windows Server 2003:
Note: There are some requirements to extend a data volume in Windows Server 2003.
The volume must be formatted with the NTFS file system.
For Basic volumes, the unallocated space for the extension must be the next contiguous space on the same disk.
For Dynamic Volumes, the unallocated space can be any empty area on any Dynamic disk on the system.
You cannot extend the partition if the system page file is located on the partition.
To extend a partition or volume, you must first select the volume to give it the focus, and then you can specify how large to make the extension.
Follow the steps below to extend a data volume:
At a command prompt, type diskpart.exe.
Type list volume to display the existing volumes on the computer.
Type Select volume number.
Type extend [size=n] [disk=n] [noerr].
Type exit to exit Diskpart.exe.
When the extend command is complete, you should receive a message that states that Diskpart successfully extended the volume.
You can use snap-in Disk Management to extend a simple or spanned volume in Windows Server 2003.
Note: you should pay attention to following restrictions.
You can only extend NTFS volumes or volumes that do not yet contain a file system.
If you upgraded from Windows 2000 to Windows Server 2003, you cannot extend a simple or spanned volume that you originally created as a basic volume and then changed to a dynamic volume in Windows 2000.
You cannot extend the system or boot volume.
Follow the detailed steps below to extend volume.
In the Disk Management window, right-click the simple or spanned volume that you want to extend, and then click Extend Volume.
On the Welcome to the Extend Volume Wizard page, click Next.
On the Select Disks page, click to select the disk or disks that you want to extend the volume on, and then click Add.
Verify that the disks that you want to extend the volume on are listed in the Selected dynamic disks box.
In the Size box, specify how much unallocated disk space (in MB) that you want to add, and then Next.
Click Finish.
Related articles: