EaseUS Partition Master Server Edition
ALL-IN-ONE Windows Server disk management toolkit
Time Limited Offer - 20% OFF
$127.20 $159.00

30-day Money Back Guarantee
How to change partition size on Server 2000/2003/2008?
We need to change partition size on our Windows Server when the current partition size cannot meet our needs to maximize computer performance. Taking easy operation and data security into consideration, an easy and safe solution to change partition size without losing any data is in demand. This article is aimed at helping server users change partition size on Windows server 2003, which also applies to Windows Server 2000 and 2008.
Introduction of Windows Server 2003
Windows Server 2003 (also referred to as Win2K3) is a server Operating System produced by Microsoft. It is considered by Microsoft to be the cornerstone of its Windows Server System line among business server products. According to Microsoft, Windows Server 2003 is more scalable and delivers better performance than its predecessor, Windows 2000. However, it can not do everything that more popular software can. Nowadays, so many people are willing to rely on software to change partition size of Windows Server 2003 in a fast and safe way.
Why need to change partition size on Windows Server 2003?
All the size of partitions on Windows Server is carefully allocated while building the Server. However, things are changing and the scheduled size may not always meet your needs, especially for the System partition, as Windows continues to download large updates or any other reasons. If the System partition is running out of space and struggles for precious unallocated space, you are unable to install new programs, even the whole performance of your computer will be declined, say, the computer goes slow. Then you need to change the system partition size on your Windows Server 2003.
Windows Server 2008 users can change the partition size by the Disk Management build-in Windows Server 2008. However, as a Windows Server 2000/2003 user, you can only turn to a third party server partition manager software to accomplish the job. Someone prefers to EaseUS Partition Master Server Edition which helps even non-professional users to change partition size on Windows Server 2003 in a professional way and without losing any data. And EaseUS Partition Master Unlimited Edition allows unlimited usage within one company if you need use it on multiple machines. You can reclaim wasted disk space, organize your data, and speed up file system performance. Besides, EaseUS Partition Master is absolutely user-friendly. With this easy-to-use partition resizer, even your grandma can change partition size for you.
How to change partition size on Windows Server 2003 with server partition manager software?
To change partition size on Windows Server without data loss with EaseUS Partition Master Server Edition, first of all, you should log as Administrator and launch the software; then use the resize utility to change partition size, just select one partition on Windows server 2003 you want to change, and then click Partitions > Resize/Move partition. The current size of all the partitions is displayed on the disk diagram. The minimum and maximum partition sizes you can change on Windows server 2003 depend on the free space within and surrounding the partition. The size will be changed after you reboot your system.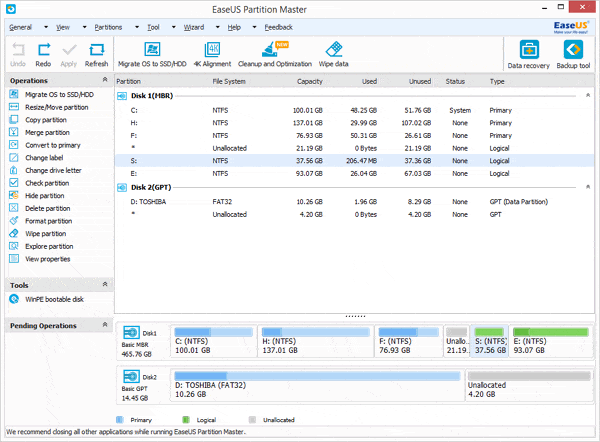 Besides the function to change partition size on Windows server, you can enjoy more features from EaseUS Partition Master Server Edition for server computer partition management, including: Copy Partition, Copy Disk, Create and Delete partitions, Format partitions, Convert Partitions, Explore Partitions, etc.
Other partition management options are also avaliable in this partition magic software:
To learn more about EaseUS Partition Master Server
Note: when you manage your disks and partitions, your Server is at greatest risk of data loss. To ensure data security, we suggest you download a backup software for your Windows Server 2000, 2003, 2008.
Routine backup for Servers is a good habit to protect your Server data, we suggest you do differential backup or incremental backup after the first full backup to save your disk space.
Related Articles