EaseUS Partition Master Server Edition
ALL-IN-ONE Windows Server disk management toolkit
Time Limited Offer - 20% OFF
$127.20 $159.00

30-day Money Back Guarantee
Extend Partition Windows Server 2000/2003/2008 with Server partition magic software
Introduction of Windows Server 2008
Microsoft has recently release its brand new Windows Server operating system edition-Windows Server 2008. It's designed for the next-generation of networks, applications, and Web services.
Windows Server 2008 builds on the success and strengths of its Windows Server predecessors while delivering valuable new functionality and powerful improvements to the basic operating system. New Web tools, virtualization technologies, security enhancements, and management utilities help saving time, reduce costs, and provide a solid foundation for your information technology (IT) infrastructure.
Windows Server 2008 delivers valuable new functionality and powerful improvements to the Windows Server operating system to help organizations of all sizes increase control, availability, and flexibility for their changing business needs.
Server partition magic software to extend partitions
If you want to extend partition on Windows Server 2000/2003/2008, you usually required usage of 3rd-Party software to extend your Server partitions, such as EaseUS Partition Master Server Edition and others. Now, unlike previous Microsoft Server operating systems, Windows Server 2008 allows for an easy, out-of-the-box, method of extending those partitions and making them larger.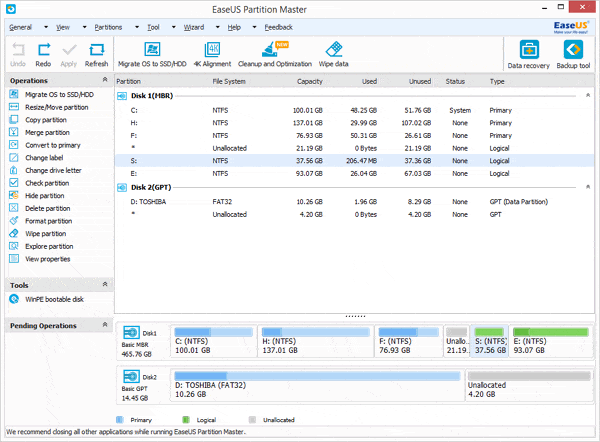 All partition features of this Server partition manager applies to Windows Server 2000, 2003, 2008.
Create, format, delete partitions on Server hard disks.
Resize, move partitions, merge or split partitions to manage partitions.
Manage dynamic disk, extend or shrink dynamic volume.
Learn more features to partition your Servers.
Steps to extend partitions on Server:
Note: To ensure data security, we suggest you download Server backup software to backup Server data in case of data loass before partition management. It's also a good habit to have a routine backup.
Run EaseUS Partition Master Server.
Right click the partition you want to extend, choose Resize/Move partition.
Follow the wizard to finish the extension.
Click Apply.
See how to extend partitions on Server?
Built-in Disk Management can't satisfy your needs
Can Windows Server 2008 built-in disk management extend a partition without data loss? According to Microsoft, Windows Server 2008 claims to develop, manage partitions, however no data security ensured. You may have a try to extend your Windows Server 2008 partition to see whether it will cause your data loss or not.
Windows Server 2008 built-in disk management cannot move partitions, furthermore, it does the work very slow and no safety guaranteed.
Here is an example of using the Disk Partition Manager Utility: In Windows 2008 Server, clicking on the "Computer" icon and "Manage". There you would find the Disk Management option. From there, select the C drive and choose "Extend". It will extend the partition to all available space. This will take a long time to complete without any notification, while server partition software won't take so long, just a few minutes. So, don't think Windows Server 2008 has hung. Let it finish and you will find C has been extend.
However, the Disk Partition Manager has its limitations such as backup your partition, and there is not any indication of schedule while extending which seems like a system halt. There is a good piece of news for Windows Server 2008 users: EaseUS Partition Master Server Edition, which supports Windows Server 2008 and ensures the data safety. It enables you to extend your Windows Server 2008 as you wish and without data loss. Download it to have a try!
Related Articles