EaseUS Partition Master Server Edition
ALL-IN-ONE Windows Server disk management toolkit
Time Limited Offer - 20% OFF
$127.20 $159.00

30-day Money Back Guarantee
How to resize Windows Server partition with partition magic software?
Resize Windows Server partitions: Serious task.
Will it be possible to use some extra space of the data partition and add it to the end of the system partition without damaging the system and data partition? This demand is universal during Server users. However, built-in Disk Management of Server has limited functions to do partition management. For example, Disk Management of Windows Server 2003 can not resize or move any partitions on basic disk, and it can only extend simple and spanned volume on dynamic disk. So what if you come up with some demands that beyong its ability?
To resize server partitions with reliable Server partition magic software which can do professional and comprehensive partition management on your Server and never destroy valued data during the process of extending, shrinking, moving merging server partitions in Windows Operating System. This document recommends popular partition magic software among most Server users: EaseUS Partition Master Server Edition, provided by EaseUS - professional data backup, data recovery, and partition management provider.
Partition magic software: EaseUS Partition Master
Resizing server partition is very simple with the help of EaseUS Partition Master Server Edition. For example, you want to resize a server partition, like D: Drive in your Windows Server Operating System. Of course, you don't want to lose a single bit of data on your hard drive when you resize server partition. EaseUS Partition Master Server is a perfect choice for you. It allows you to freely resize server partition without destroying data.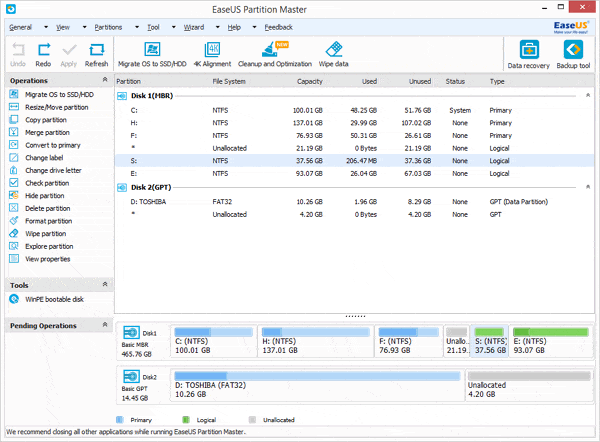 With this Server partition magic software, you can:
Create, format, delete partitions on Server.
Extend, shrink, move, merge, split partitions.
Convert dynamic disk to basic, resize dynamic volume, repair raid 5 volume.
Copy Partition, Copy Disk, copy dynamic volume.
The steps to resize server partition:
Note: To ensure data security, we suggest you backup Server before do any partition operations on your Server. Free download Server backup software to protect Server data.
OK, let's get it started. First of all, launch EaseUS Partition Master Server. Select the server partition needed to be resized, in this case, you select D:. Then click Partitions > Resize/Move partition.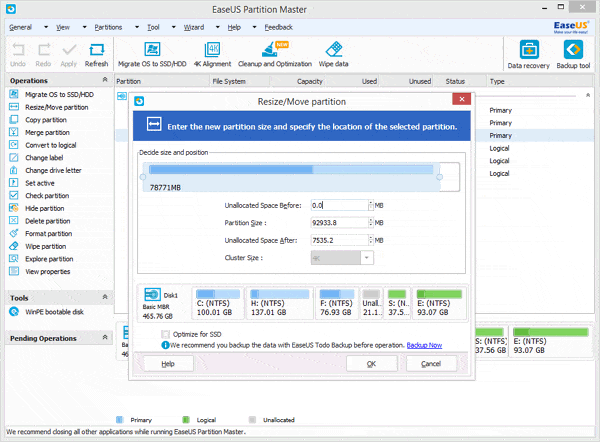 Your current disk diagram shows the partition size clear. Before resizing server D: partition, free space by the neighborhood is needed. If there is no free space around, be free to resize neighbored partition such as E: smaller. You may also resize the next server partition to be smaller and then move the partitions step by step in order to make sure there is free space near the targeted partition.
Then be free to enlarge the D: partition to make the unallocated space included.
Usually the C: partition is much needed to be resized in server system. Go ahead with the similar steps above. No need to worry about the setups in your computer, no data loss, you will have the resized server partitions.
If you want to resize dynamic disk on your Server, see how to resize dynamic disk?
In addition, EaseUS Partition Master also have other powerful functions, such as: hide and unhide partitions, set active partition, etc. As a magic partition tool, it is compatible with Windows Server 2000/2003/2008 and Non-Server 2000/XP/Vista/Windows 7/Windows 8 (32 and 64) bit systems. Download to resize your Server partition now.
Related Articles