EaseUS Partition Master Server Edition
ALL-IN-ONE Windows Server disk management toolkit
Time Limited Offer - 20% OFF
$127.20 $159.00

30-day Money Back Guarantee
How to partition servers with Partition Magic alternative?
Choose the right alternative partition software for Partition Magic
Different server applications need different hardware, such as hard drive, graphics, etc. So, CPU speed is not as critical to a server as it is to a desktop.
Servers are more powerful and complex, the longer it takes for the hardware to turn on and begin loading the operating system. For example, initiating RAID system need checks for correct operation of redundancy.
So, the software installed on Server computers is strictly chosen by administrator, especially the computer utilities, which are able to maximize the performance of the Servers, like partition servers software. Then, what is the suitable partition servers' software used for Server computers?
On the Windows Server, when the boot partition C: is out of place, the server computer will be fighting for the precious space and will run slowly. To start over is a solution but no one would like to waste hours or days to do it. The most time-saving and easy way is to enlarge that small C: drive with reliable partition servers' software. Except resizing partitions on Server, it can also move, create, delete, and format your partitions, etc.
Partition servers are not an easy task to do. Some unreliable software might destroy all your important data during the process of resizing partition on Windows Server Operating System.
" Tnank God I found a nice partition servers software - EaseUS Partition Master Server Edition. It did everything I needed and performed all the advanced functions well just as it claimed!"
With the help of Partition Magic alternative - EaseUS Partition Master Server Edition, you will find resizing partitions on Windows Server is very simple. For example, if you want to resize a partition, like D: Drive in your Windows Server Operating System without losing data during the resizing process, it is a perfect choice for you. It allows you freely resize a partition on Windows Server without destroying data.
Steps of partitioning Windows Server with EaseUS Partition Master Server Edition
The following is step-by-step instruction to extend system partition (C: drive) of Wondows Server.
1. Launch EaseUS Partition Master.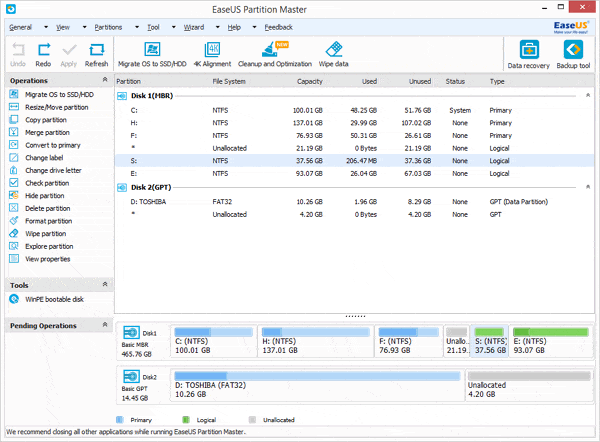 2. Select partition E:, right click it and select "Resize/Move partition". Drag the partition handle leftwards to resize E drive as the following picture showing.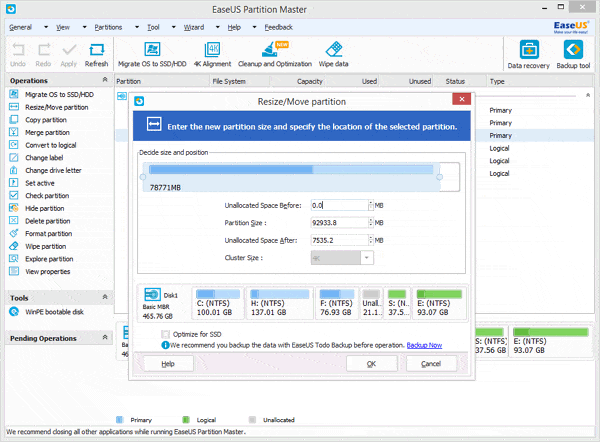 3. Move E: drive rightwards to let the unallocated space behind the system partition (C: drive) and click OK.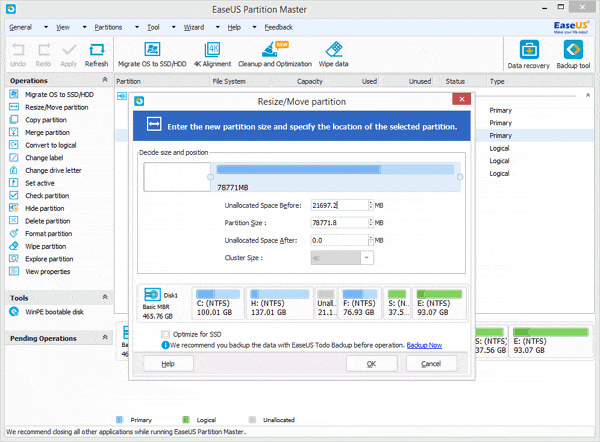 4. Select the system partition (C: drive), right click it and select "Resize/Move partition". Drag the partition handle rightwards to extend system partition (C: drive).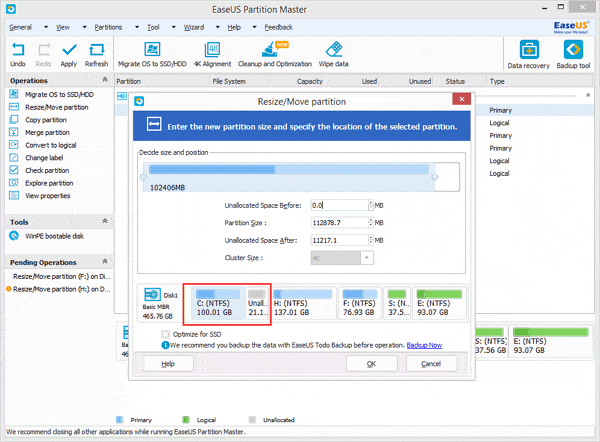 5. Click Apply and within minutes the system partition is extended successfully.
Note: If it has some unallocated space right behind the partition you want to extend, please extend it by occupying the unallocated space with "Resize/Move partition".
For security purposes, I strongly recommend you to back up everything before partition Servers. Otherwise you will meet the possibility of losing your data due to unexpected shutdown or other unknown reasons.
For more detailed information, please visit resizing and moving partitions.
EaseUS Partition Master Server Edition
ALL-IN-ONE Windows Server disk management toolkit
Time Limited Offer - 20% OFF
$127.20 $159.00

30-day Money Back Guarantee
More EaseUS Partition Master Editions for business users
Unlimited usage within a company
-
-
Free lifetime upgrades
-
-
Provide Technical Services to Clients
-
-
-
-
License
Machine License
Machine License
Unlimited License
Unlimited License
Technician License
Price

$127.20

$159.00

$207.20


$259.00

$319.20


$399.00


$399.20


$499.00

$559.20

$699.00
Related Articles
Feedback on this article:
Thanks for visiting EaseUS, please let us know how we can improve this article or make it more useful to you. Should you need technical support please feel free to contact support@partition-tool.com.