EaseUS Partition Master Server Edition
ALL-IN-ONE Windows Server disk management toolkit
Time Limited Offer - 20% OFF
$127.20 $159.00

30-day Money Back Guarantee
Partition Magic server software for Windows 2003 Server
Not long ago, people always asked "Which kind of partition software can work under Windows 2003 Server?" And now, Windows 2008 Server edition has come out, the partition software for Windows Server (2000, 2003 and 2008) becomes more and more popular. But few partition software can support Windows 2003 Server edition.
We would like to recommend a cheap and safe server partition software which may help you to resize your server partition in an easy way.
If you want to resize 2003 server partition, here are some advice for you:
1. DiskPart.exe can enable you to manage disks, partitions, or volumes by using simple scripts or direct input from a command prompt. Before you can use DiskPart.exe commands on a disk, partition, or volume, you must first list and then select the object to give it focus.
Example to shrink a partition:
Open the Start Menu and type cmd in the Start Menu search box. Then press Ctrl+Shift+Enter.
Type diskpart in the command prompt.
Type list volume and press Enter.
Type select volume * and press Enter.
Type shrink desired = (* MB) and press Enter.
Type exit and press Enter and close it.
One thing must be clear is that extending a partition can be only realized by Diskpart.exe when there is unallocated space behind the partitions that needs to be expanded. In most cases, the unallocated space is not behind the partition you want to extend or there is just no unallocated space that you can use. Under this condition, you would need our partition manager software to help you out.
2. Download EaseUS Partition Master Server Edition and install it. This partition software can work under Windows Server (2000, 2003, Small Business 2003, and Storage 2003, 2008) and Windows 2000 Professional SP4, Windows XP, Vista/Windows 7/8. The most important thing is that it can help to resize your Server partitions with deleting or formatting any partitions in case of data loss.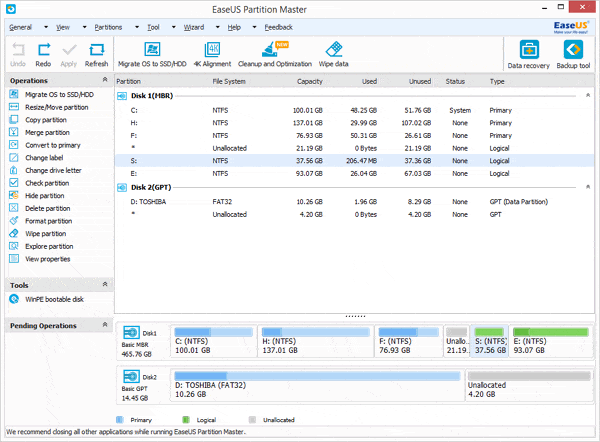 If you want to know how to resize your partitions with this software, please refer to: resizing and moving partition.
Related Articles