EaseUS Partition Master Server Edition
ALL-IN-ONE Windows Server disk management toolkit
Time Limited Offer - 20% OFF
$127.20 $159.00

30-day Money Back Guarantee
How to resize partitions on Windows Server 2000/2003/2008 32 bit and 64 bit?
You may find that there is not enough free space on a certain partition of your server and would like to resize it. For example, you want to extend C: drive to make the computer run faster. What you need is a professional server partition magic utility that allows you to easily resize (extend/shrink) the partition on Windows 2000/2003/2008 Server without destroying data.
While, built-in Disk Management is limited to do partition management on your Server, for example, if you are running Windows Server 2003, you can't resize or move any basic partitions on your hard disk, and you are only allowed to extend simple and spanned volume on dynamic disk. So what if you want to shrink volume or extend stripped, mirrored volume? Disk Management can only do basic limited functions, you still need professional and fully-functional partition magic software.
Here comes a reliable program - EaseUS Partition Master Server Edition, the only tool you would ever need to resize your partition on Windows Server. You may improve the performance of your Windows Server with this comprehensive tool. It works with both server and non-server Windows Systems - 2000 Server/Advanced Server, 2003 Server, 2008 Server and Windows 2000 Professional SP4, Windows XP, Vista/Windows 7/8.
Partition magic software: EaseUS Partition Master Server
EaseUS Partition Master Server Edition is designed for Server users to partition Server hard disk. It allows you to perform basic and advanced partition operations on your servers without data loss, including: create, delete, resize, move, merge, copy, format, hide, unhide and set active partition, etc. Changes can be previewed before applying to hard disk and the data is completely protected during all operations.
You can extend, shrink and move partitions on baisc disk. If you want to extend system partition with other partition next to it, you need to move or shrink other partitions to make some free disk space for system partition to be extended. You can extend, shrink dynamic volume (simple volume, spanned volume, stripped volume, mirrored volume, raid 5 volume) to resize dynamic disk.
You can merge partitions to make a bigger partition. You can still merge partition to change file system of partition without formatting partition. When you merge two partitions with different file system, the file system of final partition will be set as more advanced file system.
How to resize Server 2000/2003/2008 partition with EaseUS Partition Master Server Edition?
The following is step-by-step instruction to extend system partition (C: drive) on Windows Server.
1. Launch EaseUS Partition Master Server. (If there is some unallocated space right behind the system parttion of your server, please skip step 2 and step 3, directly go to step 4.)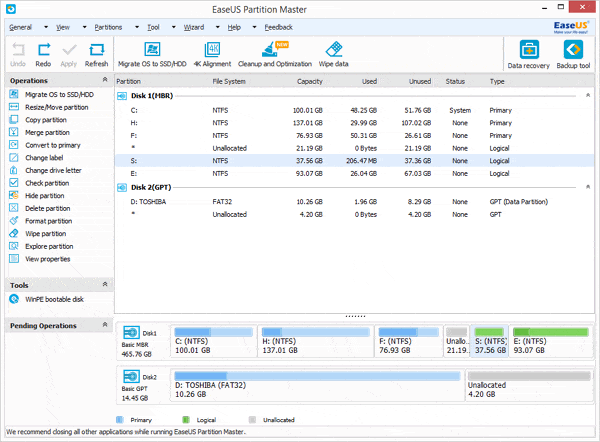 2. Right click partition E:, select "Resize/Move partition" and drag the partition handle leftwards to shrink E drive.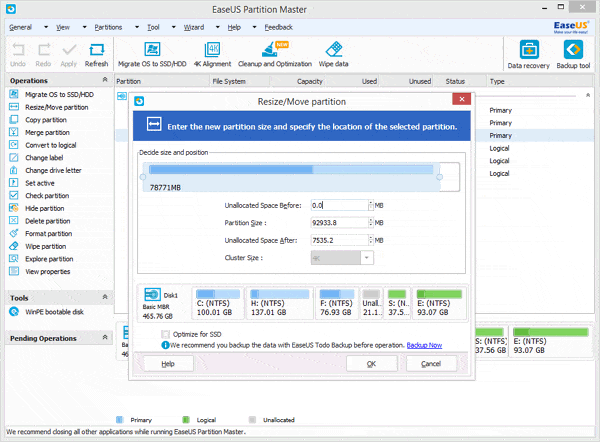 3. Move E: drive rightwards to let the unallocated space be behind the system partition (C: drive).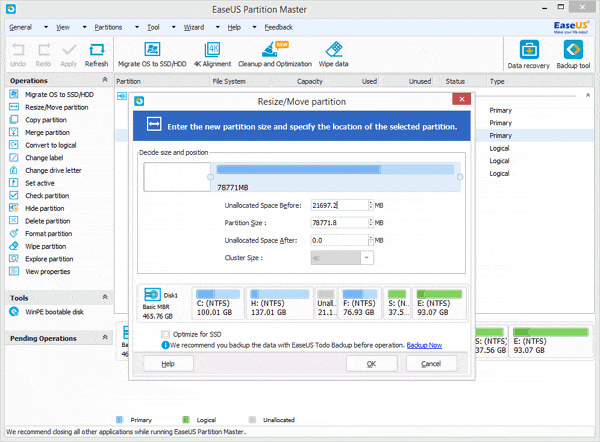 4. Right click the system partition (C: drive), and select "Resize/Move partition", drag the partition handle rightwards to extend system partition (C: drive).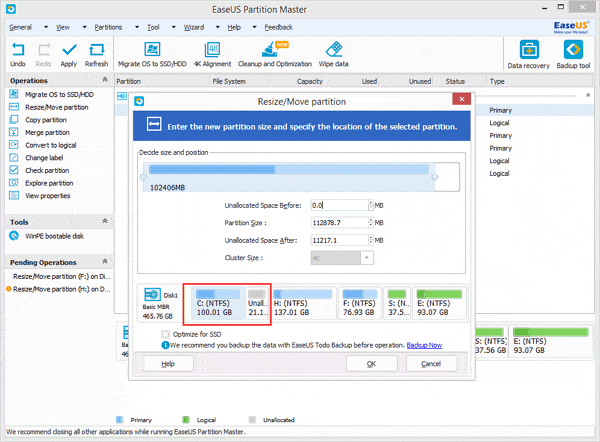 5. Click Apply.
For more detailed information, please visit resizing and moving partitions.
If you want to resize dynamic volume, see how to resize dynamic volume?
Besides partition manager, EaseUS Partition Master provides Partition Recovery Wizard and Disk and Partition Copy Wizard features. It is a complete solution to solve your Windows Server hard disk and partition problem.
You can also free download backup software for Server to backup whole Server. Routine backup for Server is a good habit to protect data.
Related Articles