EaseUS Partition Master Server Edition
ALL-IN-ONE Windows Server disk management toolkit
$127.20 $159.00
How to resize partition on Windows Server 2008/2003/2000?
This article talks about how to resize Windows Server partition and make the process of resizing a partition on Windows Server becomes simplified with detail introduction. Before that, we would like to introduce some knowledge of server and Windows server:
A server is a computer that provides services or resources to other computers. It is the most important computer in the whole system because it contains loads of critical data and files.
Windows Server is a brand name for server Operating Systems released by Microsoft Corporation. This name has been used for the following software releases:
Windows 2000 Server, the release based on Windows 2000
Windows Server 2003, the previous release of Windows Server
Windows Server 2008, the current release of Windows Server
Windows Server 2008 R2, the next release of Windows Server
Windows Small Business Server, an operating system based on Windows Server with some integrated Microsoft Servers, for small businesses
Windows Essential Business Server, a product similar to Small Business Server, but for medium-sized businesses
Windows Home Server, a home server operating system for file sharing and streaming, automated backups, and remote access
The problem:
Most of the Windows Server users and the technicians have met this problem: the free space on system partition is not enough to install new software; the system is running slowly because the inefficient free space on the disk causing low disk space problem and it need more space from other partitions.
How to improve this phenomenon?
One way to optimize the performance of your Windows Server is by resizing Windows Server partition. That is, gather all free space on your hard drive for the existing partition. But for most Windows Server users, resizing Windows Server partition is not an easy work to do, which makes most of the people ask for help from Windows Server partition resizing software. A server is a very important part for a company system. If you do partition resizing with unsafe software, your precious multi-media files, your important data would be lost without any chance of recovery, only leaving you sorrow and desperation. So it is very important for IT administrator to right choose a partition utility to do Windows Server partition resizing.
Choose a reliable partition-manager software to resize Windows Server
Choose a reliable partition-resizing software to make resizing Windows Server partition a simple task is what Windows Server users most do.
EaseUS Partition Master Server Edition is a reliable one that may help you out when you feel anxious about resizing Windows Server partition to maximize its performance. Except its core feature - Resize/Move partition, it can also merge partition, copy partition for data transfer, resize dynamic volume, convert dynamic to basic disk and so on.
The following is step-by-step instruction to extend system partition (C: drive) on Windows Server.
1. Launch EaseUS Partition Master.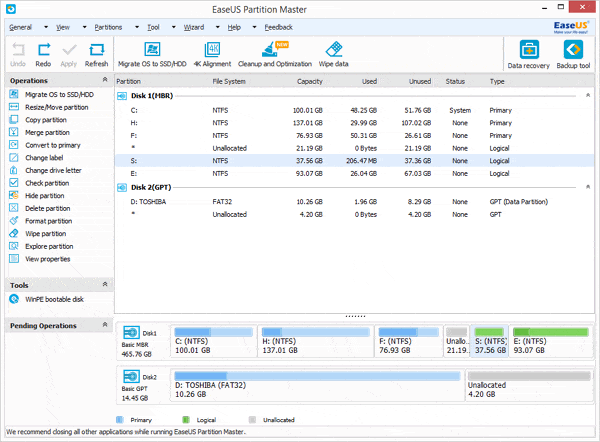 2. Click partition E: and select "Resize/Move partition" under Partitions on the top and drag the partition handle leftwards to resize E drive. There would be some unallocated space for extending C: drive.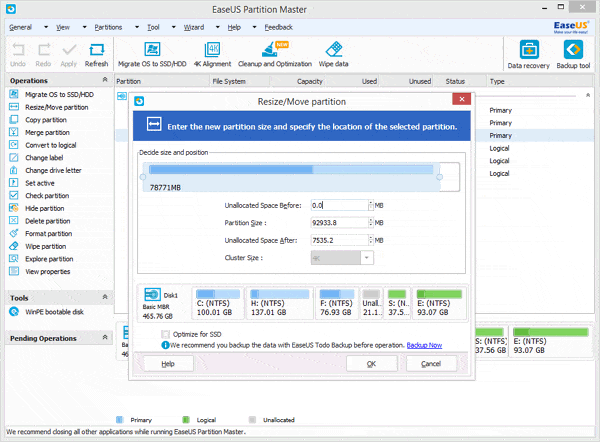 3. Move E: drive rightwards to let the unallocated space behind C: drive.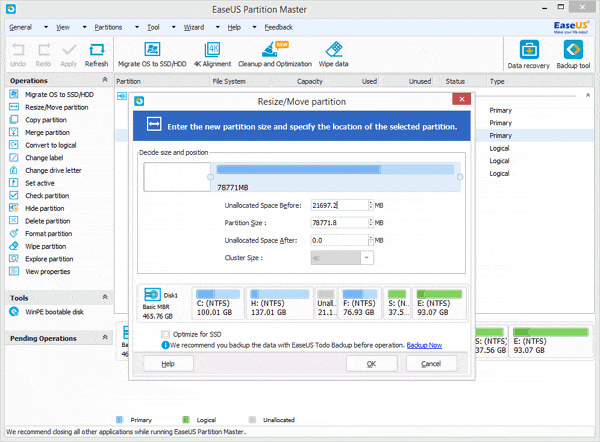 4. Select the system partition (C: drive), select "Resize/Move partition", and drag the partition handle rightwards to extend system partition (C: drive).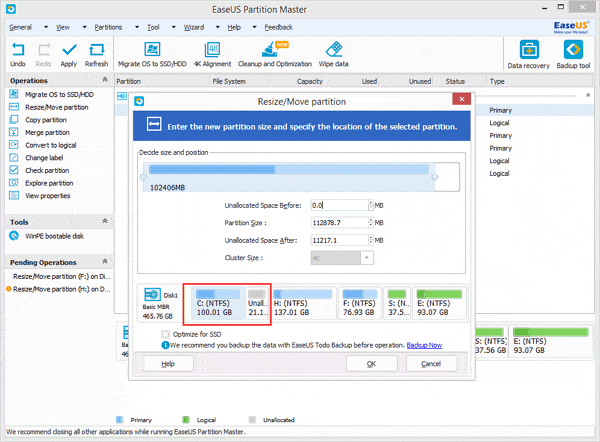 5. Click Apply. If there is some unallocated space around the system partition, you can extend the system partition directly with those free space.
For more detailed information, please visit resizing and moving partitions.
Related Articles