EaseUS Partition Master Server Edition
ALL-IN-ONE Windows Server disk management toolkit
$127.20 $159.00
How to resize partition on Windows Server 2003 32 bit and 64 bit?
Introduction
Do you need a Windows Server 2003 32 bit and 64 bit partition software to maximize the computer performance? If so, this article will recommend you a kind of professional server partition magic software - EaseUS Partition Master Server Edition to resize partition in Windows Server 2003, 2000 and 2008. It can resize partitions & hard drive on your Windows Server 2003 without losing data, and changing server 2003 partition size will be a piece of cake even for the ordinary users. In order to fulfill needs of enterprise users, we offer another advanced edition - EaseUS Partition Master Unlimited Edition that allows unlimited usage within one company.
Why to resize Windows Server 2003 partition?
The Server computers are more and more frequently used in company because they are important to guarantee the security and secrecy. While any workstation computer is capable of acting as a Server, a Server computer usually included special features intended to satisfy different needs. These features are a faster CPU, faster and more plentiful RAM, and larger hard drives.
Network administrators need to take good care of these Server computers, so every software installed on Server computers is strictly chosen by them, especially the computer utilities, which are able to optimize the performance of the Servers, like server partition manager software. Then, why we need to partition Server 2003?
When a system partition C: drive is out of space, the Server computer will run slowly because of limited space for use. One solution is to start over, but no one would like to waste their time to do this tedious work. The most time-saving and easy way is to use server partition magic software to resize the small system partition. Except resizing Server 2003 partitions, this server partition magic software can also move, create, delete, merge, and format your partitions, and etc.
It is not an easy task for Server users to resize Server 2003 partitions and the unreliable software might destroy all your valued data during the process of resizing server partition. Therefore, a trustable software like EaseUS Partition Master with over 6 million users around the world must be choosen. It provides an easy-to-use interface that guides you to do all necessary functions, including resizing/moving server partitions, creating or deleting partitions, merging partitions, resizing dynamic disk, and etc. Being fully compatible with Windows Server 2000/2003/2008 and Non-Server 2000/XP/Vista/Windows 7/8 (32 and 64 bit) systems, you will find the way to resize server partitions under Window Server 2003 or on other operating systems is very simple.
For example, you can resize Windows Server 2003 partition, like E: drive on your Server 2003 without losing data during the resizing process. This server partition magic software will allow you to freely resize server partition in Windows Server 2003 without destroying any data.
How to resize Server 2003 partition with server partition magic software?
Firstly, launch EaseUS Partition Master Server Edition. Select the partition needed to be resized. In this case, you select D: Then click Partitions > Resize/Move partition.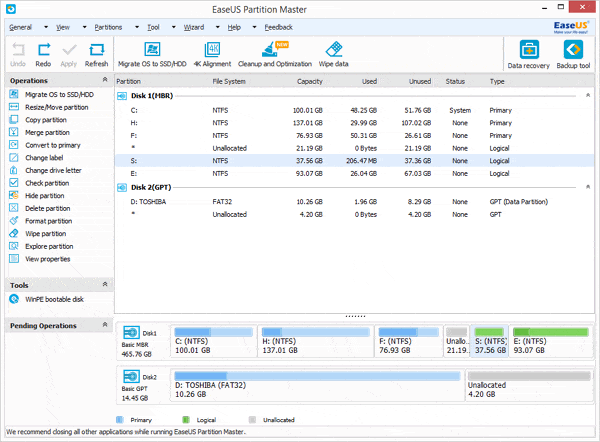 On the disk diagram, all information of partitions, including unallocated space (if any exists) will be displayed, like used space/unused space, partition type, file system and so on. The minimum and maximum sizes that you can resize on Windows Server 2003 partition depend on the free space within and surrounding it. If the free space is not enough as you need, you can get all the free space by shrinking another partition. After that, position the mouse pointer on the left or right partition handle and drag the handle to the partition size you want. The last step, click "Apply" to apply the changes.
This latest EaseUS Partition Maser Server Edition now supports: Windows 2000 Server SP4; Windows 2000 Advanced Server SP4; Windows Server 2003 Standard Edition; Windows Server 2003 Enterprise Edition; Windows Server 2003 x64 Standard Edition; and Windows Server 2003 x64 Enterprise Edition, Windows Server 2008 (32 and 64 bit). More detailed steps: How to resize Windows 2003 Server partitions?
Windows Server partition resizing tips:
However, nothing is 100% securing. So I strongly recommend you to back up everything before resizing the partitions on Windows Server 2003; otherwise you will meet the possibility of losing your data due to unexpected shutdown or other unknown reasons. You can use the "copy disk or partition" function in EaseUS Partition Master Server Edition to protect data before partitioning Windows Server 2003 or back up all your important data with the reliable server backup software.
Related Articles