EaseUS Partition Master Server Edition
ALL-IN-ONE Windows Server disk management toolkit
Time Limited Offer - 20% OFF
$127.20 $159.00

30-day Money Back Guarantee
Hope I can resize my house as I resize Windows Server Partitions
Olympic Games is coming!!! I am a crazy fan of Olympic Games. 4 years' waiting, I become more and more excited. I need to increase my bandwidth, Internet access with 1Mbps fiber? No, I need 10M. Speed is the most important. Because I wanna download all videos of Olympic Games.
Then it's hard disk. I have bought 2 more hard disks (1 TB each) for video storage. I have use Server partition magic software to resize Windows 2003 Server partitions. 28 partitions totally to store 28 catalogues (Here I need to say that resizing so many partitions on Windows Server is a hard work). And a super UPS which keeps computer running when power is down.
Partition magic software: EaseUS Partition Master Server
EaseUS Partition Master Server provides various partition features for you to resize Server partitions. It can work on Windows Server 2000, 2003, 2008 and non-server computer such as Windows 2000, XP, Vista and Windows 7/8.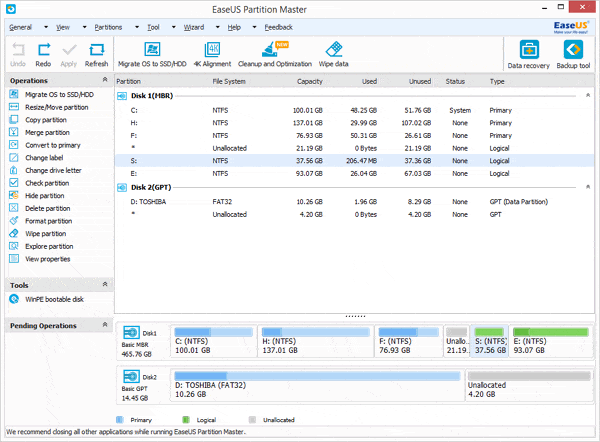 You can create new partitions on new-bought hard disk and use specific partitions to store different types of data. If you find some partitions are running out of disk space, you can extend those partitions directly to add unallocated space to them or you can shrink other partitions to make some free disk space and then extend them. The feature to resize and move partition can help you manage all your partitions easily.
If you have already partitioned your hard disk and each of them has stored data, you can choose to merge them or split them to control your partitions. we give you an example to merge partitions on Windows Server 2008, if you are running Windows Server 2000, 2003, there is only slight difference between them. See how to merge partitions on Windows Server 2008?
If you convert your basic disk to dynamic disk, you can also use this partition magic software to extend or shrink dynamic volume, it supports resizing five types of dynamic volume: simple volume, spanned volume, stripped volume, mirrored volume, and raid 5 volume. It can also repair raid 5 volume. See how to resize dynamic disk with partition magic software?
Note: Before using this partition magic software to do any operation, please backup your computer first to protect data. Download backup software for Server to backup whole Server. Routine backup for Server is a good habit to protect data.
Partition magic software does work perfectly
After I partition my computer, emmm, let me have a think, what did I neglect?
Oh yes, food! I need to stay at home for half a month, maybe hiring a housekeeper temporarily is a good idea. But it seems that I only have one bedroom, no more space for a housekeeper. At this moment, I prayed, God please resize my house as I resized Windows Server partitions.
Now, everything is done. LOL, Olympic Games, I am coming!
Related Articles