EaseUS Partition Master Server Edition
ALL-IN-ONE Windows Server disk management toolkit
Time Limited Offer - 20% OFF
$127.20 $159.00

30-day Money Back Guarantee
Instruction to resize Windows 2000 Server partitions
What would you do if your system partition is not large enough for new software installation? What's the solution if your server is running slowly due to the inefficient space on one partition?
The only way out of the dilemma is to resize your partition with some reliable partition magic software. But for most Windows 2000 Server users, resizing partition is a constant problem. Resizing partition could be dangerous and risky which can esaily cause data loss. A server is an important collection of data to run the whole system. It might be very critical if one single bit of data is lost. If you take the risk to use some unauthorized software to resize your partition under Windows 2000 Server, your precious multi-media files, your significant office documents would be taken by the unsafe partition software without any chance of recovery during the process of resizing partitions, leaving you only sorrow and desperation.
There comes the good news to all users, EaseUS just released the EaseUS Partition Master Server Edition, a comprehensive and cost-efficient partition magic software. With the help of EaseUS Partition Master Server Edition, Resizing partitions could be a simple task for every user.
This document is going to introduce this Server partition magic software to all of you.
Partition magic software: EaseUS Partition Master Server
EaseUS Partition Master Server Edition is designed for Server users to partition Server hard disks and resize basic partitions and dynamic volumes. It supports Windows Server 2000, 2003, 2008 and Windows XP, Vista, 2000 and Windows 7/8.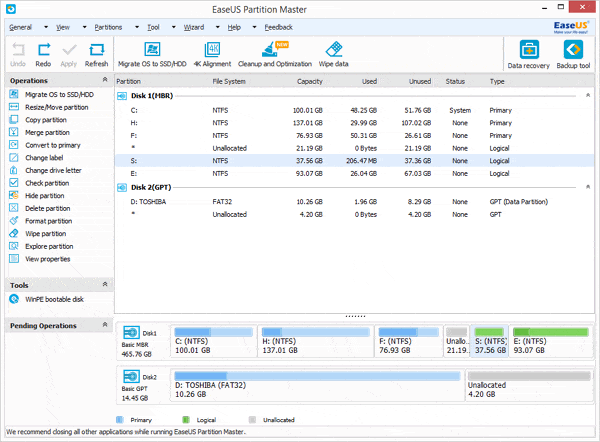 Features provided by EaseUS Partition Master:
Create, format, delete partitions on Server.
Extend, shrink, move, merge, split partitions.
Convert dynamic disk to basic, resize dynamic volume, repair raid 5 volume.
Copy Partition, Copy Disk, copy dynamic volume.
How to resize partitions with partition magic software
Let's get familiar with it by an example: You need to resize one partition in your Windows 2000 Server Operating System and of course you do not want to lose a single bit of data through the whole resizing process. It would assure you the best quality and highest safety. It allows you freely resize a partition without destroying data.
Note: Backup Server data regularly is a good habit to protect Server, to ensure data security, we suggest you backup Server first before resizing partitions on Server. Free download Server backup software to protect Server data.
Launch the software. Select the partition needs on the fly. Then click Partitions > Resize/Move partition. On the disk diagram, the current size of all the partitions on Windows 2000 Server is displayed. The diagram also depicts free space on the disk. The minimum and maximum sizes that you can do with the partition depend on the free space within and surrounding it. The last step, save your operations and reboot your Windows 2000 Server system; you would have a resized partition.
If you want to extend or shrink dynamic disk on your Server, see how to resize dynamic disk? (EaseUS Partition Master can support resizing five types of dynamic volume: simple volume, spanned volume, stripped volume, mirrored volume, raid 5 volume)
Download EaseUS Partition Master now to resize Server partitions!
EaseUS Partition Master Server Edition
ALL-IN-ONE Windows Server disk management toolkit
Time Limited Offer - 20% OFF
$127.20 $159.00

30-day Money Back Guarantee
More EaseUS Partition Master Editions for business users
Unlimited usage within a company
-
-
Free lifetime upgrades
-
-
Provide Technical Services to Clients
-
-
-
-
License
Machine License
Machine License
Unlimited License
Unlimited License
Technician License
Price

$127.20

$159.00

$207.20


$259.00

$319.20

$399.00

$399.20


$499.00

$559.20

$699.00
Related Articles
Feedback on this article:
Thanks for visiting EaseUS, please let us know how we can improve this article or make it more useful to you. Should you need technical support please feel free to contact support@partition-tool.com.