EaseUS Partition Master Server Edition
ALL-IN-ONE Windows Server disk management toolkit
Time Limited Offer - 20% OFF
$127.20 $159.00

30-day Money Back Guarantee
Windows Server Disk Management softwarer recommendation
Why we need the help of professional disk management software?
A lot of software businessmen are talking about purchasing their advanced disk management software to manage your server. Some of you may wonder why I need to spend money to buy such a software while my server is working so well?
You need to know that there is always some potential crisis existing in your seeming perfect server.
We have mentioned a lot of times that a server is the most important computer in the whole system because it provides services or resources to other computers. It contains loads of critical data and files. And most of the server users and the technicians have met such problems as the free space on system partition is not enough to install new software; the system is running slowly because the inefficient free space on the disk and it need more space from other partitions.
In these cases, you need reliable disk management software to help you safe manage your server. And we highly recommend you to purchase a solid disk manager software to take precaution against such things from happening.
To be a wise man to choose a reliable disk management software!
It's better for you to choose EaseUS as your disk management software provider.
EaseUS Partition Master Server Edition is very simple to use. No matter what operation you want to do to your disk or partition, all you need is to do click and follow the prompt. All the operations would be done within minutes and without data loss. EaseUS Partition Master Server Edition guarantees your work's continuity and your server's safety.
The EaseUS Partition Master Server Edition can supports almost all the most popular server edition and also the non-server systems: Windows Server 2008 R2 SP1; Windows Server 2008 32 bit and 64 bit Standard, Enterprise and Datacenter Edition, Windows Web Server 2008; Windows Server 2003 32 bit and 64 bit Standard and Enterprise Edition, Windows Small Business Server 2003; Windows 2000 Professional and Server/Advanced Server SP4. And Windows 7 SP1, Windows 8 (32 bit and 64 bit Edition); Windows Vista 32 bit and 64 bit Edition; Windows XP Home Edition and Professional 32 bit and 64 bit Edition, and so on.
Steps of managing your disk with this disk management software
EaseUS Partition Master Server Edition is very simple to use. Launch the software. Select the partition you want to resize. Then click Partitions > Resize/Move partition.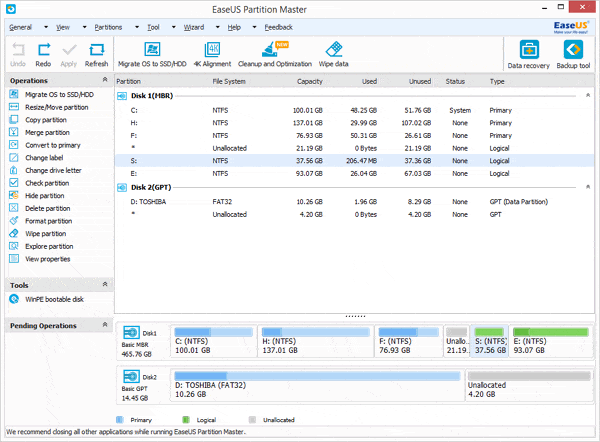 On the disk diagram, the current size of all the partitions on the Server is displayed. The diagram also depicts free space on the disk. The minimum and maximum sizes that you can do with the partition depend on the free space within and surrounding it on the disk. Drag the handle of the partition to any size you want. The last step, save your operations and reboot your Windows Server system; you would have an enlarged partition.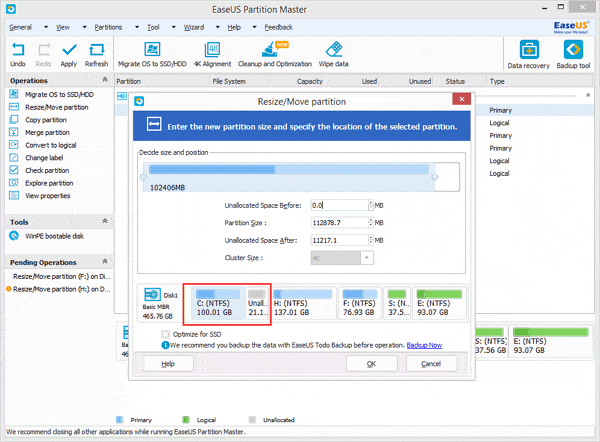 EaseUS Partition Master Server Edition
ALL-IN-ONE Windows Server disk management toolkit
Time Limited Offer - 20% OFF
$127.20 $159.00

30-day Money Back Guarantee
More EaseUS Partition Master Editions for business users
Unlimited usage within a company
-
-
Free lifetime upgrades
-
-
Provide Technical Services to Clients
-
-
-
-
License
Machine License
Machine License
Unlimited License
Unlimited License
Technician License
Price

$127.20

$159.00

$207.20


$259.00

$319.20

$399.00

$399.20


$499.00

$559.20

$699.00
Related Articles
Feedback on this article:
Thanks for visiting EaseUS, please let us know how we can improve this article or make it more useful to you. Should you need technical support please feel free to contact support@partition-tool.com.