EaseUS Partition Master Server Edition
ALL-IN-ONE Windows Server disk management toolkit
Time Limited Offer - 20% OFF
$127.20 $159.00

30-day Money Back Guarantee
EaseUS Partition Master Server Edition Works as Server Magic Alternative
Resize Server Partition by Server Magic
Need managing server partitions? Server Magic seems to be a good choice. Server Magic is the server edition of Partition Magic from PowerQuest. It has the ability to check, format, delete, resize and copy volume sets on server. Server Magic works like Partition Magic and the only difference from Partition Magic is that it can run under Server Edition of Windows NT and 2000. But since being acquired by Symantec, Server Magic has not been upgraded. So it is not possible for Server Magic to resize server partition under any advanced Operating System, such as Windows 2003, 2008, etc.
Since Server Magic is not available for those Operating Systems, then how to choose right software to resize server partition? Taking OS, cost, security and stability into consideration, EaseUS Partition Master Server Edition might be the right choice working as Server Magic alternative.
EaseUS Partition Master Server Edition-Server Magic Alternative
As Server Magic alternative, EaseUS Partition Master Server Edition is the best valued server partition software to resize server partition for network administrators. It works as Server Magic alternative with powerful functions of resizing server partition. You may perform basic and advanced partition operations on your servers without data loss, including: create, delete, resize and move partitions, Copy Partition, Copy Disk, format partitions, hide and unhide partitions, set active partition, etc.
Comparing with Server Magic, EaseUS Partition Master Server Edition supports more Operating Systems. It is compatible with Windows Server 2000/2003/2008 and desktop 2000/XP/Vista/Windows 7/8 (32/64) bit systems. Hardware RAID is also supported.
As more and more computer users are inclined to use 64 bit systems, this Server Magic alternative can also be used on partition 64 bit systems.
How to Resize Windows 2003 Server Partition with this Server Magic Alternative?
As Server Magic alternative, EaseUS Partition Master Server Edition works perfectly to resize server partition under Windows Operating Systems. Following are the detailed steps for resizing or partitioning Windows 2003 server by this server magic alternative:
1. After you launch the software, it will show you a disk map. On the disk map, current size of the partitions under Windows Server 2003 is displayed on the top of the dialog box. It also depicts the used and unused space within the partition and the free space surrounding the partition (if any exists).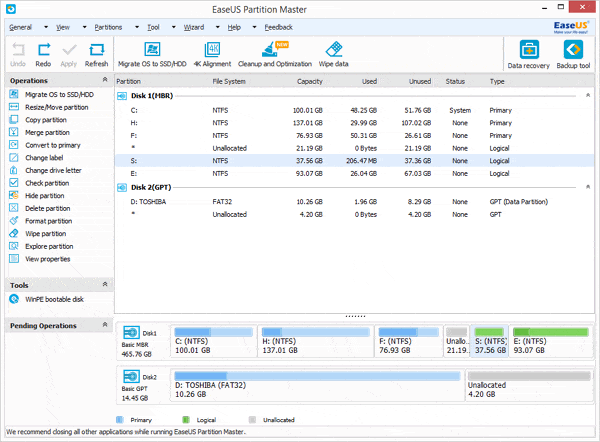 2. Select the partition you want to Resize/Move partition.
3. Position the mouse pointer on the left or right partition handle on the map.
4. Drag the handle to the partition size you want when the mouse pointer changes into a double-headed arrow.
5. Click Apply.
From above mentioned, you will find that EaseUS Partition Master Server Edition can resize server partition with easy operations without data loss. Furthermore, to choose this Server Magic alternative to resize server partition is certainly to save your money in this economic crisis period.
EaseUS Partition Master Server Edition
ALL-IN-ONE Windows Server disk management toolkit
Time Limited Offer - 20% OFF
$127.20 $159.00

30-day Money Back Guarantee
More EaseUS Partition Master Editions for business users
Unlimited usage within a company
-
-
Free lifetime upgrades
-
-
Provide Technical Services to Clients
-
-
-
-
License
Machine License
Machine License
Unlimited License
Unlimited License
Technician License
Price

$127.20

$159.00

$207.20


$259.00

$319.20

$399.00

$399.20


$499.00

$559.20

$699.00
Related Articles
Feedback on this article:
Thanks for visiting EaseUS, please let us know how we can improve this article or make it more useful to you. Should you need technical support please feel free to contact support@partition-tool.com.