EaseUS Partition Master Server Edition
ALL-IN-ONE Windows Server disk management toolkit
Time Limited Offer - 20% OFF
$127.20 $159.00

30-day Money Back Guarantee
Partition Magic management software for Windows Server 2003/2008/2000
Common problems for Windows Server administrators
You must have already heard the stories thousands of times: The partition C of your server is not large enough for your growing numbers of software and you want to make some extra space for it. At the meantime, there is plenty of space on other partitions in your server and of course you just want move some space to partition C. But you are always suffering from being not able to find a way to achieve your blueprint. All of a sudden, you server system crash down and all your files are lost…
It's worth to be understood that most server users are afraid of taking the risk to resize server partition even when the space is badly insufficient. You are worried about some unreliable software might destroy all your valued data during the process of partition resizing under Windows Server Operating System.
But please always remember that you cannot just ignore the plight of having less and less free space in the partition. You need a way out! Or you are waiting for breaking down of your server completely one day and losing all of your precious data forever.
EaseUS provides perfect partition management software to solve disk problem
Fortunately, we have EaseUS Partition Master Server Edition - a potent and easy-to-use Windows Server partition tool. It can resize your server partition freely without losing a single bit of data on your server.
What's more, we deeply understand that how important the continuity of server's work is. This professional server partition manager software is specially designed to resize the partitions, especially the system/boot partition, without reboot and within minutes to guarantee the smooth of your business.
Let's follow the instructions to learn the partition management software:
The first step, start EaseUS Partition Master Server Edition. In the upper of the main user interface, there is a map showing the current condition of the server partitions. Then, choose the partition needs to be operated on your server.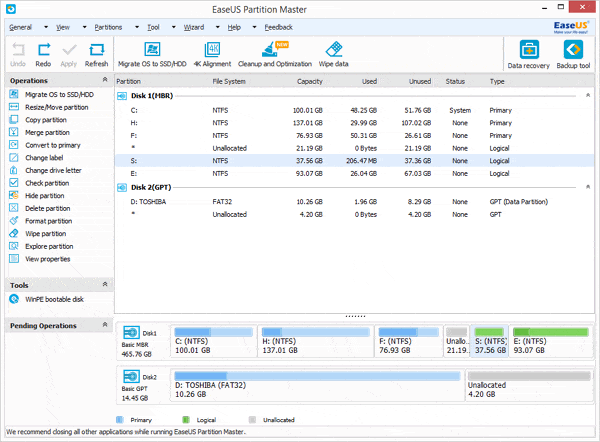 Remember to check whether there is enough space surrounding the target partition on your server. If not, shrink the neighboring partitions to make space for the target partition on your server. Drag the handle of the target partition to the size you want, click Apply to complete all the operations. Within minutes, you have a resized server partition.
Related Articles: