EaseUS Partition Master Server Edition
ALL-IN-ONE Windows Server disk management toolkit
Time Limited Offer - 20% OFF
$127.20 $159.00

30-day Money Back Guarantee
How to repartition Windows Small Business Server 2003 without data loss?
We all know what business files mean to business men. Good performance of Windows Server is highly required to keep everything going on very well. Disk Management in Windows Server 2003 has many limitations to manage their hard drive partitions and sometimes may even cause unexpected consequences, such as data loss. What works well without data loss is EaseUS Partition Master Server Edition. The business files are completely protected in the process of repartition on small business server 2003 and it is so far the best solution.
The SBS repartition software for Small Business Server 2003
During the selection of partition manager for SBS 2003, we should take many aspects into consideration:
1. It should protect everything on the hard drive, no matter it is a partition or the data stored in the partition.
2. It won't interrupt the work of Servers because the continuity is extremely important for Server users.
3. It must be simple and easy-to-use so that everyone can easily do operations with it no matter he is a professional or inexperienced computer user.
4. It should be a credible and all-round partition manager software to guarantee the security of the Server and also satisfy all kinds of needs coming from Server users.
EaseUS Partition Master Server is the one that accords with the above mentioned rules. It provides powerful functions to let business users to resize, move, merge, delete, hide, unhide partitions, resize dynamic volumes to manage dynamic disk and other operations on small business server 2003.
The Example of repartitioning SBS 2003
Here comes an example. We got a company user who wanted to find a disk partitioning tool under Windows Small Business Server 2003. He recently installed Windows Small Business Server 2003 (64-bit) on his computer. His C: drive was properly formatted before installation, but his large drive (used for storage) 250GB was left alone. Having loaded the new system, 250GB drive is 'unallocated' under Disk Management. He was not sure how to activate the disk (or 'create new partition') without losing the data on it. Then he wrote his story on Yahoo answers to seek some help. Some experts told him EaseUS Partition Master Server Edition works. Then he tried with delights. With this tool, his new partition was created without any file loss on his small business server 2003.
Is it difficult to use for SBS 2003?
"No Doubt Work Great. My Grandma Can Do This For Me." Someone said after he used this SBS partition software. This is not a joke: Its interface is extremely clear for users, if you can read, then you can do it, the partition management wizard shows everything during SBS repartition procedure. Even if you make a wrong operation, you may discard it and choose another one, and all operations will not be realized unless a single click on "Apply".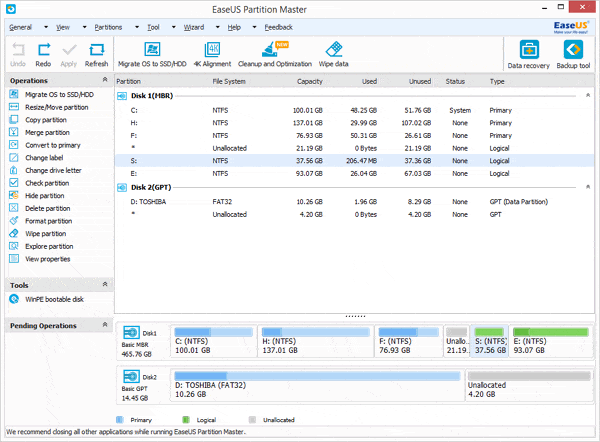 You can find the SBS repartition tutorial.
Two more impressive features on this SBS repartition software
1. You may create a bootable CD to repartition SBS which is new or needed when reinstalling the system.
2. There is a powerful backup plug-in: Partition & Disk Copy. This plug-in allows users to get the full backup of partition or disk, and then people don't have to worry about data loss. Or you can try our backup software to protect everything in your Server.
More EaseUS Partition Master features.
Related Articles