How to recover files by Partition Recovery Wizard built-in EaseUS Partition Master?
What is partition?
Generally speaking, partitioning is to divide mass storage into isolated sections. In DOS system, you can partition a disk, and each partition will work like a separate disk drive. Partitioning is particularly useful if you run more than one operating system. For example, you might reserve one partition for Windows XP and another for Windows Vista.
In addition, partitioning on DOS and Windows machines can improve disk efficiency. This is because the FAT system used by these operating systems automatically assigns cluster size based on the disk size: the larger the disk, the larger the cluster. Unfortunately, large clusters will result in disk space waste which is called slack space. To help partitioning and make better use of your hard disk, there are many partition tools, such as Fdisk, Partition Magic, EaseUS Partition Master.
What is "Partition Recovery"?
Partition Recovery is a significant part of data recovery. Data recovery is the process of salvaging data from damaged, failed, corrupted, or inaccessible storage device when it cannot be accessed normally.
Why do we need "Partition Recovery"?
If you have worked overnight, saved all your work and was sure that all the details were correct. Then in the next morning when you turned on your computer, you got an error message, such as "Invalid partition table", "Drive not formatted. Do you want to format now?", "File system is displayed as "RAW". These error messages generally indicate a corrupted partition, deleted partition or damaged partition and sometimes, you even can't boot up your computer. Fortunately, data on the hard drive still exists, but a wrong response to these error messages which can damage or delete the existing data.
These cases may occur due to the following reasons:
1. Accidently delete the partitions, especially when installing the operating system.
2. Virus attacks.
3. Power surges.
4. Partition software crashed your hard drive when you repartition.
5. The operating system crashed.
6. Accidently shut down the computer.
7. Accidently disconnect the external hard disks.
If you have experienced any of these unfortunate cases, then you need specialized partition recovery software to recover the partitions. Mostly, partition recovery software will help you to recover partition table and recover lost or deleted partition except physical damage, or failure of the hard disk or other storage medium. But the partition recovery software cannot recover deleted files and recover files from formatted partition, so you need data recovery software to recover lost files. EaseUS Data Recovery Wizard Free Edition is a free and professional data recovery software, you can have a try.
How to recover files by "Partition Recovery"?
Partition Recovery built in EaseUS Partition Master can recover deleted or lost partitions, after you recover deleted or lost partitions, your data is still here.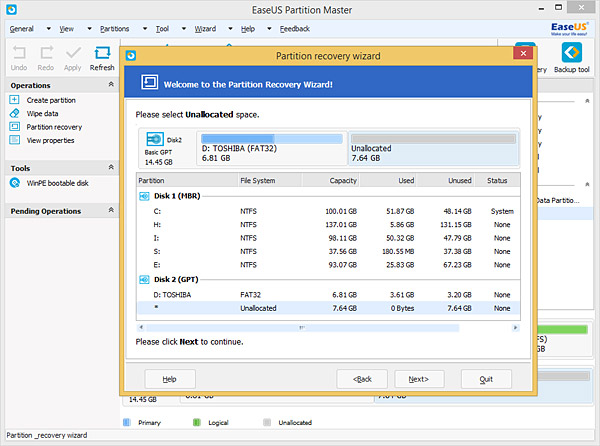 Detailed steps: How to recover deleted or lost partitions?
Besides Partition Recovery, EaseUS Partition Master provides Partition Manager and Disk and Partition Copy Wizard features. It is a complete solution to solve disk and partition problems.
Related Articles: