How do I recover data from 'Ghosted' (or 'Imaged') hard disk drives?
EaseUS Data Recovery Wizard Download Instruction:
1. Click the download to get Data Recovery Wizard
2. Save then install it on a drive other than the one on which your files were lost
3. Run Data Recovery Wizard, search your drive and preview the files found in the results screen
Explanation
Imaging (or "Ghost") programs such as Symantec NORTON Ghost are often used to make identical or near identical copies of a hard disk. This copy can be used as a backup or to transfer a system onto another hard drive etc.
Incorrect operation and use of the Ghosting programs may lead to very serious consequences, as the data previously held on the hard disk that is to receive the image will often be completely overwritten. This is not always the case though, as sometimes the disk receiving the image may be considerably larger than the original disk. Ghosting to a disk of this type will almost certainly destroy the file system and root directory structure but some of the data that was previously on the hard disk may still be recoverable. Other problems exist too, such as Ghosting in the wrong direction, unexpected program termination or system crash due to program defects or problems on one or more hard disks (e.g. due to bad sectors etc.)
Data recovery from Ghosted drives is often complicated and time consuming. You need to perform a considerable amount of analysis on a hard disk before you even know if the data is recoverable.
To recover "Ghosted" (or "Imaged") hard disk drives by error, please follow this procedure:
1.Download it, install and run free data recovery software - EaseUS Data Recovery Wizard Free Edition and then select Complete Recovery button on the main window.
2. Select the file types you want to recover and then you can see the list of logical volumes found on your computer. Please select the "Ghosted" (or "imaged") error logic drive and choose the "Option" before going to the next step.
3. Click on the "RAW" option and tick the "Recover RAW files only" box.
4. Click "Next" to begin Scanning to recover your files with RAW Data Recovery method.
5. Select the files and click "File Preview" to preview.
6. Select some directories or files and press the "Next" button to save the data.
Tips: If you want to wipe the data on a partition completely to protect your privacy, please refer to How to delete and wipe partition?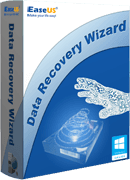 EaseUS Data Recovery Wizard
Download and try Data Recovery Wizard now. Check the Data Recovery Wizard search results screen and use the preview feature to display the file that you are trying to recover. If you find what you are looking for, then purchase a product activation key to save your recovered files to another drive.
For better data security, our free backup software - EaseUS Todo Backup will help you a lot. It provides easy-to-use interface to backup and restore your system, disk and partition in a few minutes.
Related Articles: