Partition 64 bit with 64 bit partition manager - EaseUS Partition Master
What are 32 bit and 64 bit?
The terms 32-bit and 64-bit refer to the way a computer's processor (also called a CPU) to handle information. The 64-bit versions of Windows can utilize more memory than 32-bit versions of Windows. This helps minimize the time spent swapping processes in and out of memory by storing more of those processes in Random access memory (RAM) rather than on the hard disk. This, in turn, can increase overall program performance.
The trend of 64 bit
So the 64 bits system is an advanced technology compared to 32 bits systems. Although most computer users still use 32 bit System at present, 64 bit Systems will replace it in the near future.
At the end of 2008, 25% of Vista users in United States use 64 bit System. 64 bits System become more and more popular because it is easy to upgrade to 4GB memory.
According to related report, Windows are inclined to be 64 bit version in the future. No matter this is true or not, it indicates that 64 bit will become the mainstream in the future.
As many software were designed for 32 bits system, so they could not completely compatible with the 64 bits systems. However, to meet the requirements of the time, EaseUS Partition software, are released with both 32 and 64 bits systems supported.
EaseUS Partition Master Professional Edition
ALL-IN-ONE Windows partition manager software
$31.96 $39.95
How to choose the right 64 bit partition software?
Since 64 bit become more and more popular, how to choose the right software for 64 bit partition is now a problem. Below are the factors users most concerned:
Ⅰ. The ability to partition 64 bit.
Ⅱ. Operating Systems it can support. Such as the ability to support Windows XP, VISTA, Windows 7, Windows 8, 2000, 2003, 2008, etc.
Ⅲ. Ability to support server. Now server is widely used in business by enterprise, organization and agencies.
Ⅳ. The stability. No one likes to use a program with a lot of error.
Ⅴ. Price. Program with high quality at low price is users' favorite.
Ⅵ. Data security during partition.
After you figure out whether your computer is 32 bit or 64 bit Operating System, EaseUS Partition Master might be a good choice for you to partition 64 bit. EaseUS Partition Master free Free Edition and Professional Edition works perfectly with Windows 2000/XP/Vista/Windows 7 32 and 64 bit and Windows 8 systems. Hardware RAID is also supported. This excellent 64 bit partition software let you enjoy a wide range of powerful features, such as resizing, moving, copying, creating, deleting, formatting, merging, hiding and unhiding partitions. The potent partition manager can create a bootable CD/DVD to manage 64-bit partition when there is a boot failure caused by virus or any other unexpected affairs. Moreover, with the built-in Partition Recovery Wizard, the partition manager can recover deleted or lost partitions. Now, it is a combination of partition manager, partition recovery software and disk/partition copy tool.
Partition 64 bit with 64 bit partition manager software - EaseUS Partition Master
How does EaseUS Partition Master partition 64 bit? Following is a screenshot of partitioning 64 bit under Windows XP by this 64 bit partition manager: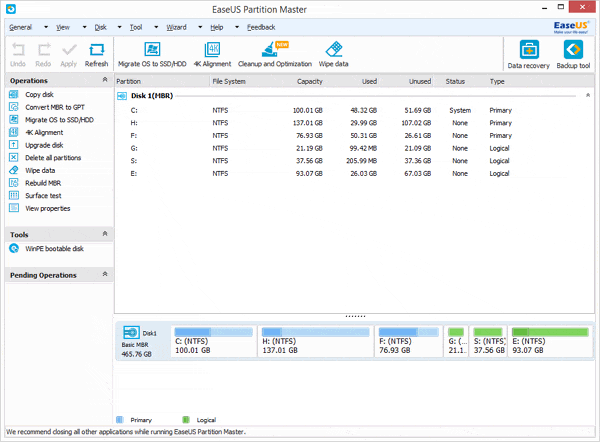 From above screenshot, it is easy to find that this 64 bit partition manager software can partition 64 bit under Windows XP with very simple operations.
Tips: The built-in Partition Recovery Wizard of the partition manager software provide full functional features to recover lost or deleted partition. Please read this page for more information: Partition Recovery Wizard. And before resizing partition, you'd better backup important data by free backup software - EaseUS Todo Backup Free.
Related Articles: