Introduction to the Editions of Windows 7 and Windows 7 Partition Manager
Windows 7 Editions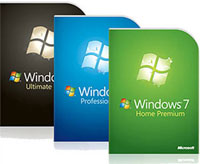 Windows 7 is the latest operating systemreleased by Microsoft® for use on PCs, including home and business desktops, laptops, netbooks, tablet PCs and media center PCs.
This operating system has six different editions. They are Windows 7 Starter, Windows 7 Home Basic, Windows 7 Home Premium, Windows 7 Professional, Windows 7 Enterprise, and Windows 7 Ultimate. However, only Home Premium, Professional and Ultimate are widely available at retail and the other editions are for other market like developing world or enterprise use. They have many differences as below.
Windows 7 Starter (limited distribution)
The least-featured edition of Windows 7. Broad application and device compatibility with up to three concurrent applications (this excludes background processes such as anti-virus applications, wireless and Bluetooth, and system tools like Explorer and Control Panel); Safe, reliable, and supported; Home Group makes it easy to share media, documents and printers across multiple PCs in offices without a domain; Improved taskbar and Jump Lists.
This edition is available pre-installed on computers through system integrators or computer manufactures. It is important to note that Windows 7 Starter still includes only a subset of the features offered in the higher editions of Windows 7 such as Windows 7 Home Premium, Windows 7 Professional and above, like Aero Glass, meaning you can only use the "Windows Basic" or other opaque themes, and domain support for business customers, etc.
Windows 7 Home Basic (emerging market only)
Windows 7 Home Basic is a Windows 7 edition that is not available worldwide. It has been specifically created by Microsoft to be sold in emerging markets. Its feature set is superior to the Windows 7 Starter edition.
All of the functionality listed above in Starter Edition Live thumbnail previews and enhanced visual experience. Advanced networking support (ad-hoc wireless networks and internet connection sharing). Mobility Center is included.
Windows 7 Home Premium
Windows 7 Home Premium is one of the two Windows 7 editions that will be sold worldwide to retail markets and OEMs. The other edition of Windows 7 is Windows 7 Professional. Windows 7 Home Premium makes it easy to create a home network and share all of your favorite photos, videos, and music. You can even watch, pause, rewind, and record TV. Get the best entertainment experience with Windows 7 Home Premium.
All of the functionality listed above in Starter and Home Basic Editions Aero Glass and advanced windows navigation. Easy networking and sharing across all your PCs and devices. Improved media format support, enhancements to Windows Media Center and media streaming, including Play To. Multi-touch and improved handwriting recognition.
Windows 7 Professional
Windows 7 Professional builds up on the Windows 7 Home Premium edition by adding features like joining Windows domains, group policy based management tools, Remote Desktop host capabilities, network-based backup features, and support for the Encrypting file system.
Domain Join enables simple and secure server networking; Encrypting File System protects data with advanced network backup; Location Aware Printing helps find the right printer when moving between the office and home; In addition to full-system Backup and Restore found in all editions, you can back up to a home or business network.
Windows 7 Enterprise and Ultimate
Windows 7 Ultimate and Enterprise contain all the features of Windows 7 Professional plus support for BitLocker whole-drive encryption (and the new BitLocker To Go feature, which adds high-grade encryption to removable media). This edition also includes all supported language packs (those cost extra for other editions) and the capability to boot from a VHD.
Direct Access links users to corporate resources from the road without a virtual private network (VPN). Branch Cache makes if faster to open files and Web pages from a branch office. AppLocker easily restricts unauthorized software and enables greater security.
At present, Windows 7 Home Premium and Windows 7 Professional are two specialties with popularity. While the former one is for home users and the latter one is for business users.
Partition manager in Windows 7
The partition utility built-in Windows 7 is different from that of other Operating Systems. Comparing with Windows Vista, Windows 7 enables users to create mirrored volume and RAID 5 volume. More partition utility built in Windows Vista.
The partition utility built in Windows 7 also has its limitations like you cannot move the partition and if there is no unallocated space near the partition, then you will fail to extend the partition. However, things would be different when using EaseUS Partition Master.
EaseUS Partition Master, working all editions of Windows 7, is also available for you to Resize/Move, Copy, Merge, Split, Create, Delete, Format partition, etc. Its Free Edition, working with Windows XP/Vista/7/8, is free for home users (Windows 32 bit and 64 bit). If you are 32/64 bit business users, EaseUS Partition Master Professional Edition is right for you. EaseUS Partition Master Server Edition is for Windows Server 2000/2003/2008, Windows 7, and latest Windows 8.
Moreover, EaseUS Partition Master will enable you to do operations in data protections. Unlike partition utility built in Windows 7, Once you click "OK", the operation will be immediately done. While using EaseUS Partition Master, all the operations you performed can be previewed before applying.
Why not try the magic partition software to manage partitions on your cool Windows 7 now? For more info about EaseUS Partition Master, please visit: www.partition-tool.com. If you have technical questions, please contact support@partition-tool.com.
Related Articles:
Feedback on this article:
Thanks for visiting EaseUS, please let us know how we can improve this article or make it more useful to you. Should you need technical support please feel free to contact support@partition-tool.com.