How to change fat/fat32 file system to ntfs?
EaseUS Partition Master Professional Edition
ALL-IN-ONE Windows partition manager software
$31.96 $39.95
Need to change FAT/FAT32 file system to NTFS
Q: I've recently installed a new hard drive (boot drive) on my pc, it is now on the FAT32 drive, but I need it to be a NTFS drive, so I can store files larger than 4gb. Is it possible to change a FAT32 file system to NTFS? My operating system is Windows XP PRO, how can I do that?
A: Standard Windows utility that is called CONVERT serves this purpose.
Just go to the Command Prompt and execute the command:
CONVERT C: /fs:ntfs
Where C: is a name of the drive you want to convert.
After machine re-boot conversion process will start and you'll have your FAT32 converted to NTFS without of data loss.
Things always like this! For NTFS file system with Windows XP is highly recommended because of its advanced performance, security and reliability features.
To change FAT/FAT32 to NTFS is much like a piece of cake; while for those who have little knowledge of computer and are always confused by the complicated program code, no one is willing to pose himself in any possible risk in losing data during the conversion process from FAT32 file system to NTFS.
Partition Manager to change FAT/FAT32 file system to NTFS
Here comes a good news: EaseUS Partition Master, featuring powerful resize and move, copy, create, delete, explore function, also gives you a hand in need to convert or change fat/fat32 to ntfs, no more confusion, no more worry to do it.

Before the step-by-step instructions to change FAT/FAT32 file system to NTFS, something you need to remember firstly for the most possibility of a successful conversion:
1. Although the chance of corruption or data loss during the conversion from FAT to NTFS is minimal, it is best to perform a full backup of the data on the drive that it is to be converted prior to executing the convert command. It is also recommended to verify the integrity of the backup before proceeding, as well as to run RDISK and update the emergency repair disk (ERD).
2. Please close all the applications before conversion, if not, you need to restart your computer.
3. Make sure there is minimum 3% free space on partitions.
To change FAT/FAT32 to NTFS, please follow the simple steps:
1. Select a FAT12/16/32 partition.
2. Right click the partition and select Convert to NTFS.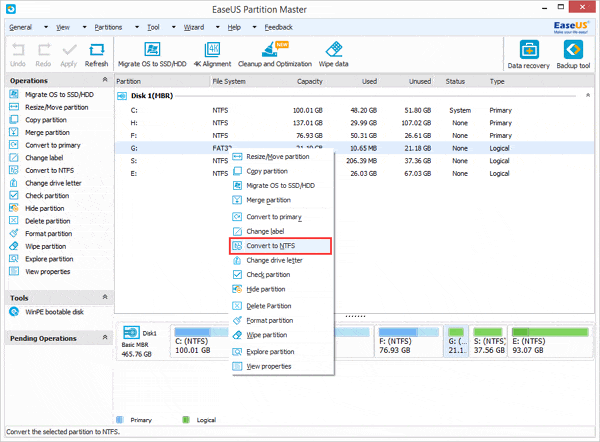 3. The pop-up dialog box will show the source and destination file system, click "OK" to continue.
With simple clicks, you can easily and safely change your FAT32 file system to NTFS. Why not free download to have a try? You can learn more from How to Convert FAT Partition to NTFS?
Related Articles: