The Easiest Solution to Convert FAT to NTFS File System
You may want to convert FAT to NTFS file system but don't know how to. Well, just jump to the end of this article and you can find the easiest solution to convert file system from FAT to NTFS. Actually, some people might want to learn more about FAT and NTFS file system before converting FAT to NTFS. Then, this article will show you the information.
How to Figure Out the File System Is FAT or NTFS?
It's quite simple to check what file system your Windows is using by the following steps:
1. Double click My Computer (or whatever you have renamed it to);
2. Right click on the Drive that you are interested in;
3. Click Properties;
4. The file system being used by the drive is displayed next to "File System:";
5. If it says FAT then you are using FAT. If it says NTFS then you are using NTFS.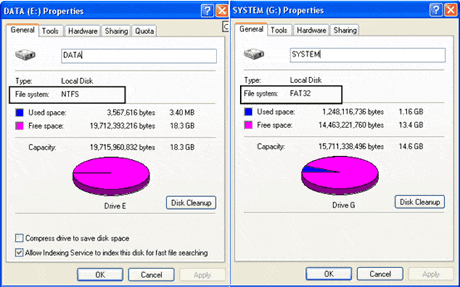 Learn More about FAT and NTFS before You Convert FAT to NTFS File System
The FAT family of file systems, including FAT12, FAT16 and FAT32, has been the file systems underlying Microsoft Operating Systems since the first IBM PCs in the early 1980s. Virtually everyone who has ever used a PC is familiar with at least the basics of this venerable file system. On the whole, it does an adequate job of managing the files on a typical PC, especially for machines that are not subjected to demanding use. For home PC users, and for the typical PC in a small business, FAT is generally "good enough".
However, while FAT is acceptable for most uses, it is also a very old, limited and relatively simplistic file system. It has few of the security, capacity and reliability features that are needed by high-end users, and especially, servers and workstations in a corporate networking environment. Recognizing that FAT was not a worthy basis upon which to build its new Windows NT Operating System, Microsoft created the New Technology File System, or NTFS. The goals behind NTFS were to provide a flexible, adaptable, high-security and high-reliability file system, to help position Windows NT as a "serious" Operating System for business and corporate users.
Generally speaking, NTFS is a high-performance and self-healing file system proprietary to Windows XP, Vista, 2003, 2000 and NT, which supports file-level security, compression and auditing. It also supports large volumes and powerful storage solution such as RAID. The most important new feature of NTFS is the ability to encrypt files and folders to protect your sensitive data.
The Easiest Solution to Convert FAT to NTFS File System
From above, we know that NTFS file system is more advanced than FAT. It is OK if your file system is already NTFS. But you might want to know how to convert the file system to NTFS if your volume is FAT. In this article, we will talk about a freeware which is considered to be the easiest solution to convert FAT to NTFS file system. This freeware is called EaseUS Partition Master Free Edition which is the latest version released by EaseUS and converting FAT to NTFS is one of the new features of this program. (The other new feature is to explore partition.)
Below are the steps to convert FAT to NTFS with EaseUS Partition Master Free Edition:
1. Select a FAT12/16/32 partition.
2. Right click the partition and select Convert to NTFS.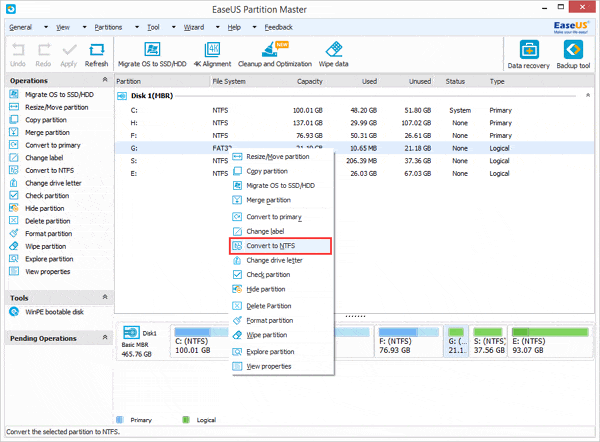 3. The pop-up dialog box will show the source and destination file system, click "OK" to continue.
You may also do it by right clicking the mouse.
Some tips on converting FAT to NTFS with EaseUS Partition Master Free Edition.
1. Partition conversion can only be realized under Windows. Linux is not supported.
2. This feature is only applicable for converting FAT to NTFS partition.
3. Source file system must be FAT12, FAT16 or FAT32 and the partition is unhidden.
4. Make sure there is minimum 3% free space on partitions.
5. The partition works well and can be recognized by EaseUS Partition Master Free Edition.
Apart from converting FAT to NTFS, EaseUS Partition Master Free Edition also allows users to resize and move partition, copy partition, copy disk, explore partition, etc.
More about EaseUS Partition Master
There're five Editions of EaseUS Partition Master:
1. Freeware Free Edition for 32 bit and 64 bit home users (as mentioned above);
2. Professional Edition for 32 bit and 64 bit business users;
3. Server Edition for small and medium businesses server users;
4. Unlimited Edition for large businesses which allows unlimited usage within one company.
5. Technician Edition for IT Consultant to provide independent technical service to multiple clients for their PCs and servers.
Free download EaseUS Partition Master Free Edition to convert FAT to NTFS file system and enjoy more powerful features to manage partition.
Related Articles:
Feedback on this article:
Thanks for visiting EaseUS, please let us know how we can improve this article or make it more useful to you. Should you need technical support please feel free to contact support@partition-tool.com.