Convert FAT32 File System to NTFS without Data Loss
File system is used for operation system to organize and keep track of files. FAT32 and NTFS are basic file system for hard disk using now, and each of which has its own features, however, NTFS is the more powerful one of the two file systems, so many people search methods to convert files from FAT32 to NTFS.
NTFS file system includes some features like the use of B-tree Directory to keep track of file clusters, and the fact that it can support very-large files. Its security measures are also an improvement on earlier file systems and it provides greatly increased security, file-by-file compression, quotas, and even encryption. There are several methods to convert file system from FAT32 to NTFS.
Format Partition to Convert File System
The direct method to convert file system from FAT32 to NTFS is formatting partition, we could decide the file system of the partition. But once we format the partition, all files on the partition will be gone. If there is little data on the partition, we could format it to convert file system from FAT to NTFS, or else, never do it.
Converting File System with "Convert.exe"
Converting file system from FAT32 to NTFS can be done by an inbuilt utility in the Windows operating system "convert.exe" directly, following are steps to convert file system from FAT32 to NTFS.
In Windows XP, click Start, click Run, type cmd and then click OK.
At the command prompt, type CONVERT [drive letter]: /FS: NTFS.
Convert.exe will attempt to convert the partition to NTFS.
Before we use "convert.exe" to convert file system from FAT32 to NTFS, it's always a good idea to back up existing data because this operation possibly result in data loss. Therefore, we should be careful to use this command if we don't have much knowledge on computer.
Convert File System with Partition Software
Both above two methods will result in data loss on the hard disk. Is there any easy and safe method to convert file system? The answer is yes. Only if we have a stable partition software with function of file system conversion, we could convert file system from FAT to NTFS easily and safely. EaseUS Partition Master is such a partition software for file system conversion without data loss.

Here we could take EaseUS Partition Master Free Edition as an example. It is a free partition software that offers a range of powerful functions besides converting partitions, such as resizing partitions, copying partitions, creating new partitions, deleting partitions, formatting partitions, exploring partitions, hiding partitions, changing drive letters, setting active partitions, and a handful of other functions without data loss. Here we could learn how to convert FAT to NTFS easily and safely. Following are steps.
1. Launch Partition Master, choose the FAT12/16/32 partition.
2. Right click the partition and select Convert to NTFS.
The pop-up dialog box will show the source and destination file system, click "OK" to continue.
3. Click "Apply", the operation to convert file system from FAT32 to NTFS is finished.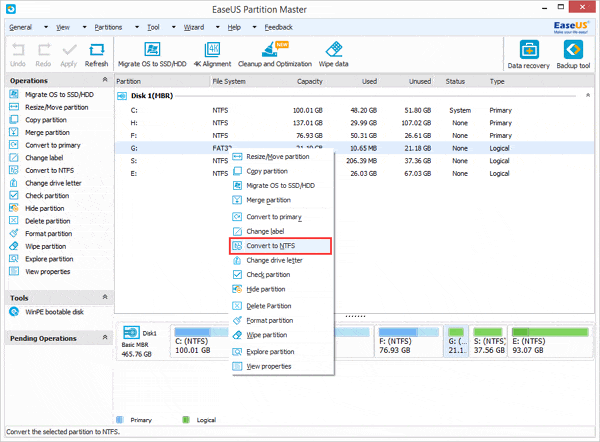 Don't waste time to think more, just free download the partition software and convert file system from FAT32 to NTFS file system.
Related Articles: