To Convert File System from FAT to NTFS with Free Partition Software
What is FAT and NTFS?
FAT is a file system that was created by Microsoft in 1977. FAT is still in use today for floppy drive media and portable, high capacity storage devices like flash drives. FAT 12, FAT16 and FAT32 are the three versions of the FAT file system.
NTFS is a file system that was introduced by Microsoft in 1993 with Windows NT 3.1. NTFS supports hard drive sizes up to 256TB. It is the primary file system used in Microsoft's Windows NT, Windows 2000, Windows XP, Windows 2003 and Windows Vista operating systems.
Why we need to Convert File System from FAT to NTFS?
Nowadays, there is lots of discussion about how to convert FAT to NTFS, but people rarely know why they need to convert file system from FAT to NTFS.
As we know, NTFS has several improvements over FAT such as improved access speed, performance, reliability, fault tolerance, recoverability, complicity, security, as well as support for long file names, large volumes. Furthermore, it is the default file system for new installations of Windows XP, and if you're doing an upgrade from a previous version of Windows, you'll be asked if you want to convert your existing file systems to NTFS. That means if you would like to upgrade your previous version of Windows to Vista, 2008 or any advanced version of Windows in the future, like Windows 7, you have to convert your FAT to NTFS at first.
From above, it is not difficult to find that NTFS has superseded the FAT file system as the preferred file system for Microsoft's Windows Operating Systems. So converting file system from FAT to NTFS is necessary for optimizing the performance of your computer.
How to Convert File System from FAT to NTFS?
In some cases, if you want to convert file system, you have to format the partition first. To avoid any data loss, you must backup your files in advance. So converting file system in this way is apparently difficult for common computer users. Another method is to convert file system from FAT to NTFS by convert.exe. But not all computer users know how to convert file system by using convert.exe, not to mention the complex operations and time devoted in this process. So a third party seems to be the right choice for you to convert file system.
EaseUS Partition Master Free Edition has the converting file system feature for Windows 2000/XP/Vista/Windows 7 and Windows 8 32 bit and 64 bit. It is an absolutely free partition software which allows users to convert FAT12, FAT16, FAT32 to NTFS quickly without any data loss.
Below are the basic steps to convert file system from FAT to NTFS:
1. Select a FAT12/16/32 partition.
2. Right click the partition and select Convert to NTFS.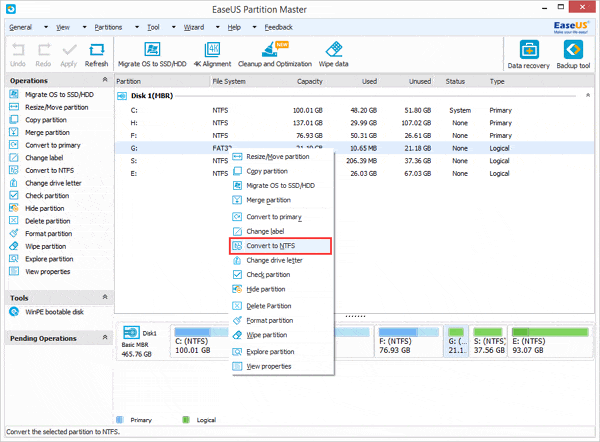 3. The pop-up dialog box will show the source and destination file system, click "OK" to continue.
You may also do it by right clicking the mouse.
Tips:
1. Partition conversion can only be realized under Windows. Linux is not supported.
2. This feature is only applicable for converting FAT to NTFS partition.
3. Source file system must be FAT12, FAT16 or FAT32 and the partition is unhidden.
4. Make sure there is minimum 3% free space on partitions.
5. The partition works well and can be recognized by EaseUS Partition Master.
6. This function is not available for EaseUS Partition Master bootable CD.
Reasons and Solutions:
1. Scant free space. Remove some files to make free space and try again.
2. Partition error. Use Windows built-in Chkdsk.exe/F to repair. If it fails again, it means there is a severe error and the conversion could not be completed.
What's more important is that, besides the feature of converting file system, this free partition software also has a range of other powerful functions, such as resizing, copying, create, delete, format, explore partition and so on.
But it is free for home users only. There are four other editions for business, enterprise, government, education and agencies: EaseUS Partition Master Professional Edition, EaseUS Partition Master Server Edition, EaseUS Partition Master Unlimited Edition and EaseUS Partition Master Technician Edition.
Free Download
You can download this freeware here to convert file system.
Related Articles:
Feedback on this article:
Thanks for visiting EaseUS, please let us know how we can improve this article or make it more useful to you. Should you need technical support please feel free to contact support@partition-tool.com.