To Copy Hard Drive with Free Partition Software - EaseUS Partition Master Free Edition is Easy and Safe
To Copy Hard Drive under Microsoft Operating System
Nowadays, to copy hard drive is a common case for computer users who are upgrading to a new hard disk or perhaps replacing an older disk. The Microsoft Operating Systems provides basic copy functions for these users. It is possible to copy hard drive file-by-file in simply ways, like 'copy' and 'paste'. But it lacks of a reliable, efficient way for copying the entire contents of a hard drive/partition volume from one hard drive to another.
Therefore, to safely copy hard drive with long file names, swap files and the Windows registry, third-party partition software might be a good choice for disk copy.
Choosing a Reliable Partition Software for Hard Drive Copy
Then how to choose partition software to copy hard drive safely and easily? From above, we can conclude that security and stability are the factors that users most concerned. So besides powerful copy functions, we must make sure that all the data will be unchanged during the copy process. EaseUS Partition Master Free Edition is released with copy hard drive feature.
Data Security: Generally, everything will be backed up by copy hard drive utility of EaseUS Partition Master Free Edition. And it just copies 100% identity of the original to a new partition without changing any existing data, so everything is the same with the original data.
Time Saving: Unlike traditional disk copy software, copy hard drive utility of this free partition software allows you to replace the older smaller hard disk by a newer larger hard disk without installing the Operating System and applications once again. It will dramatically save your time.
How to Copy Hard Drive with EaseUS Partition Master Free Edition?
Additionally, EaseUS Partition Master is easy to operate. Below are the detailed steps of hard drive copy by EaseUS Partition Master:
1. Launch EaseUS Partition Master and then select Clone disk wizard from Wizard menu.
2. Select Copy disk and then select the disk you want to copy as the source disk. ( If you want to upgrade system hard disk to a bigger one, please select "Upgrade disk".)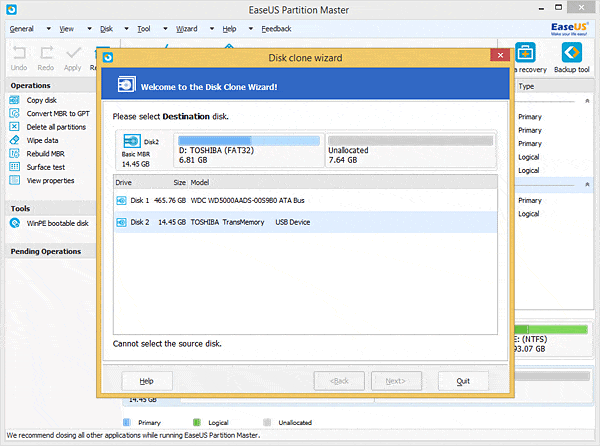 3. Disk clone Wizard will automatically check the source disk and, click "Next" after check.
4. Choose the Destination Disk, and then click "Next".
5. Make sure there is enough free space on the destination disk. In order to proceed with the operation, you should either allow EaseUS Partition Master to delete all the partitions on the destination hard disk or click Back to choose another destination hard disk.
6. Resize partitions on the destination disk. On a disk map, current size of the partitions on the destination Disk is displayed on the top of the dialog box. Position the mouse pointer on the left or right partition handle; the mouse pointer changes to a double-headed arrow and drag the handle to the partition size you want. Click Next.
7. The destination disk information is displayed. Then click "Finish" to end disk copy.
8. To preview the result on the left panel "Pending Operations". If it is right, then click "Apply".
9. Done.
From the steps I list above, you will find that the operations of EaseUS Partition Master are very easy and safe.
Besides the copy utility, EaseUS Partition Master Free Edition, this free but comprehensive partition management tool, also have other powerful functions like resizing partitions, formatting partitions, creating new partitions, deleting partitions, hiding partitions, changing drive letters, setting active partitions, and a handful other features.
EaseUS Partition Master Free Edition is for home users only while there are some other editions for small & medium Enterprises, school Labs, government and large enterprise, such as EaseUS Partition Master Server Edition - a Magic Partition software and EaseUS Partition Master Unlimited Edition.
This product helps you copy the partition or whole hard disk to another one, if you want to backup the partition or whole hard disk to an image archive, you may use another free backup software - EaseUS Todo Backup, which provides easy-to-use interface to backup and restore your system, disk and partition within minutes.
Related Articles:
Feedback on this article:
Thanks for visiting EaseUS, please let us know how we can improve this article or make it more useful to you. Should you need technical support please feel free to contact support@partition-tool.com.