Manage the disk partitions with a reliable partition software
Hard disk management
Before managing the disk partitions, first we will have a clear understanding about hard disks. A hard disk is part of a unit, often called a "disk drive", "hard drive" or "hard disk drive" which stores and provides relatively quick access to large amounts of data on an electromagnetically charged surface or set of surfaces. Hard disks are the most important of the various types of permanent storage used in PCs. (The others being floppy disks and other storage media such as CD-ROMs, tapes, removable drives, etc.) The hard disk differs from the others primarily in three ways: size (usually larger), speed (usually faster) and permanence (usually fixed in the PC and not removable).
For better administration of the hard disk, computer users usually divide their hard disk into several partitions. By dividing in to seversal divisions, users can separate the operating system files from user files; keep frequently used programs and data near each other; or use multi-booting setups, which allow users to have more than one operating system on a single computer; protect or isolate files. If one partition is corrupted, none of the other file systems are affected, and the drive's data may still be salvageable. Having a separate partition for read-only data also reduces the chances of the file system on this partition becoming corrupted, etc.
Once partitioning the hard disk, you will face the problems of disk partitions management sooner or latter. Although you may give a careful consideration of the size of each partition while creating them, things change and you may find out that the scheduled size of your system partition is not sufficient to store software while the size allocated for another partition which is supposed to keep personal files is too big.
How to choose a reliable disk partition manager?
Then, how to manage these partitions of your hard disk? The answer seems to be quite simple - to use a third party application for disk management. But to choose a reliable partition software is not such an easy case. Some unreliable partition software may cause your data loss, or even make your computer crashed. Fortunately, there is a trustable disk partition manager software we can choose - EaseUS Partition Master. It enables you to manage the partitions without losing any bit of data on your disk.
EaseUS Partition Master is a comprehensive hard disk partition management tool to let you enjoy all the powerful functions: resize and move partitions, create, delete (a or all) partitions, format, hide and unhide partitions, set an active partition and make a partition scheme, etc. It is designed to focus on operation accuracy and safety, for example, before deleting data, the program will clarify whether the user wants to delete the partition or to erase all data.
EaseUS Partition Master offers different editions to satisfy different requirements, refer to Edition Comparison. Below is the screenshot of this disk partition manager: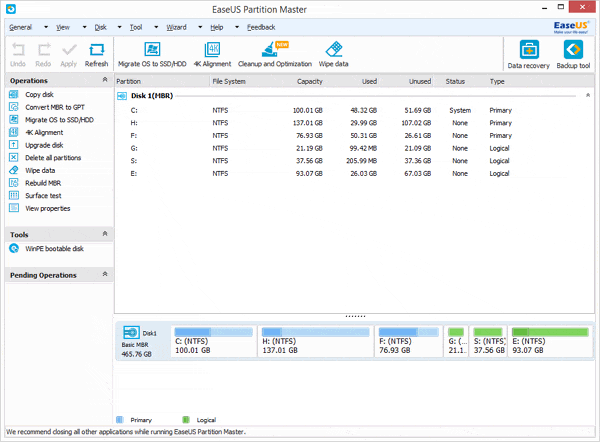 Note: Backup important data with professional backup software is a good habit to safeguard the computer.
Aside from these features we referred, this disk partition manager also works perfectly with all levels of hardware RAID. It supports IDE Raid Controllers, SCSI, SAS, S-ATA Raid Controllers and serial ATA host controller and devices.
Related Articles:
Feedback on this article:
Thanks for visiting EaseUS, please let us know how we can improve this article or make it more useful to you. Should you need technical support please feel free to contact support@partition-tool.com.