Easy to Migrate to Windows 7 and Create Windows XP and Windows 7 Dual Boot System.
Why to have Windows XP and Windows 7 dual boot system?
Before Windows Vista and even after Vista is released, Windows XP is the most popular system that most of the people prefer to use. After a long time use, people are hardly to give up XP even when Windows 7 is released. Maybe the applications that you use with XP doesn't run well with Windows 7 and you still want to have a try of the most expected system that Microsoft offer. In this case, to own a dual boot of Windows XP and Windows 7 is the most favorable way.
With a dual boot system, you can easily have a try of Windows 7 and you can easily go back to work under Windows XP. You can also easy to make the decision which settings, documents and applications to migrate to Windows 7 test whether it performance well under Windows 7
After a period of time, when you are familiar with Windows 7 and have all applications work well under Windows 7, you may remove Windows XP and cancel the dual boot configuration but to have Windows 7 only.
How to make a dual boot system easily?
Since you will remove one of the systems one day, it is more convenient to have the two systems installed on the separate partition. By the way, to have the two systems on the separate partition can make the system run stably.
There is no need to add a disk but just spare some space on the original disk and create a new one to install Windows 7. A free Windows 7 partitioning software will help you a lot to do this job.
Although it has been tested thousands of times that EaseUS will not cause data loss during the resize and move partition process, we still advise you to make a partition backup first to avoid any unexpected things, like power failure.
Please download a full version of this free partitioning software, install it and follow:
1. Launch free Windows 7 partitioning software - EaseUS Partition Master.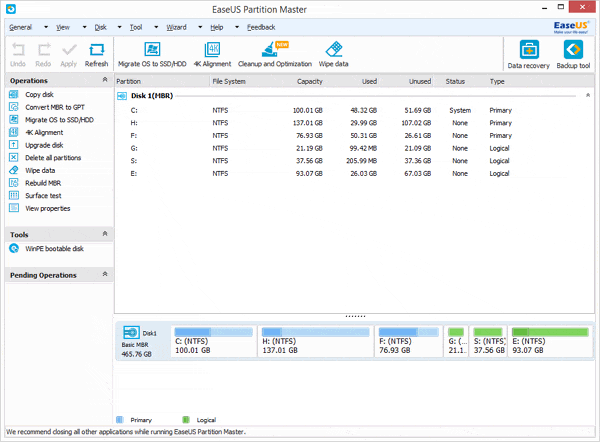 2. Click "Partitions" > "Resize/Move partition", or choose "Resize/Move partition" in left "Operations" or right click the mouse.
3. Position the mouse pointer on the left partition handle. Drag the handle to the partition size you want when the mouse pointer changes to a double-headed arrow.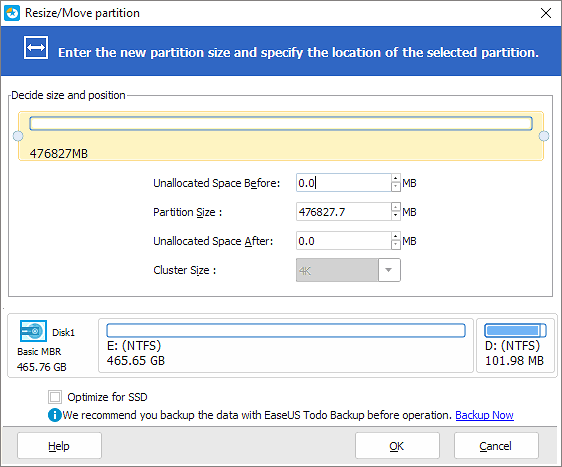 4. Right click the partition and choose Create partition to create a new partition to install Windows 7.
After the new partition is created, you can get start to install Windows 7 on the partition and run Windows 7 and easily migrate between XP and Win 7.
Tips: If you install Windows XP in dual boot with pre-installed Windows 7, you need to add Windows XP to the Windows Boot Manager by using EasyBCD after Windows XP installation completed.
EaseUS Partition Master freeware can also be useful when you feel the partition is at a low space under Windows7 after you installed lots of applications and upgrades. See How to solve "low disk space" warning?
EaseUS Partition Master supports to dual boot Windows 7 and Windows 8. If you want to run Windows 8 and also don't want to give up your Windows 7 or XP, try EaseUS Partition Master software.
What's more,you can also use our system cleanup software - EaseUS CleanGenius to speed up your slow computer, clean up those junk files and repair Windows system to make a New computer for you!
Related Articles:
Feedback on this article:
Thanks for visiting EaseUS, please let us know how we can improve this article or make it more useful to you. Should you need technical support please feel free to contact support@partition-tool.com.