EaseUS Partition Master Server Edition
ALL-IN-ONE Windows Server disk management toolkit
Time Limited Offer - 20% OFF
$127.20 $159.00

30-day Money Back Guarantee
How can I expand a partition under Windows Server?
Why you have to expand Windows partition?
Problem:
I have a Windows Server partition that keeps indicating low disk space. I would like to expand the server partition without losing the data. How can I solve this low disk space warning?
Solution:
Windows 2003 Server and Windows XP have a text based tool called diskpart.exe. It should only be used by skilled users to expand partition.
DiskPart.exe is a text-mode command interpreter that enables you to manage objects (disks, partitions, or volumes) by using scripts or direct input from a command prompt. Before you can use DiskPart.exe commands on a disk, partition, or volume, you must first list and then select the object to give it focus. When an object has focus, any DiskPart.exe commands that you type act on that object.
You can only give focus to a partition on the selected disk. When a partition has focus, the related volume (if any) also has focus. When a volume has focus, the related disk and partition also have focus if the volume maps to a single specific partition. If this is not the case, then focus on the disk and partition is lost.
Example to extend a partition:
Type diskpart to start the utility
Type list to get an overview over all disks and volumes
Select the volume you want to work with i.e. select volume 2
Now this volume is in focus you can type expand to use all available space
Note: This maybe a useful operation after expanding a RAID Array or adding additional capacity to a Windows 2003 Server Volume in an Acer Altos SAN environment. But for some reasons, you use this command to expand your partition, then you need a professional software to achieve your target. We strongly recommend you to use EaseUS Partition Master.
Extend Windows Server with server partition manager
Have you been puzzled with the solution above? Here we would like to introduce an easy-to-use server partition manager - EaseUS Partition Master Server Edition to expand Windows Server partition with all the data be protected.
The following is step-by-step instruction to extend partitions under Windows Server.
Tips: It is important to backup data before resizing partition, because nothing is 100% secure.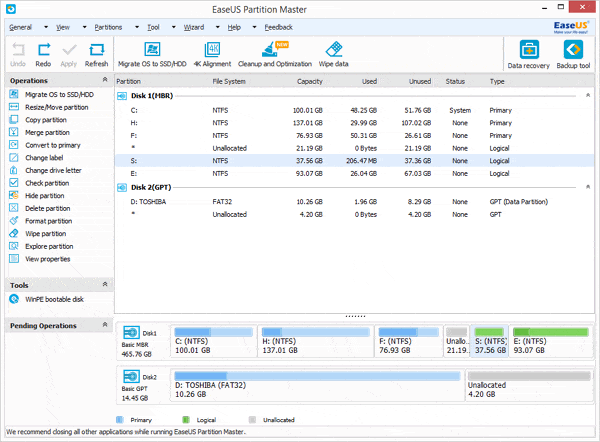 EaseUS Partition Master Server
For example, C: is the partition we want to extend.
1. Launch EaseUS Partition Master Server, and you can see the disk map in the main window.
2. Select "Resize/Move partition" to shrink E: drive which is behind C:.
3. Move E: drive rightwards to make sure there is unallocated space next to C:.
4. Select "Resize/Move partition" again to extend C: drive.
5. Click Apply.
System optimization software
Another reason for low disk space is large junk files and unnecessary programs eating up the disk space. So it is highly recommended to equip your computer a PC optimization software, which can identify problems that slow down your PC and remove rubbishes, then return you a fast PC. EaseUS CleanGenius offers complete way to improve computers' performance and make it run like a new one.
EaseUS Partition Master Server Edition
ALL-IN-ONE Windows Server disk management toolkit
Time Limited Offer - 20% OFF
$127.20 $159.00

30-day Money Back Guarantee
More EaseUS Partition Master Editions for business users
Unlimited usage within a company
-
-
Free lifetime upgrades
-
-
Provide Technical Services to Clients
-
-
-
-
License
Machine License
Machine License
Unlimited License
Unlimited License
Technician License
Price

$127.20

$159.00

$207.20


$259.00

$319.20

$399.00

$399.20


$499.00

$559.20

$699.00
Related Articles:
Feedback on this article:
Thanks for visiting EaseUS, please let us know how we can improve this article or make it more useful to you. Should you need technical support please feel free to contact support@partition-tool.com.