Extend C drive under Windows to solve C drive is out of space problem
When the C drive is out of space or gets full or you simply get the low disk space warning, and hardware upgrades aren't an option, what are you going to do? Here are a few tips for you to Resize Windows OS Partition.
Tips to extend C drive
One of the biggest mistakes I see system administrators make when setting up a new computer is not providing adequate disk space for the C drive. A lot of people just assume they can skate with a 6-10 GB C drive. Unfortunately, once you throw in a year's worth of windows updates, a couple of service packs, some temporary files, and some new system applications that space can fill up pretty quickly.
Windows will alert you when drive is in low disk space as following:
Windows XP C drive is out of space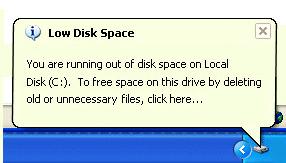 Windows 7 C drive is out of space

There are a few things you can do in these cases to extend C drive. These include:
Move the print spooler and page file to another drive: http://support.microsoft.com/kb/314105
Run EaseUS CleanGenius to speed up your slow computer, clean up those junk files and repair Windows system. This might save you large amount of disk space.
You can also merge other partition into C drive for more space.
A combination of these things will allow you to free up a significant amount of space on your C drive. For the users who want to extend C drive, EaseUS Partition Master is right for you.
Extend C drive with EaseUS Partition Master Free
This is a free partition manager software owning the ability to extend C drive without data loss and application reinstallation. Just follow the steps below, you can solve "C drive is out of space" quickly and safely.
Tips: It is important to backup data before resizing partition, because nothing is 100% secure.
1. Launch EaseUS Partition Master, use "Resize/Move partition" function to shrink E (the partition behind C). At the same time, move E drive to make unallocated space locate behind C.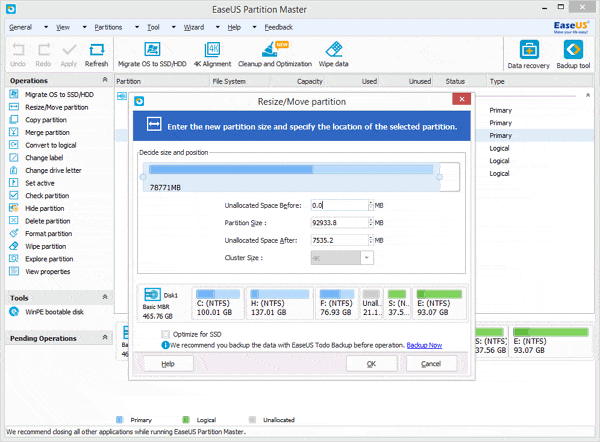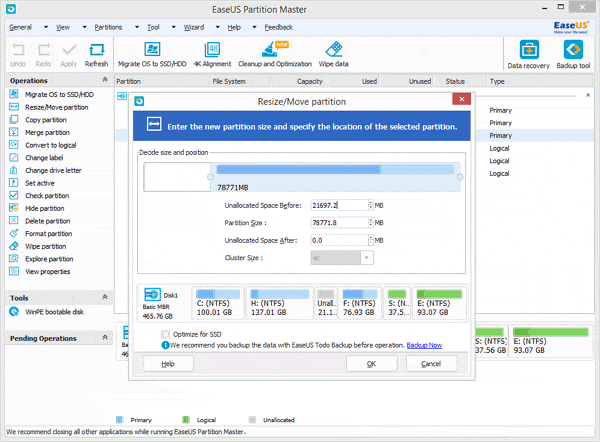 4. Select the system partition (C: drive), right click it and select "Resize/Move partition", drag the partition handle rightwards to extend system partition (C: drive).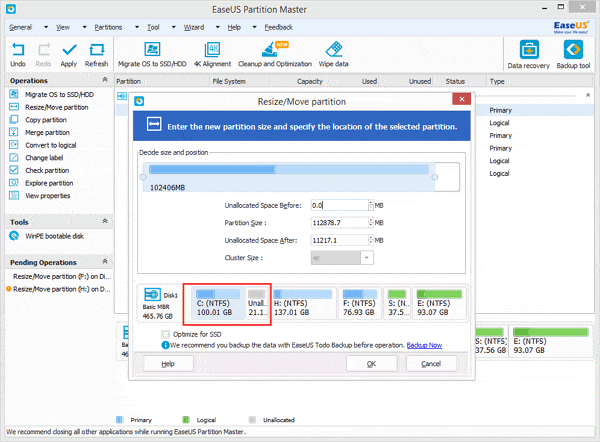 5. Apply all changes.
For more detailed information, please visit resizing and moving partitions.
Related Articles
Feedback on this article:
Thanks for visiting EaseUS, please let us know how we can improve this article or make it more useful to you. Should you need technical support please feel free to contact support@partition-tool.com.