EaseUS Partition Master Server Edition
ALL-IN-ONE Windows Server disk management toolkit
Time Limited Offer - 20% OFF
$127.20 $159.00

30-day Money Back Guarantee
How to extend system volume on dynamic disk under Windows Server 2003
Windows built-in Disk Management allows users to extend Simple Volume and Spanned Volume from Windows Server 2003, however, following operations are not impossible:
1. Extend System Volume/Boot Volume.
2. Expand Mirrored Volume.
3. Increase Striped Volume.
4. Extend RAID5 Volume.
In this way, some reliable dynamic disk partition software will be helpful.
Solution One: directly extend system volume by EaseUS Partition Master
Good news is that EaseUS Partition Master can directly resize dynamic disk (five types of dynamic volumes). So if there has needed unallocated space, you just need to right click the system volume and drag the partition handle rightward. Then you will get an extended system volume.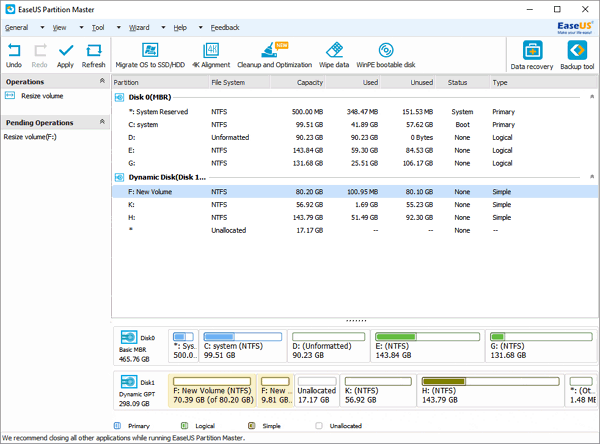 Tutorial: How to resize dynamic volume with EaseUS Partition Master?
Even if there is no available space that can be used to extend the system volume, EaseUS Partition Master offers us another way to get the unallocated space that we need and makes it possible to extend system volume. That is to converting dynamic disk to basic.
Solution Two: extend dynamic system volume by converting dynamic disk on Windows Server 2003
1. Free download a trial version, install and run this partition management software.
2. Select dynamic disk which you want to Convert to basic disk on the disk map, click "Disk" on main menu and choose "Convert to basic disk" or right click the dynamic disk and choose "Convert to basic disk".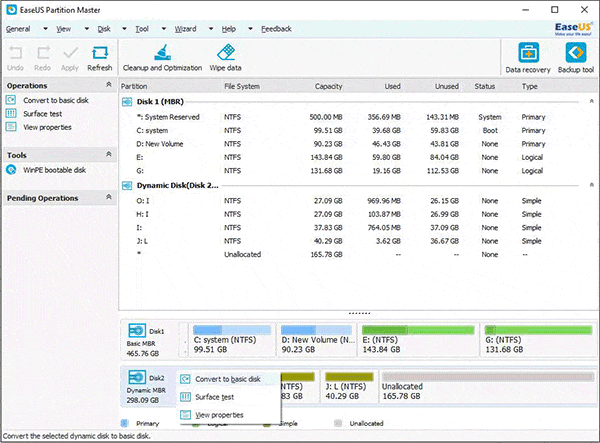 3. After you choose "Convert to basic disk", you will see the dynamic disk has become basic disk on the disk map.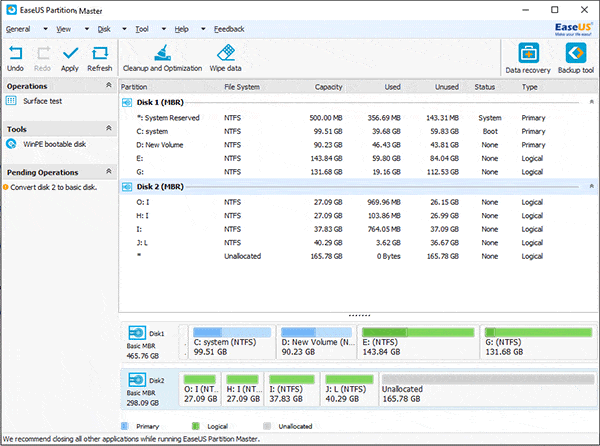 4. Click "Apply" to convert dynamic disk to basic disk. After EaseUS Partition Master applies these changes, you will see the dynamic disk has been become basic disk in Windows Disk Management. And then you can use "Resize/Move partition" feature to resize partitions on the basic disk.
5. After getting an extended system volume, you can directly convert them back to dynamic disk with Windows built-in Disk Management. See the tutorial for the detailed instructions: Transform the basic disk into dynamic disk.
Notice: Volumes can be converted to Simple Volume or Mirrored Volume only, as Striped/Spanned/RAID5 dynamic volumes should be re-built in Disk Management.
EaseUS Partition Master Server Edition
ALL-IN-ONE Windows Server disk management toolkit
Time Limited Offer - 20% OFF
$127.20 $159.00

30-day Money Back Guarantee
More EaseUS Partition Master Editions for business users
Unlimited usage within a company
-
-
Free lifetime upgrades
-
-
Provide Technical Services to Clients
-
-
-
-
License
Machine License
Machine License
Unlimited License
Unlimited License
Technician License
Price

$127.20

$159.00

$207.20


$259.00

$319.20

$399.00

$399.20


$499.00

$559.20

$699.00
Related Articles:
Feedback on this article:
Thanks for visiting EaseUS, please let us know how we can improve this article or make it more useful to you. Should you need technical support please feel free to contact support@partition-tool.com.