EaseUS Partition Master Server Edition
ALL-IN-ONE Windows Server disk management toolkit
Time Limited Offer - 20% OFF
$127.20 $159.00

30-day Money Back Guarantee
Extend Mirrored Dynamic Disk on Windows Server Safely
Before Windows Vista, dynamic disk is a good choice for the people who want to maximize the hard drive performance, especially for some small companies or that for particular use. A dynamic disk is a physical disk that provides features that basic disks do not have, such as support for volumes spanning multiple disks, extend dynamic volume, redundant array of independent disk, etc.
What is dynamic mirrored Volume?
Disk mirroring. Optimized for Redundancy
Mirrored Volume uses mirroring to write data to multiple drives. This means that when you write a file, the file is actually written to two disks. The tradeoff with Mirrored Volume is cost. With Mirrored Volume, you must purchase double the amount of storage space that your data requires.
Minimum number of drives: 2
Strengths: Very high performance; Very high data protection; Very minimal penalty on write performance.
Weaknesses: High redundancy cost overhead; Because all data is duplicated, twice the storage capacity is required.
What is the shortage of dynamic disk and Mirrored Volume?
Though compare to basic disk, dynamic disk has many advantages, it has two typical disadvantages. One is that if you convert a basic disk to dynamic, you cannot convert dynamic disk back to basic without data loss by Windows built-in disk management, as you need to delete all dynamic volume firstly before converting. The other is that in most conditions the dynamic volume still cannot be extended, especially for System volume, Boot volume, Mirrored Volume, so many people would encounter this problem if they need to extend mirrored dynamic disk.
Here I will introduce you how to resize dynamic disk: extend the mirrored volume with EaseUS partition management software: extend it by converting dynamic disk to basic or you can directly resize the mirrored volume.
Solution One: directly resize mirrored volume by EaseUS Partition Master
EaseUS Partition Master allows you directly to resize the mirrored volume as you wish. You are freely to extend or shrink the mirrored volumes.
1. Download EaseUS Partition Master and install it on your computer.
2. Launch the program and right click the volume you want to resize. Then select "Resize volume".
3. Position the mouse pointer on the right partition handle to extend or shrink the selected volume, or you can directly put in a size number.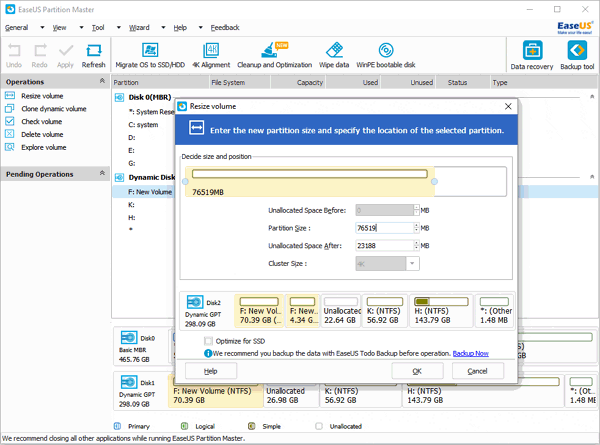 4. Click OK, and you will see the size change of the volume in the disk layout.
5. Click Apply to execute the operation.
Extending mirrored volume can only be available when there is unallocated space behind the mirrored volume. If there is no such available space for your choice, you can choose the second solution below to extend mirrored volume by converting dynamic disk to basic.
Solution Two: extend mirrored volume by converting dynamic disk to basic
Step one:
Right click "My Computer" and choose "Manage" -> "Storage" -> "Disk Management", right click the mirrored volumes and choose "Break Mirrored Volume" to break mirrored volumes or choose "Remove Mirror" to remove mirror. If the boot/system partition is on the mirrored volumes, you can only choose "Remove Mirror" to remove mirror. Please backup your important data before this operation.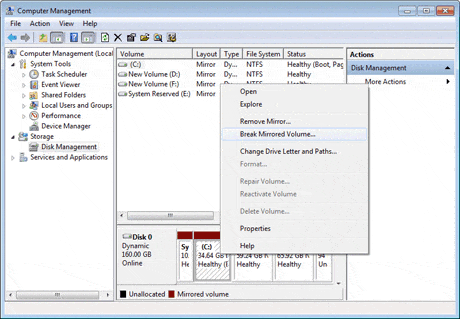 After choosing "Break Mirrored Volume" or "Remove Mirror", the mirrored volumes will become simple volumes. Choose right edition of EaseUS Partition Master and install it. After that, launch EaseUS Partition Master. Select dynamic disk which you want to Convert to basic disk on the disk map, click "Disk" on main menu and choose "Convert to basic disk" or right click the dynamic disk and choose "Convert to basic disk".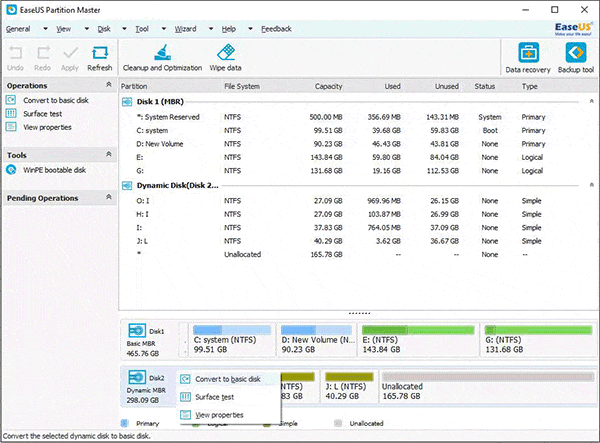 After you choose "Convert to basic disk", you will see the dynamic disk has become basic disk on the disk map.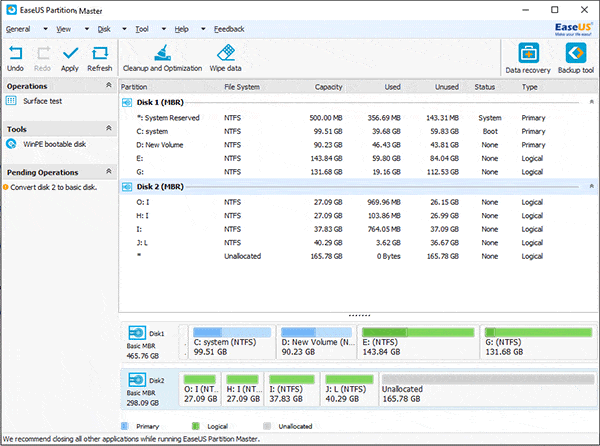 Click "Apply" to convert dynamic disk to basic disk. After EaseUS Partition Master applies these changes, you will see the dynamic disk has been become basic disk in Windows Disk Management. And then you can use "Resize/Move partition" feature of EaseUS Partition Master to resize partitions on the basic disk.(Tips: It is important to backup data before resizing partition, because nothing is 100% secure.)
Step Two:
After the dynamic disk with mirrored volume converted to basic and the volumes are resized, you can convert it back to dynamic.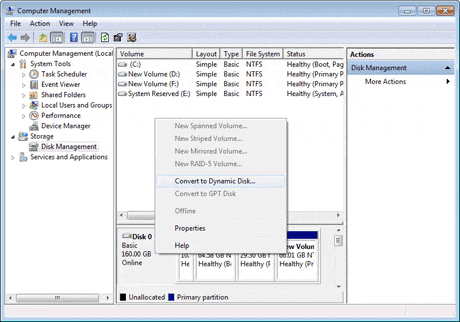 Add a new mirrored volume to the resized new dynamic volume.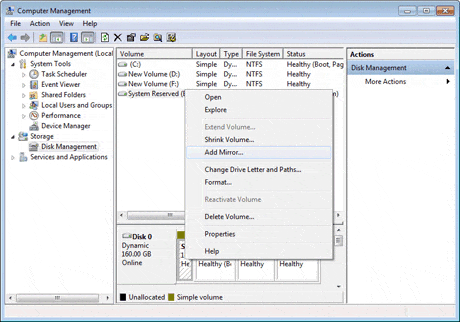 Related Articles: