Free Partition Manager - EaseUS Partition Master
Free Magic Partition Tool
After strict search and test, EaseUS Partition Master Free Edition, a free, powerful and magic partition tool, comes to you as a nice bit of kit for your computer management in your daily life. You can use it to create partition, resize and move partition, merge partition, delete or format partition, enlarge drive C:, copy disk or partition, or even to convert FAT file system to NTFS, etc.
Always taking our customers' benefit into consideration, our R&D teams aims to design easy-to use operation procedures and friendly interface for users. Therefore, you do not have to have a good command of computer knowledge, instead, only simple and a few steps will be followed, you are going to find that you have experienced a wonderful and magic partition management.
The most shinning point of this free partition manager is that all the operation on it won't cause any damage to the existing data. It is so smart in this aspect just like a cheetah running in the forest, high trees can't block the way it targets, so neat and fast.
How to Resize Partition with this Free Partition Manager
Please pay attention that when you are installing this partition manager, close your firewall which blocks the files installed into your computer, otherwise it cannot work.
The following is step-by-step instruction to extend system partition (C: drive).
Step 1. Launch EaseUS Partition Master.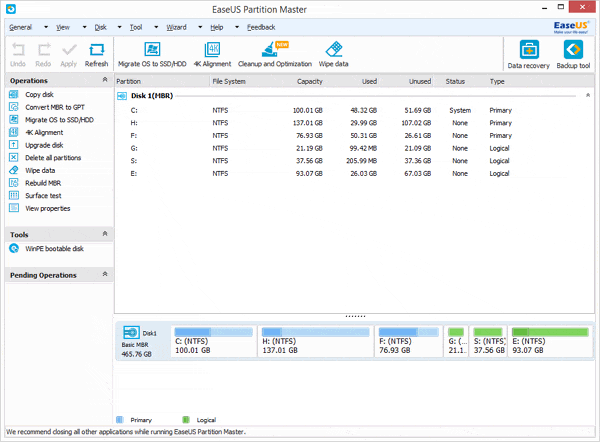 Step 2. Select partition E, right click it, select "Resize/Move partition" and drag the partition handle leftwards to resize E drive here you just largely shrink to its used size. Then there will be unallocated space behind E drive.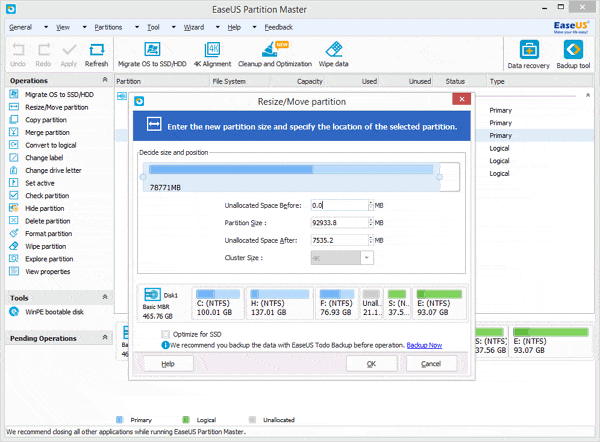 Step 3. Drag E: drive rightwards to move the unallocated space be behind C partition and click OK.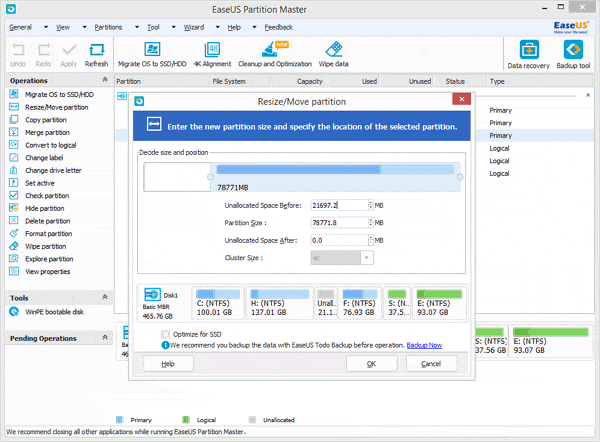 Step 4. Select the C partition, right click it and select "Resize/Move partition", drag the partition handle rightwards to extend system partition (C: drive).
Step 5. Your operation will show below "Pending Operation" if you want to finish it please click Apply, then you will get a larger system partition.
If you want to known much more detailed information, please visit resizing and moving partitions.
Related Articles:
Feedback on this article:
Thanks for visiting EaseUS, please let us know how we can improve this article or make it more useful to you. Should you need technical support please feel free to contact support@partition-tool.com.