Free Windows vista Partition manager
In Windows Vista, it's very easy to change the size of the partition or resize partition by using EaseUS Partition Master, which also provides ability to change drive letters or paths. Partitions with NTFS, FAT32 or FAT file system can be resized with the Disk Management utility. But Windows Vista cannot move partitions, that is to say, you cannot expand a partition by shrinking other partitions, the only choice is to create a new partition. EaseUS Partition Master can resize the partitions without any data loss or the need to delete and remove the existing partition and recreate the partition with new size.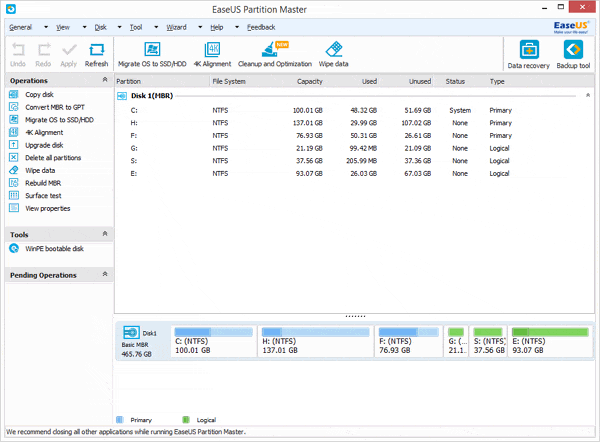 To resize partition size or change the size of partitions in Windows Vista:
Click on the Start button, and then right click on Computer and select Manage.
In the Computer Management console, click and expand Storage branch, and click on Disk Management to open and access EaseUS Partition Master.
EaseUS Partition Master display the details of all available volumes and disk drives in the computer configuration in the right pane.
Right click on any volume or partition that needs to resize or change the size, and select either Expand (to increase the size) or Shrink (to reduce the size) to change the size of the partition.
Enter amount of space to expand or shrink in MB (cannot exceed the size of available expand or shrink space in MB).
Click on Expand or Shrink button when done.
Windows Vista will reduce or extend the size of the partition online immediately, without the risk of data loss.

Do not forget to back up your data in Case of Data Loss! Back up with the most advanced backup software - EaseUS Todo Backup Workstation.
System, file backup and disaster recovery.
Back up system state or save important data.
Automatic backup and much more.
Feedback on this article:
Thanks for visiting EaseUS, please let us know how we can improve this article or make it more useful to you. Should you need technical support please feel free to contact support@partition-tool.com.