How to Solve C Drive Running Out of Space Problem with Ease?
EaseUS Partition Master Professional Edition
ALL-IN-ONE Windows partition manager software
Time Limited Offer - 20% OFF
$31.96 $39.95

30-day Money Back Guarantee
Many computer users have encountered the problem that the C drive runs out of space and Windows pops up a window with Low Disk Space message. This problem is very normal for Windows XP users, as the hard disk drive is not as large as the current drives. To new Windows 7 users, the low disk space problem is also very likely to encounter, as Windows 7 installation needs more than 10GB disk space.
The symptom of "c drive running out of space"
Windows XP displays the low disk space warning as "You are running out of disk space on Local Disk (C:). To free space on this drive by deleting old or unnecessary files, click here."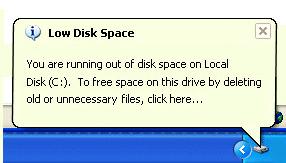 If Windows 7 C drive is out of space, it will be shown in red as below:

If C drive runs out of space, it will cause many problems, such as below:
1. Hard disk drive is not big enough to accommodate all your needs, such as software update/upgrade, or install programs.
2. Windows Operating System is running slowly.
3. Windows may crash if the space is extremely low.
How to solve "c drive running out of space" problem?
Following each of the below steps to resolve "c drive run out of space" issue.
1. Clean up the hard disk drive.
You can run the Disk Cleanup function by clicking on the Low Disk Space popup. This tool will scan your drives and look for files that you can safely erase. Usually this will be little help.
2. Remove programs. You can consider removing programs that you don't use and moving large media files (videos, music, graphics) to other partition. But you will spend a lot of time to do this.
3. Extend partition. You may use partition manager software to resize partition and it is the easy and efficient way. You can extend your partition as you wish and do not need to worry about data lose.
Solve "c drive running out of space" problem by partition manager software
It is bothersome after C drive runs out of space, as the first and second method above could only solve this low disk space problem temporarily. Windows Disk Cleanup utility will cost much resource and time, during this time you cannot do anything with your computer. The easiest and fast way to solve low disk space problem is resizing partitions with partition manger software.
For detailed instructions, please refer Resize/Move tutorial.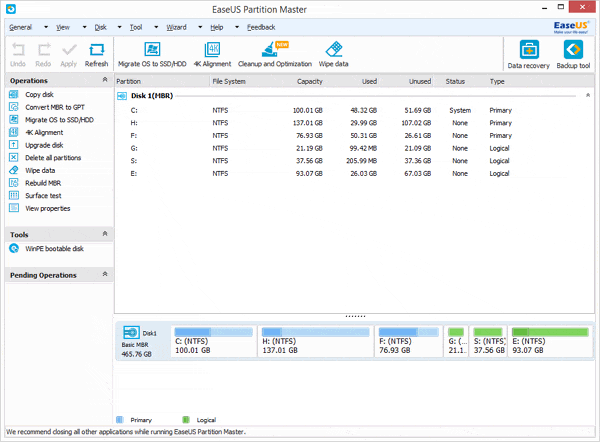 Besides Partition Manager, EaseUS Partition Master provides Partition Recovery Wizard and Disk and Partition Copy Wizard features. It is a complete solution to solve your disk and partition problem.
Related Articles: