Disk space manager software for free disk partition management
Why disk space/size manager is important?
Disk space/size management is not an easy business probably is a common belief among most computer users, especially for ordinary ones. To manage thousands of files and folders scattered all over the hard disk can never be an easy job, while it is even harder to know which files you can delete when hard disk partition is out of space. That's where disk space/size manager which will facilitate this task to manage disk space/size or resize/move partition when necessary comes to use. EaseUS Partition Master is such a utility we would like to share with all who has problem with disk space/size management.
Disk space/size manager within Windows
Someone might say that you can also do disk space/size management using Windows Disk Manager, indeed, it allows you to perform some basic disk space/size management, such as creating, deleting and formatting partitions, etc. Windows systems after Vista also allow you to resize your partitions on hard disk with Disk Manager. But there is one thing: you cannot resize the partition to make best use of your disk space when there is no unallocated space adjacent to the partition you would like to operate. EaseUS Partition Master, on the other hand, is comprehensive hard disk space manager software for Windows Server 2000/2003/2008 and Windows 2000/XP/Vista/Windows 7/8, without any limitation. EaseUS Partition Master Free Edition is free disk partition manager software for Windows home users, both 32 and 64 bit users.
Disk space/size manager software - EaseUS Partition Master
Using this free hard disk space/size manager, you can solve many problems relating with hard disk space or partition. As an ALL-IN-ONE hard disk space manager, it provides Partition Manager, Disk & Partition Copy Wizard and Partition Recovery Wizard for Windows 2000/XP/Vista/Windows 7/8 and Server 2000/2003/2008, both 32 and 64 bit on MBR and GUID partition table (GPT) disk.
Partition Manager helps manage hard disk space, resize, move, split and merge partition, convert dynamic disk, extend system partition, rebuild MBR without losing data.
Disk & Partition Copy Wizard helps backup partitions, backup or upgrade (dynamic) disk, migrate system or data without reinstalling Windows system.
Partition Recovery Wizard helps recover deleted or lost partitions from the hard disk without data loss.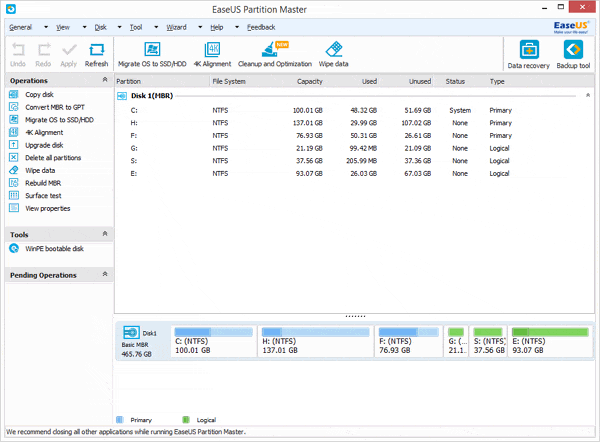 Disk Space/Size Manager - EaseUS Partition Master
Tips: Before resizing partitions, backup data with free backup software - EaseUS Todo Backup Free is strongly recommended.
Related Articles:
Feedback on this article:
Thanks for visiting EaseUS, please let us know how we can improve this article or make it more useful to you. Should you need technical support please feel free to contact support@partition-tool.com.