EaseUS Partition Master Server Edition
ALL-IN-ONE Windows Server disk management toolkit
Time Limited Offer - 20% OFF
$127.20 $159.00

30-day Money Back Guarantee
Three ways to increase disk space when hard disk is full
How to increase disk space when your hard disk is low, especially C drive? If you do online search, you'll get a bunch of tips like clearing up temporary files, uninstalling unused programs, removing unused files & backup files into removable storage and delete them from the hard disk etc. Indeed, all these are useful tips, but what if these still do not work? Here, we would like to share some more methods to increase disk space like extending partition and upgrade to larger disk with ease.
Whether to increase hard disk space?
When to increase disk space is an inevitable choice already, the system will give out signal automatically, such as the "Low Disk Space" warning and there might be a notification indicating that there is not enough free disk space to complete the installation when you try to upgrade the utilities. While we always can check how much free disk space there remains so that to increase, or free up, hard disk space beforehand. Here is how:
Double click my computer > Right click the drive > Select properties, you will see the amount of free space in the General tab.
Increase disk space by cleaning up hard drive
Disk Cleanup is the most common way to free up disk space in the first place, you may access it by: Start Menu > Programs > Accessories > System Tools > Disk Cleanup. It will then automatically go through the drive and deleting: temporary Internet files, download program files, files in the recycle bin etc. Also, you may disable Hibernation on your Windows or moving page file to other free drive etc. These operations can release some disk space depending on the disk condition.
Increase disk space by extending partition
When there is no redundancy to be deleted, but the situation is that only one partition, say the system partition, is out of space and there is plenty of free disk space in other partitions on the same hard disk actually. Is there any easy way to optimize the usage of the free disk space? Of course there is, with the magic partition manager software - EaseUS Partition Master, you can extend the partition without data loss.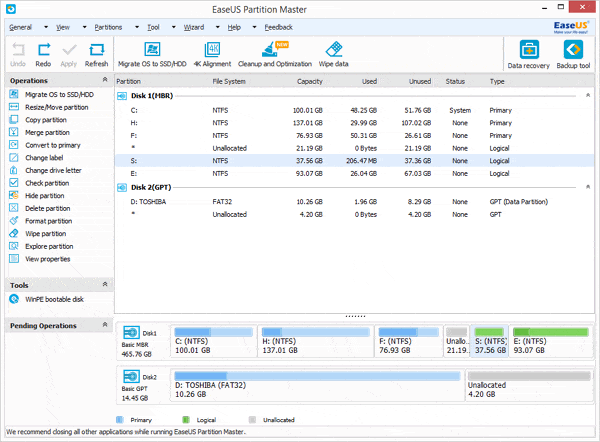 EaseUS Partition Master Server Edition
* Before doing the following steps, you'd better back up important data with good backup software.
1. Download and launch EaseUS Partition Master.
2. Right click partition E:, select "Resize/Move partition" and drag the partition handle leftwards to shrink E drive.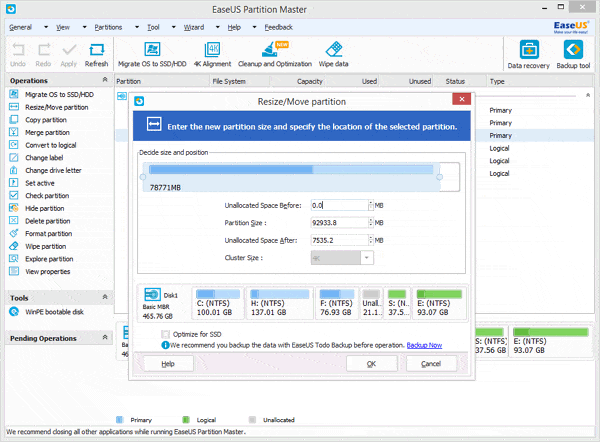 3. Move E: drive rightwards, and then the unallocated sapce becomes next to partition C:.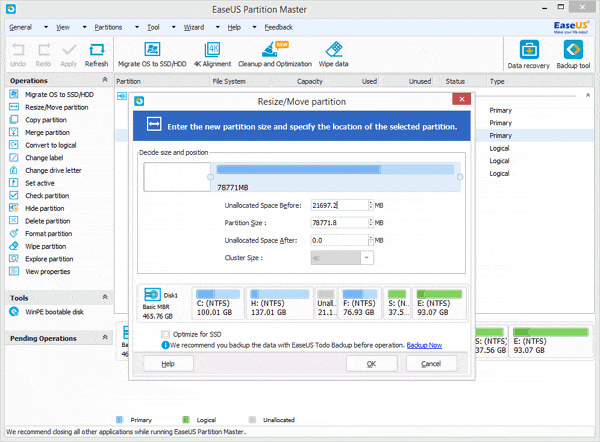 4. Right click partition C: and select "Resize/Move partition" to increase its space.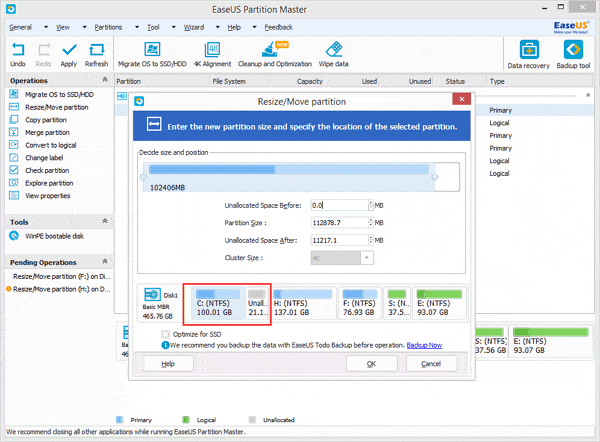 5. Click Apply.
Increase disk space by obtaining a larger storage device
There might be the situation that all the disk space is occupied, how to increase disk space then? Seeing the price of hard disks (price/GB) has dropped a lot in recent years, upgrade to larger storage device is feasible now. But to reinstall the system or the large volume of utilities can take tones of times and energy, let along the tedious of doing this. With disk copy feature of EaseUS Partition Master, you can upgrade the hard disk and get larger free space without any of these troubles. For how-to, please check out here: How to upgrade to a larger disk by copying disk?
Other features of EaseUS Partition Master
EaseUS Partition Master, an all-in-one disk management solution, also provides powerful partition recovery wizard to recover deleted or lost partition other than Copy Wizard and handling partition management issues like extending partition, resize/move partition, resize/move partition, split/merge partition(s) and so on as partition manager.
Related Articles: