64-bit partition manager software for Windows 64-bit system
Advantages of 64-bit system
Most people don't know the difference between a 32-bit and a 64-bit operating system. With the release of Windows 7, the question is raised again on whether you should install the 32-bit version of the operating system or move up to 64-bit. (See the tutorial: How to figure out if you have a 32 or 64-bit Operating System on your PC or Laptop?) For the high end users, who want to squeeze every drop of his computer's processing power, knowing the difference between a 32-bit and a 64-bit processor and an operating system is important. And if you are still stuck with a 32-bit Operating System, an upgrade to a 64-bit Operating System is a must.
The most basic difference is the amount of memory (RAM) that a 32-bit Operating System can make use of. If you want to use 4 GB of RAM with a 32-bit system - it is not going to work. Even if you install 4 GB modules, due to technical reasons, the Windows Operating System will still be able to detect and make use of a maximum of 3.5 GB.
Besides more RAM, more advantages of the Windows 64-bit are listed below:
1. Better performance for 64-bit software: If a 64-bit version of your favorite application is available and you have a 64-bit Operating System, go for that. The 64-bit software would be faster in processing speeds.
2. Some programs such as data encryption software can benefit greatly from 64-bit registers (if the software is 64-bit compiled) and effectively execute 3 to 5 times faster on 64-bit than on 32-bit.
3. A 64-bit Operating System can run 32-bit applications, there is backward compatibility, but 32-bit Operating System cannot run 64-bit applications.
4. If you have a 64-bit processor, you are safe for the near future because 64-bit is the trend. 64-bit will replace 32-bit one day soon.
64-bit partition manager software for 64-bit Operating System
A 64-bit PC will be supplied with a large hard drive, generally over 250GB in size and with Windows and other applications pre-installed. The hard drive is generally pre-configured either as one large partition. But if you upgrade from XP for other earlier operating systems, your system partition might be insufficient for the Windows 7 64-bit installation. There is no easy way of changing the sizes of these partitions from within Windows, using the supplied tools. So a reliable third party 64-bit partition manager software is the only way out. The famous and cost-efficient EaseUS Partition Master is the best recommendation for 64-bit partition manager software. It can do all the basic and advanced 64-bit partition manager jobs well, like resize, extend, merge, split, create 64-bit partition under Windows or under a pre-Windows environment by creating a bootable CD. Moreover, it provides Partition Recovery Wizard and Disk & Partition Copy Wizard to ensure 100% security of your 64-bit partition during the operation process on the 64-bit partition.
How to use the 64-bit partition manager?
Before managing your 64-bit partition with any partition manager software, make sure you have backed up the partition to be managed. EaseUS Partition Master has a built-in Disk & Partition Copy Wizard to back up the partition before real action.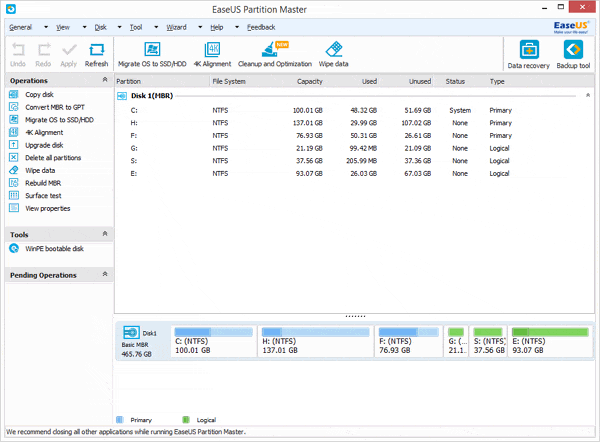 Download EaseUS Partition Master, extend partition can be finished in three steps:
Tips: Please backup important data before doing any changes to the partitoins, because nothing is 100% secure.
1. Launch EaseUS Partition Master.
2. Choose the right partition and use"Resize/Move partition" function to extend it.
3. Click Apply.
Following the above tutorial, you can easily manage 64-bit partition.
For the tutorial of the partition manager software 64-bit on server, please refer to How to partition Windows 2008 64 bit Server easily and safely?
Related Articles:
Feedback on this article:
Thanks for visiting EaseUS, please let us know how we can improve this article or make it more useful to you. Should you need technical support please feel free to contact support@partition-tool.com.