EaseUS Partition Master Server Edition
ALL-IN-ONE Windows Server disk management toolkit
Time Limited Offer - 20% OFF
$127.20 $159.00

30-day Money Back Guarantee
How to merge partitions in Windows Server 2008?
System C drive is out of disk space and Windows low disk space alert pops up every time running the applications update. Before the Partition Magic, people have no choose but to backup, delete partitions and redistribute the disk partition size, and then restore them. This way is time-consuming and risky for Windows Server - important data might lose or longer downtime means large lose.
To extend C drive, you may consider resizing partition or merging partition:
Resize partition, you need to shrink an existing data partition to get some unallocated space, and then extend system partition.
Merge partitions, you need to select two adjacent partitions and merge these two into a single one. This article mainly focuses on how to merge partitions under Windows Server 2008.
Two kinds of tools to merge partitions
Windows built-in tool: Disk Management
The disk management in Windows Server 2008 is able to extend or shrink volumes. Therefore, you can indirectly merge two partitions without any other partitioning software.(delete one partition and extend another one)
Tutorial to merge partitions by Disk Management:
Right click "My computer" and select "Management".
Click "Disk Management" and here you can see all information of your hard disk partitions.
Delete the partition after C drive (make sure all important data has been backed up).
Right click C drive and select "Extend Volume" to expand system C drive size.
The disadvantage of Disk Management to merge partitions: You have to delete a partition to extend another one, which might cause data loss or even more serious problems.
How to merge server partitions with partition software?
EaseUS Partition Master Server Edition is designed for server users to manage hard disks and performs needed hard disk partition maintenance, provides powerful data protection and disaster recovery, and minimizes server downtime to increase the efficiency of Windows-based system administration.
1. Launch EaseUS Partition Master Server, right click the C partition you want to extend and select "Merge partition".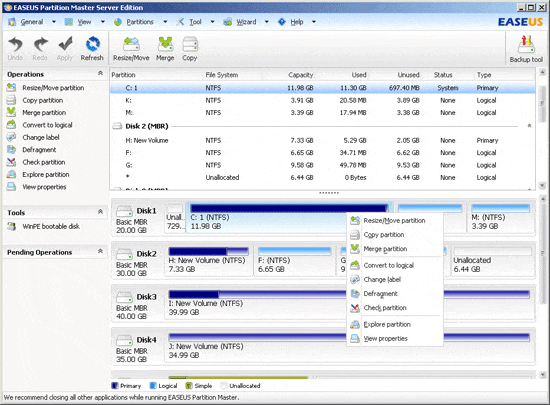 2. At the pop up Windows, choose C drive as the main and the partition behind it will be merged into the C drive.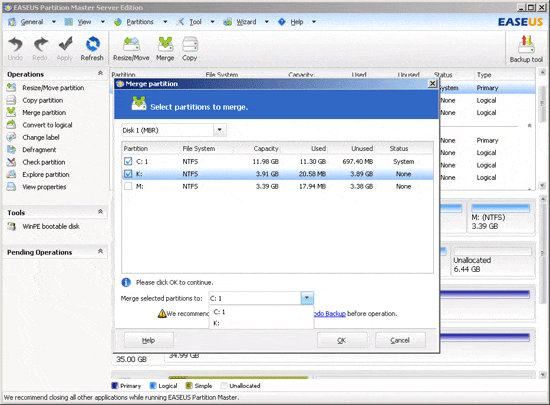 3. Then click Apply to extend system C drive by merging two continuous partitions into a larger one.
Videos of how to merge partitions: How to merge partitions with EaseUS Partition Master?
Related Articles: