How to Carry Out Partition Copy Easier and More Securely
Partition Copy Is Not Available In Disk Management Utility.
How to copy partition? As the mention of this question, you might think of the Disk Management utility built in your Operation System immediately. But then you give it up since Partition Copy is not available there. Yes, one of the major disadvantages of the Microsoft Operating Systems is the lack of a reliable, efficient mechanism for copying the entire contents of a partition volume to the unallocated space. However, this is an essential requirement for those who want to backup their files to protect data. So a third-party partition copy program is needed such as EaseUS Partition Master.
The following is the screen shot of Disk Management interface with its basic partition functions: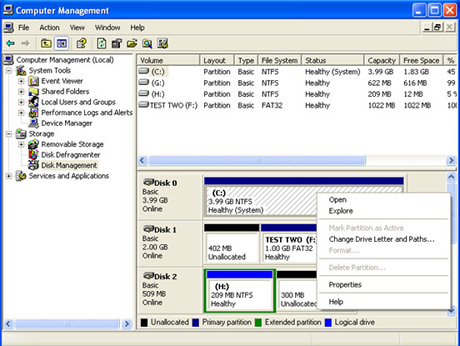 Partition Copy Is Also Not An Easy Job Under DOS Operation System.
Trace back to the "good old days" of DOS, it was possible to just copy an entire disk volume file-by-file using a simple utility. If you did this correctly, there was every reason to expect that the new disk would function properly. But in view of the fact that not many users like DOS and it's inconvenient to carry out Disk Copy or Partition Copy under DOS, we don't talk about DOS here. Moreover, with long file names, the use of swap files and the Windows registry, it is no longer safe or easy to copy a partition from one disk to another file-by-file.
Use Third-party Partition Software to Copy Your Partition in an Easy and Secure Way.
As I've mentioned that one way to accomplish Partition Copy is to use a third-party partitioning program, you may now want to know which software is more reliable. It's certain that the stability and security are the factors that computer users concern most. And no one would like to get involved in complicated codes or operations. So the partition software should be easy to handle even for common computer users. And the data must be completely unchanged during the partition copy process. Allowing for all these concerns, I recommend EaseUS Partition Master to you.
How Does EaseUS Partition Master Work As Reliable Software To Help Copy Partition?
The Partition Copy function built in EaseUS Partition Master is fairly simple and pretty easy to use. Fast file-by-file copy enables you to save valuable time as well as protect your data on the computer before any operation. You don't need to worry about data loss when using EaseUS Partition Master. And the shinning point of this software is that you can resize (shrink or enlarge) partitions during partition copy process in order to fit target space. Just keep in mind that only unallocated space can be used as the destination partition when copying the partition.
To operate EaseUS Partition Master, please follow these steps:
1. Select the partition you want to copy as the source partition.
2. Click Partitions > Copy partition. (Copy partition can be also found under Wizard and in the left panel.)
3. After the Partition Copy Wizard automatically checks the partition, click Next.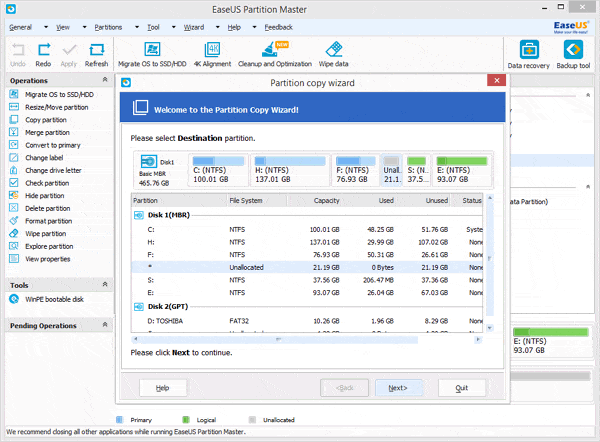 4. Select a free partition as a destination partition, click Next.
5. Edit the destination partition. On a disk map, current size of the partition is displayed on the top of the dialog box. The map also depicts the used and unused space within the partition and the free space surrounding the partition (if any exists). The minimum and maximum sizes that you can resize a partition appear below the map.
6. Click "Finish".
7. To preview the result on the left panel "Pending Operations". If it is right, then click "Apply".
8. Done.
EaseUS Partition Master Provides More Partition Functions Apart From Partition Copy.
Four EaseUS Partition Master editions are available for different users, including the Free Edition which is free for home 32/64 bit users, the Professional Edition and Server Edition for small business and the Unlimited Edition for large enterprise business. In addition to Partition Copy, EaseUS Partition Master offers a wide range of functions, such as create and delete partitions, resize and move partitions, Copy Disk, format partitions, hide and unhide partitions, set active partition, etc.
This product helps you copy the partition or whole hard disk to another one, if you want to backup the partition or whole hard disk to an image archive, you may use another free backup software - EaseUS Todo Backup, which provides easy-to-use interface to backup and restore your system, disk and partition within minutes.
Related Articles:
Feedback on this article:
Thanks for visiting EaseUS, please let us know how we can improve this article or make it more useful to you. Should you need technical support please feel free to contact support@partition-tool.com.