Partition magic software to manage Windows 7 partition
Windows 7
Windows 7, as the latest version that released by Microsoft, has gained many new features to cater for different needs of users. It is intended to be a more focused, incremental upgrade to the Windows line, with the goal of being fully compatible with applications and hardware. Due to its appealing features, many people come to buy it once it became available on the market.
However, after using Windows 7 for a period of time, you may find that the system partition space becomes smaller and smaller that you can't install updates or other applications. If this happens, you have to expand the system partition to avoid the inconvenience that might be caused by insufficient space of C: drive. Though Windows 7 Disk Management has the ability to shrink/expand system partition, but it has many disadvantages to resize Windows 7 partition.
The limitations of Disk Management and Diskpart
If you are very familiar with functions of Windows 7, you will find the Disk Management can extend and shrink partitions for you. So when many Windows 7 users come across the low disk space problem, they want to solve this through the Disk Management built- in Windows 7, which offers the function of resizing partitions. However, if you have tried it, you will find there are so many limitations of this built-in function. Under Windows 7,you cannot expand the partition because there is no unallocated space behind it and the Disk Management also can't move the unallocated space to be behind the partition that needs to be extended.
Diskpart is also a way to resize hard drive partitions with simple command language. Just as Windows 7 talked about above, it also has the limitation of resizing partitions for it requires continuous space to be right behind the partition you decide to extend. If you own a third-party software, you won't be troubled by these problems.
Partition Windows 7 with EaseUS Partition Master
EaseUS Partition Master, working as a professional partition magic manager, is also available for you as free magic partition software. With this all-round partition manager, you can manage Windows 7 hard drive partitions freely and easily in order to improve Windows 7 performance adequately.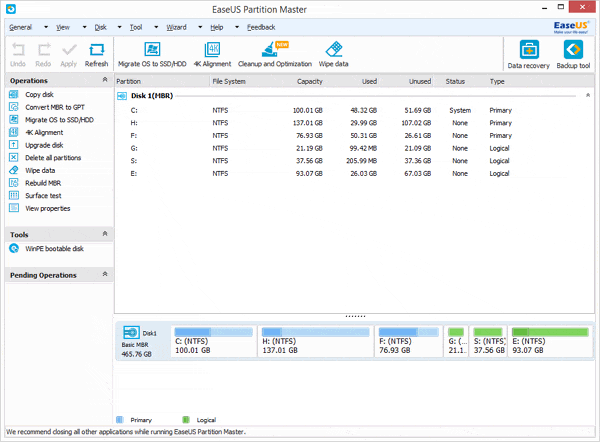 EaseUS Partition Master, regarded as professional partition magic software for Windows, has many leading functions in partition management. With it, you can do many operations to maximize the performance of the Windows 7, such as merge partition, Copy Partition, Delete Partition, Format Partition, Convert File System, Hide/Unhide Partition, Explore Partition, Copy dynamic volume and so on. All these operations would be carried out under a protection mode, so you need never worry about data loss.
What's more, you can also use our system cleanup software - EaseUS CleanGenius to speed up your slow computer, clean up those junk files and repair Windows system to make a New computer for you.
Related Articles:
Feedback on this article:
Thanks for visiting EaseUS, please let us know how we can improve this article or make it more useful to you. Should you need technical support please feel free to contact support@partition-tool.com.