Resize Partition Windows 7 and Windows 8 Safely and Easily with the Best Partition Manager Software
Partition Windows 7/Windows 8 with the best Windows partition manager - EaseUS Partition Master
During the computer usage, you may encounter the problem that the system partition space becomes lower and needs to be expanded, or you want to shrink a large partition to create more partitions. Though Windows 7 Disk Management has the ability to shrink/expand the partition, but it cannot move the partition and it is insufficient and inconvenient to partition Windows 7.
As the best partition manager, EaseUS Partition Master can help you resize Windows 7 partition easily and safely.
About Windows 7
As the latest version that released on July 22, 2009 by Microsoft, Windows 7 has gained its popularity by including a large number of new features, like multi-touch support, a redesigned Windows Shell with a new taskbar, a home networking system called Home Group, supporting virtual hard disk and a series of performance improvements. The ultimate goal of Windows 7 is to be fully compatible with applications and hardware in order to further satisfy users' need and put Windows operating system into a new level.
Because of these improvements, Windows 7 system has completely different partitions compared with previous versions. So if you want to resize Windows 7 partitions with third-party software, you need be careful to choose the professional and suitable partition manager software.
Manage Windows 7 partitions with EaseUS Partition Master
Just as discussed above, you need to have professional software to manage Windows 7 partitions. EaseUS Partition Master can help you to solve the low disk space problem by extending the system partition (C: drive) or other problems to optimize the performance of this newly operating system and avoid disasters that may cause inconvenience to your life and work.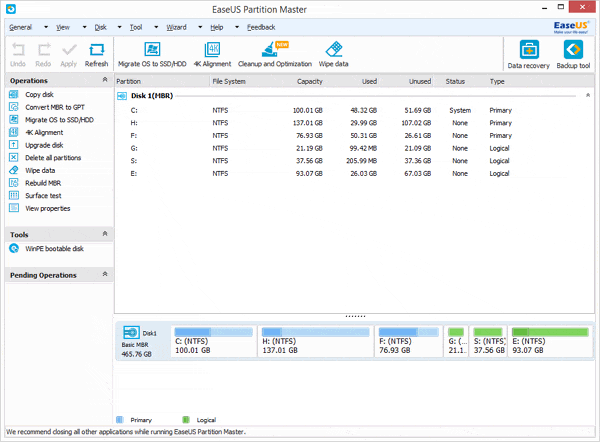 More details about how to partition Windows 7/Windows 8 32 bit system: How to partition Windows 7/Windows 8 32 bit system?
More details about how to partition Windows 7/Windows 8 64 bit system: How to partition Windows 7/Windows 8 64 bit system?
As the leading partition manager, EaseUS Partition Master has many leading functions in partition management, with which, you can Move/Resize Partition, Copy Partition, Create Partition, merge partition, Delete Partition, Format Partition, Convert File System, Hide/Unhide Partition, Explore Partition, Copy dynamic volume and much more. All these operations would be carried out under a protection mode, so you would nerver worry about data loss due to any reasons.
Computer of long use definitely would be stuffed with junk files, you have to prepare your PC a system clean utility, which can speed up your slow computer, clean up those junk files and repair Windows system to make a New computer for you. Try EaseUS CleanGenius.
Related Articles:
Feedback on this article:
Thanks for visiting EaseUS, please let us know how we can improve this article or make it more useful to you. Should you need technical support please feel free to contact support@partition-tool.com.