Resize Windows 7/8 partition with Windows partition manager software.
Two common kinds of problem for Windows 7 users
First, if you want to upgrade to Windows 7 from Windows Vista or install Windows 7 on the partition that runs Windows XP before, you are very likely to encounter the problem that the partition size is too small to install Windows 7. However, you cannot delete other partitions and reset the partitions, as many files are stored on these partitions. Even if you can back up files and reset the partitions to install Windows 7, it is time-consuming. Then you may bring Windows 7 partition manager software to mind.
Second, after using Windows 7 for a period of time, you may also encounter the problem that the system partition space becomes lower and needs to be expanded, as the basic partition size required for Windows 7 is 16GB, furthermore, you need to install other applications for future use. Then you need Windows 7 partition manager software to expand the Windows 7 system partition without destroying the data.
How to resize Windows 7 and Windows 8 partition?
To expand or resize Windows 7 partition, there are two methods that are common used. First, expand the Windows 7 partition with built-in feature in Disk Management. Second, resize partitions with third party Windows 7 partition manager software, for example, EaseUS Partition Master. The paragraph below will introduce and compare with these two methods.
Extend partition Windows 7 or Windows 8 by Disk Management

In fact, Windows 7/Windows 8 Disk Management has the ability to shrink/expand system partition, but there is no obvious improvement of Disk Management tool in Windows 7/8, which is nearly the same as it is in Windows Vista and Windows Server 2008. So some advanced partition management in Windows 7 is still unavailable, especially, it cannot move the partition. So you have to delete the partition that behind the one you want to extend, which is not recommended for the sake of data security.
Resize Windows 7 Partition with free partition manager
Things would become extremely easy if using EaseUS Partition Master to resize Windows 7/Windows 8 system partition. Just a few clicks and you will get a enlarged system partition without deleting or formatting a partition. The following steps will guide you to extend system partition (C: drive).
1. Download EaseUS Partition Master and install it on your computer.
2. If there is no unallocated space behind the system partition, you should first decrease the size of one partition to get the unallocated space. As the picture shows below, first shrink the E: drive.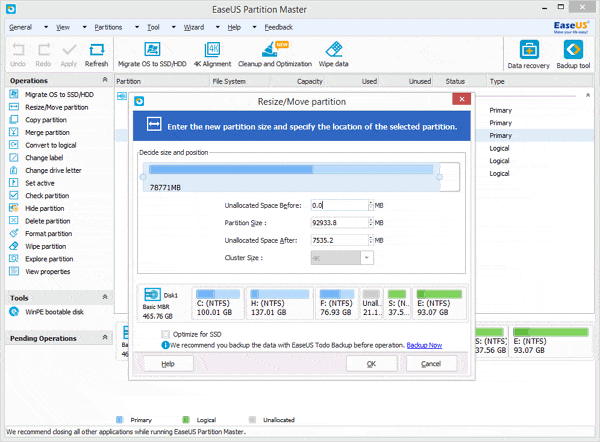 3. Make the unallocated space behind the system partition through "Resize/Move partition".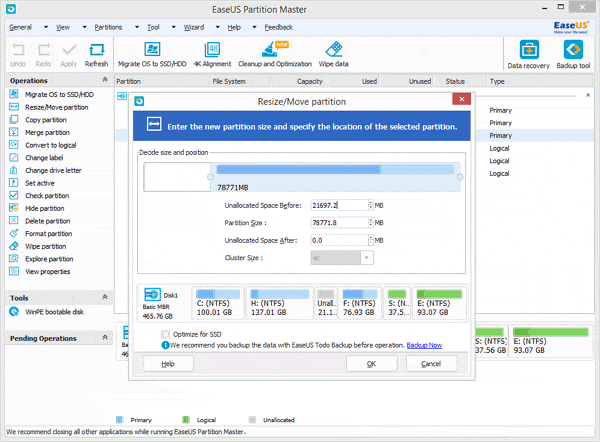 4. Then you can select the system partition to extend also by clicking "Resize/Move partition" and click Apply.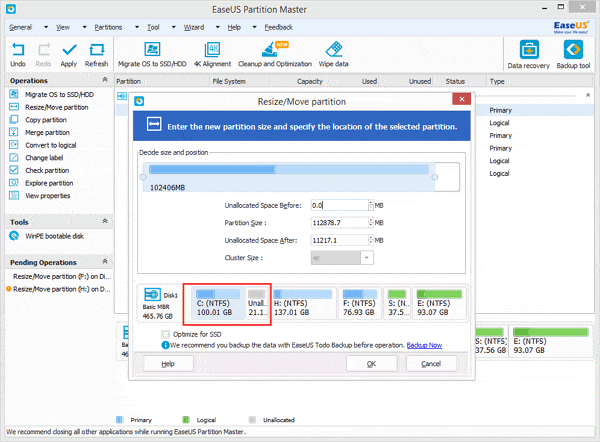 For more detailed information, please visit resizing and moving partitions.
What EaseUS Partition Master can do (compare with Disk Management Tool under Windows 7/Windows 8)?
Conclusion
Though Windows 7/8 Disk Management has the ability to shrink and expand partitions, but it cannot move the partitions or unallocated space, which makes the resizing operation inconvenient or even impossible. Why not try the free Windows 7 partition manager - EaseUS Partition Master? With this free partitioning utility, you can not only resize partition, but also copy disk and partition, as well as other partition management.
Related Articles: