How to partition Windows 7 to well manage it?
EaseUS Partition Master Professional Edition
ALL-IN-ONE Windows partition manager software
$31.96 $39.95
Partition Windows 7?
Can Windows 7 be partitioned with its built-in functions like the previous Windows Operating System, such as Windows Vista? (How to resize partition in Windows Vista with its built-in disk management tool?) Or should I use third party partition manager to partition Windows 7?
Windows 7 release information
Since Windows 7 beta1 is released on January 13, most of the people have tried Windows 7 and give it a high evaluation of its compatibility and its new features like multi-touch support, redesigned Windows Shell, etc. Windows 7 was released manufacturing on July 22, 2009, less than three years after the release of Windows Vista. People suffered a lot on Windows Vista's less compatibility and high hardware requirements would rush to well regard Windows 7. When Windows 7 is released officially on October 22, 2009, most of the people rush to it or make a dual boot Windows 7 with Windows XP or Vista or between Windowws 7 and Windows 8.
How to partition Windows 7?
This article mainly lists three methods below for you to partition hard drive disk in Windows 7.
1. Using Windows 7 built-in Disk Management Utility;
2. Using Diskpart Command;
3. Using third party Windows 7 partition manager - EaseUS Partition Master

Follow the detailed instructions of each method and manage your Windows 7 hard disk partition now:
Method 1: Windows 7 built-in Disk Management Utility
Some of the features included in the predecessor are deleted in Windows 7 while some of new features are added. However, similar to Windows Vista, Windows 7 also has the option to resize partitions, this means you can shrink or extend Windows 7 partitions with the built-in Disk Management utility. To manage your partitions with Windows 7 built-in Disk Management, open Control Panel and type "partitions" or "hard disk" in the search bar on the right corner and you can see the link "Create and Format Hard Disk Partitions" under administrative tools.
This will open up the disk management utility for Windows 7, please refer to the picture below: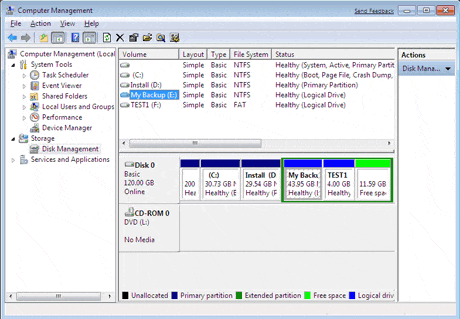 To shrink any partition of Windows 7, right click on the volume that you want to resize and select the option "Shrink Volume".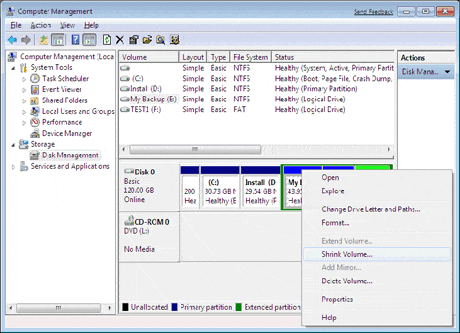 A box will pop up and you need to specify the amount of space you want to shrink.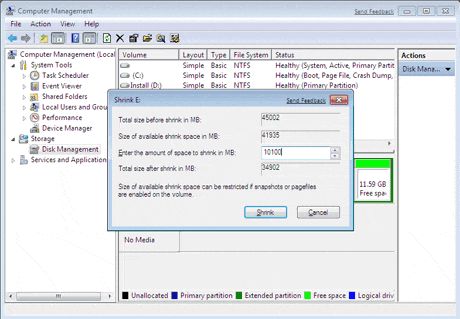 If you want to extend any volume in Windows 7, right click on the drive to be extended and select "Extend Volume" and then specify the amount of space by which you want to extend the volume.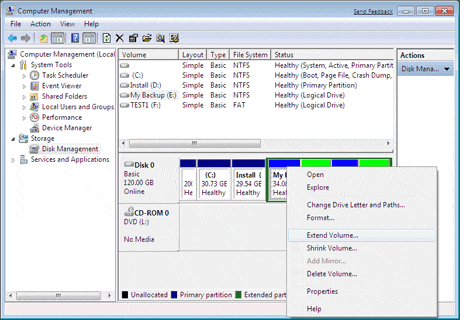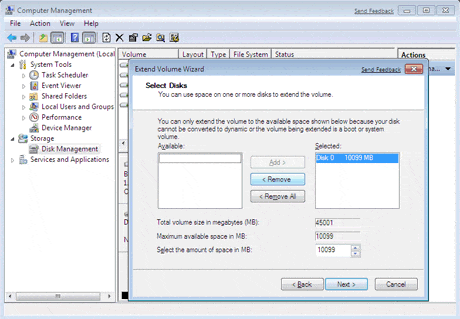 Note: extend volume for any drive will work only if there is continuous free space available on your Windows 7 disk.
Method 2: Diskpart Command
Another way to partition your Windows 7 is using Diskpart command, here way goes:
1.Open an elevated command prompt: open the Start Menu > type cmd in the Start Menu search box and press Ctrl+Shift+Enter.
2.Type diskpart in the elevated command prompt.
3.Type list volume in the evaluated command prompt and press Enter.
4.Type select volume * and press Enter.
5.Type shrink desired = (* MB) and press Enter.
6.Type exit and press Enter and close it.
Method 3: Windows 7 and Windows 8 partition manager - EaseUS Partition Master
Actually, those methods mentioned above require certain computer knowledge more or less, it would be an obstacle for most common users, so, third party partition manager like EaseUS Partition Master, which provides wizard guide and simplify partitioning task, must be the highly recommended choice. Indeed, EaseUS Partition Master consistently recognized by leading authorities such as CNet, Tech Republic, and PC World is magic partition manager to help partition Windows 7 and Windows 8 system hard disk, free download now and follow the instructions Resize Partition under Windows 7?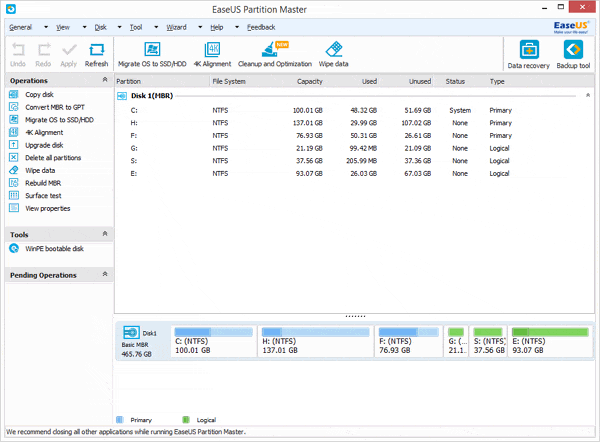 Related Articles: