Best Partitioning Software - EaseUS Partition Master
When you want to resize partition, how do you deal with that? Ask Google? Or computer expert? This article helps you manage hard drive easily, no matter you decide to Resize and Move, Copy, Create, Delete, Format, Convert, Explore, Hide and Unhide server and non-server partitions.
Tools for partitioning hard drive
In my opinion, according to the existing technology, you need to know how to use both partitioning software and Disk Management utility to partition your hard drive.
1. Disk Management Tool. Windows XP's Disk Management utility allows you to perform some basic partition management, such as creating, deleting and formatting partitions, etc. Windows Vista's Disk Management console tool will also allow you to resize your partitions on hard disk. In other words, with this utility, you can shrink, extend, create, and format partitions without putting your data in jeopardy. Of course, before you perform any of these operations, you should back up you data to avoid data loss.
2. Partitioning Software. Here we highly recommend you to use easy-to-use partitioning software with more advanced partitioning operations - EaseUS Partition Master to manage your partitions.
Generally speaking, EaseUS Partition Master is comprehensive hard disk partition management software for Windows Server 2000/2003/2008 and Windows 2000/XP/Vista/Windows 7/Windows 8 partition to Resize and Move, Copy, Create, Delete and Format, Convert, Explore, Hide and Unhide server and non-server partitions and much more. You just need to choose the right version of EaseUS Partition Master.
Though there are many different partitioning software in the market, EaseUS Partition Master has the best cost effectiveness. EaseUS Partition Master has five editions: Free Edition (free for 32/64 bit home users), Professional Edition (for business desktop users), Server Edition (for Windows Server users), Unlimited Edition (for multiple server and PC users from a large enterprise) and Technician Edition (for IT Consultant).
According to our investigation, about 85% partitioning software users use partitioning software mainly to resize partition. Here we take resizing partition using EaseUS Partition Master Free Edition for example.
Using partitioning software to extend partition
EaseUS Partition Master Free is a free partitioning software, it can resize and move partitions safely and quickly. If you want to extend system partition (C: drive), the following is the detail instruction.
Tips: It is important to backup data before resizing partition, because nothing is 100% secure.
1. Launch EaseUS Partition Master, right click partition E: (the partition behind C:) and select "Resize/Move partition" function to shrink its size. At the same time, move E: to ensure the the unallocated space is behind C:.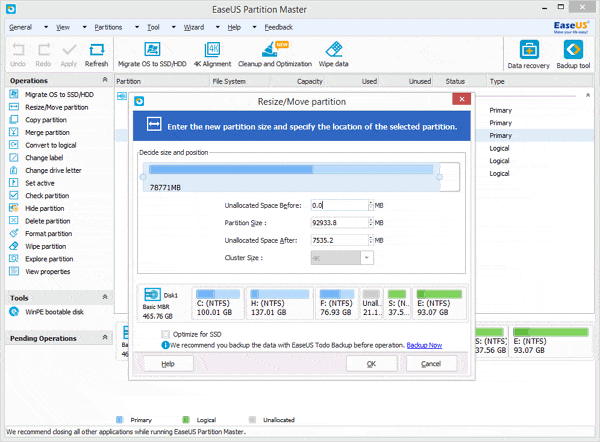 Shrink partition behind system partition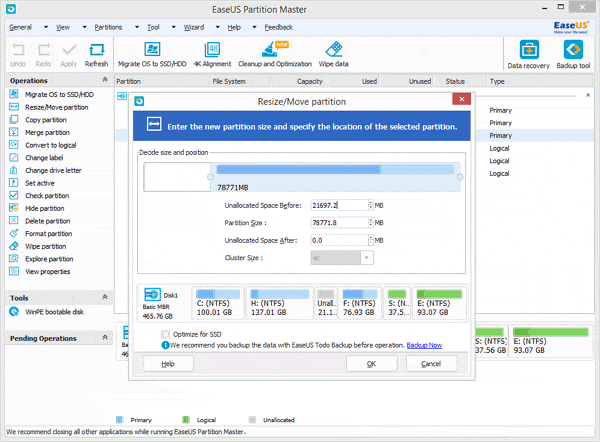 Move partition with partitioning software
2. Select the system partition (C: drive), right click it and select "Resize/Move partition" to extend it.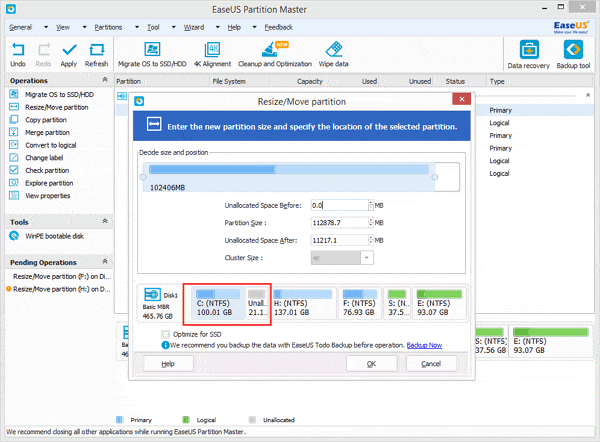 3. Click Apply.
Related articles:
Feedback on this article:
Thanks for visiting EaseUS, please let us know how we can improve this article or make it more useful to you. Should you need technical support please feel free to contact support@partition-tool.com.